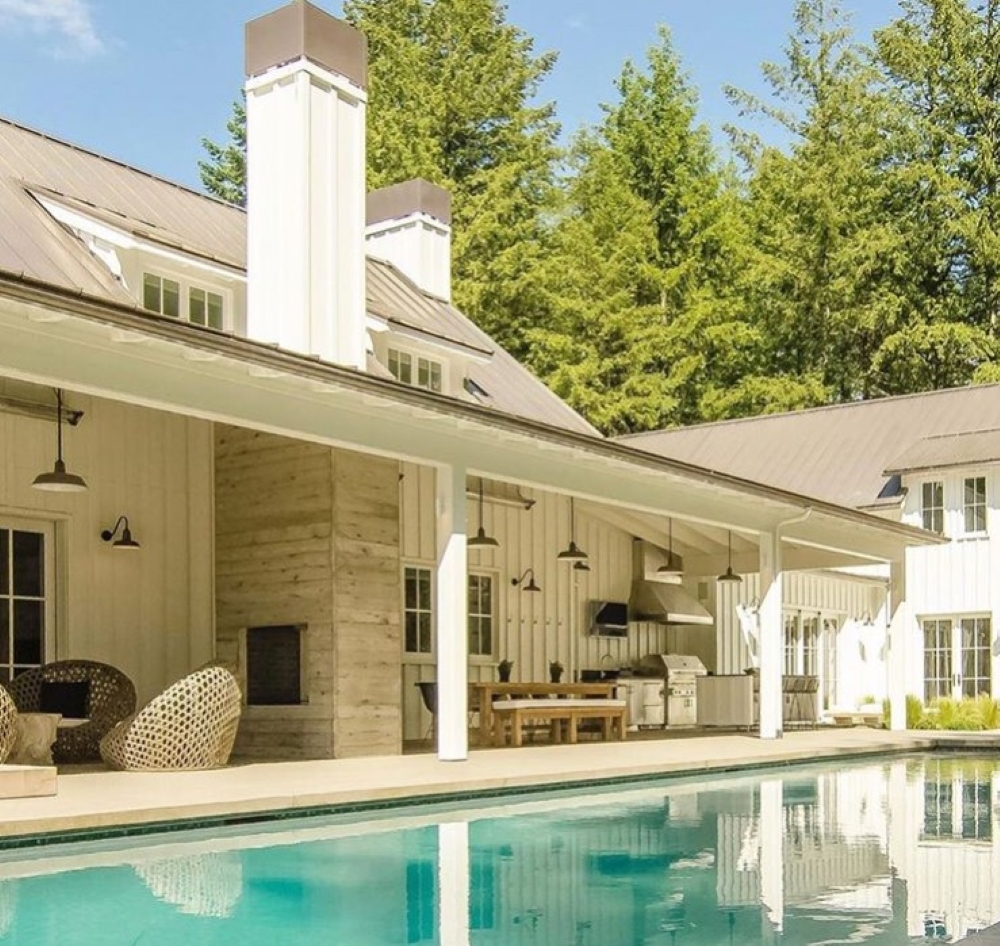 Dive Into Summer's Backyard Oasis Complete With Handcrafted Lighting
Summer is here, and what better way to beat the heat than by spending lazy afternoons lounging by the pool? Whether you're entertaining friends or simply looking for an escape from your daily routine, a poolside oasis offers the ultimate summer sanctuary.
Today we're sharing some of our favorite customer photos which not only feature stunning pools but also some beautiful outdoor lighting so the party can go on well after dark!
Amy's backyard oasis includes not only a pool but a hot tub and cabana. Two Original™ LED Warehouse Gooseneck Lights highlight the window boxes of the cabana offering both style and illumination. Amy customized these handcrafted fixtures with 14″ shades, a Black porcelain enamel finish, and a G26 gooseneck arm. Since having bright light was important, she also chose the 1250 lumen package and 3500K bright white color temperature. A domed lens completes the look.
"The options are endless and I was able to create the image I had in my mind. I was looking for classic charm to go with our wooded surroundings, " Amy explains. "I love that they are American made!"
The blazing heat in Austin, Texas, makes the pool at the Peached Casita a popular spot! Our good friend and designer Kim Lewis loves hosting guests at her tiny house located in the Texas Hill Country. The wraparound deck, complete with 12″ Aero Gooseneck Lights in a creamy Mint finish, beckons everyone to slow down, cool off, and enjoy the view.
Robert is ready for 4th of July entertaining in his new pool house which has plenty of comfy seating and an outdoor kitchen. Robert selected the Cherokee Uplight Stem Mount Pendant for the space and customized these sturdy pendants with 16″ shades, a Galvanized finish, 12″ stems, and clear glass for plenty of light.
Meaghan recently completed a backyard makeover that includes a swimming pool, tiki bar, and covered patio which serves as an outdoor living space.
"We realized over the past few years that there truly is no place like home," Meaghan says. "We wanted our yard to feel like an oasis." For the tiki bar, Meaghan chose the Industrial Guard Sconce with a Textured Black finish, heavy-duty guard, and ribbed glass. You can read more about her project in this blog post.
Interior designer Alexa Ralff worked with a family of five on the Jersey Shore who wanted a tiny home that could serve as party central where they can catch summer tennis on TV, nap on the couch, or sip a beer by the pool while the kids swim. Alexa chose the Wilcox Gooseneck Light to highlight the door and bar area of the pool house. These American-made wall lights feature 10″ shades, an Industrial Grey finish, and G15 gooseneck arms.
Thanks to Barn Light's stunning range of backyard lighting solutions that combine style and functionality, you can create the perfect ambiance for endless nights of relaxation and enjoyment. Dive in and transform your outdoor oasis today!