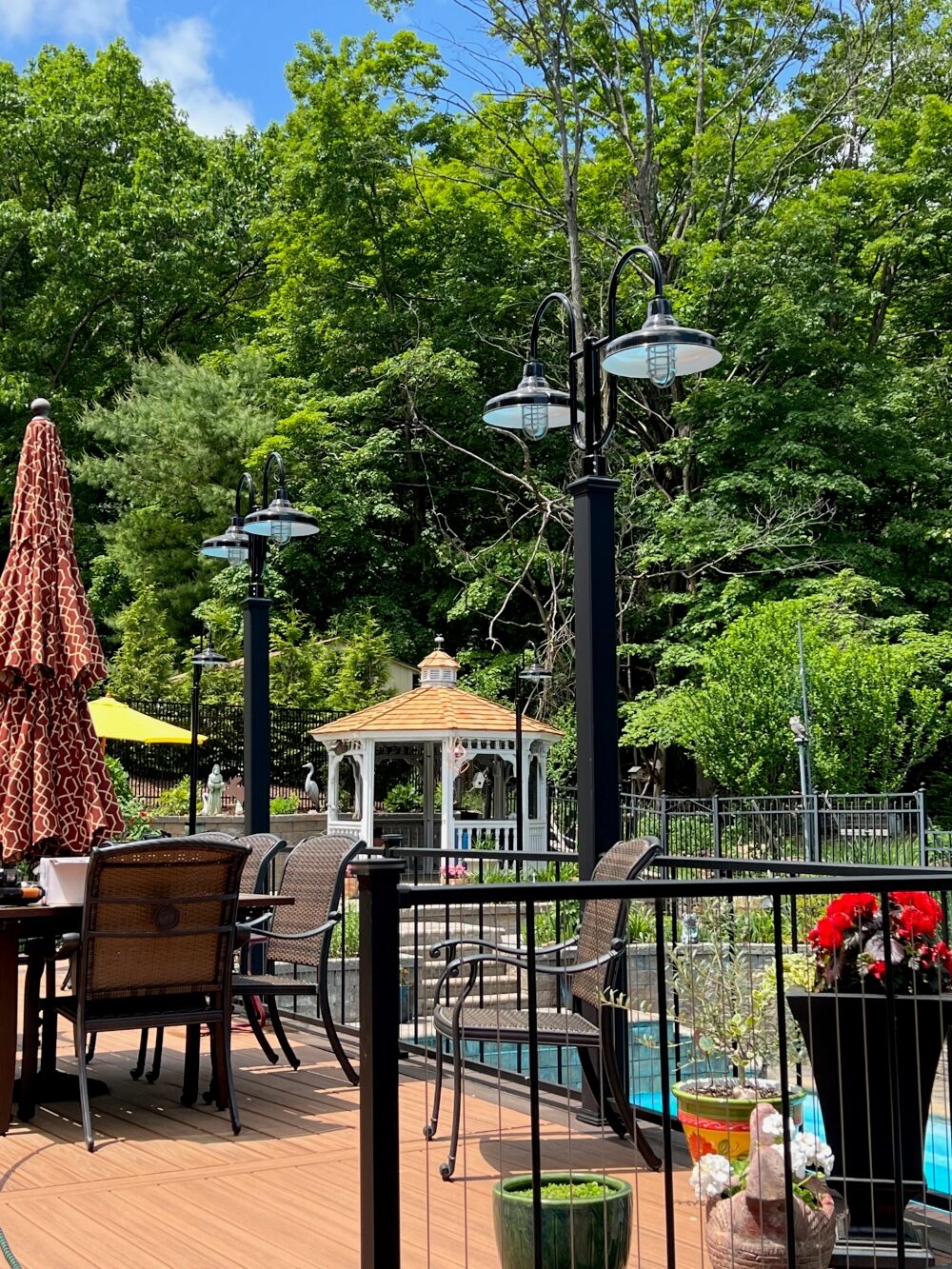 Rugged LED Post Mount Lighting Brightens Outdoor Living Spaces
There's something magical about spending a warm summer evening in a beautifully designed outdoor living space. Whether entertaining friends or just unwinding after a long day, these spaces offer a refreshing change of scenery and an escape from the realm of indoor environments.
Tina's home in northern New Jersey offers just such an oasis. With an outdoor kitchen, gazebo, swimming pool, and expansive deck, Tina has plenty of reasons to enjoy the outdoors this summer! She recently completed remodeling the patio surrounding the gazebo which included repairing the existing pavers and upgrading the lighting.
"It was all about re-leveling the pavers to make the space safer," Tina says. "And we wanted to use barn lights as we have a similar style on our front porch and balconies." Tina spent a lot of time searching the internet until she found Barn Light Electric's collection of LED Post Mount Lights.
"First, I was attracted to the style of the lights," she explains. "Then when I saw these were made in the U.S., I was sold!" Tina selected the Union Nautical LED Single Post Mount Light for the patio. She customized these outdoor lights with 16″ shades, a porcelain enamel Black finish, and a single decorative smooth pole. She also opted for a Galvanized cast guard and clear glass for plenty of illumination.
"These kept in line with the style already incorporated on our house," she notes. "And I like the slightly rustic look of the galvanized guard." For the nearby outdoor kitchen, Tina chose two more of the Union Nautical LED Single Post Mounts to illuminate the grill area. These have the same customizing options as the gazebo fixtures to match.
Tina also opted for two Union Nautical LED Double Post Mount Lights for the long side of the deck to light up the pool below. These larger lights have the same 16″ shade, porcelain enamel Black finish, Galvanized guard, and clear glass. All of Tina's LED fixtures boast 1600 lumens with a 2700K color temperature for a warm white, energy-saving glow.
"Given the size of our deck, which is almost 1,000 square feet, we felt these double post mounts would be an appropriate size and give more light," she explains. "They light up the pool area very nicely!"
Like all of Barn Light's LED lighting, these fixtures feature integrated LED technology to efficiently convert energy into light. Eco-friendly and budget-conscious, these stylish lights save both time and money on energy and maintenance which means Tina enjoys more time relaxing outdoors all summer long!
"I love the look and the quality of the lights. And they were packed very nicely with no shipping damage," Tina says. "Everyone who sees them comments on how nice they are."
Photos courtesy of the homeowner