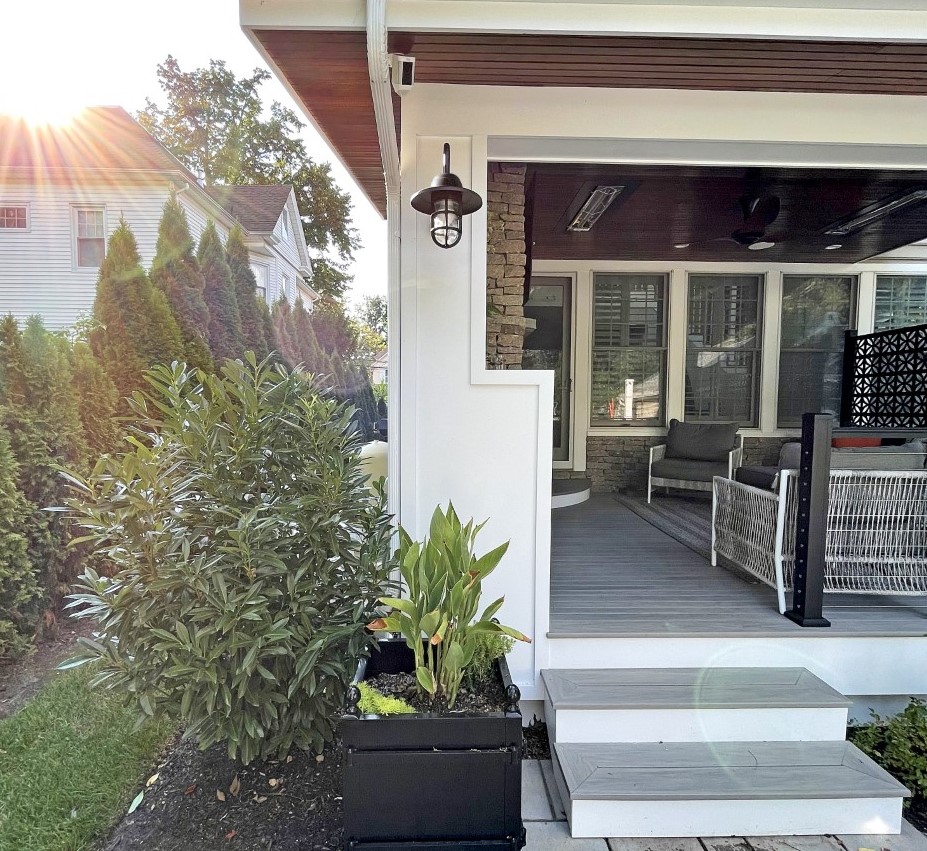 Industrial Lights Serve as Crowning Jewels of Backyard Makeover
Spring has sprung which means more fun in the sun! Luckily for Meaghan Murphy, editor-in-chief at Woman's Day, the backyard renovation she completed late last year is ready for action.
"We realized over the past few years that there truly is no place like home," Meaghan says. "We wanted our yard to feel like an oasis." The makeover included a swimming pool, tiki bar, and a covered patio which serves as an outdoor living space.
"With three kids, a dog, and a whole lot of friends and family, our design direction is always happy farmhouse," Meaghan explains. "We want everything to feel purposeful and aspirational, yet not so precious that it doesn't feel welcoming and lived in with love."
As Meaghan pondered lighting choices for the space, she asked for guidance from friend and HGTV star John Colaneri.
"I'm lucky enough to have been the executive editor at Good Housekeeping and now editor-in-chief at Woman's Day, so I have tons of friends in the shelter space," she says. "I turned to John for his recommendation, and he pointed me right to Barn Light Electric!" Meaghan notes that lighting selection can be daunting because it serves as the crown jewel of any project.
"The wrong fixtures can deflate the aesthetic quickly," she says. "I wanted something that would endure the elements but also look really special." Meaghan chose the Industrial Guard Gooseneck Light for her patio. She customized these fixtures with a Textured Black finish, a G26 gooseneck arm, and a warehouse shade.
"We wanted fixtures with character, and these are perfection," Meaghan notes. "We feel the finish is timeless and complements the custom screens and railings on the porch." She also opted for the heavy-duty cast guard and ribbed glass to add more interest to the fixtures and elevate the overall look.
For the tiki bar, Meaghan chose the Industrial Guard Sconce to add a touch of light to that area of the yard. She customized this fixture with the same Textured Black finish, heavy-duty guard, and ribbed glass, but decided on the "no shade" option.
"We wanted to echo the look of the porch area but not duplicate it," she explains. "It's a lovely cousin to the other fixtures." The Industrial Guard Sconce is handcrafted in Barn Light's Florida manufacturing facility and can be customized with an array of finish colors, guard, glass, and shade options, as well as a dusk-to-dawn photocell which turns the light on and off automatically with the sun.
"I sometimes joke that I like the yard even better at night because the soft glow of the Barn Light fixtures is so beautiful," Meaghan says. "They are the best accessory to our project!"
Photos courtesy of Meaghan Murphy