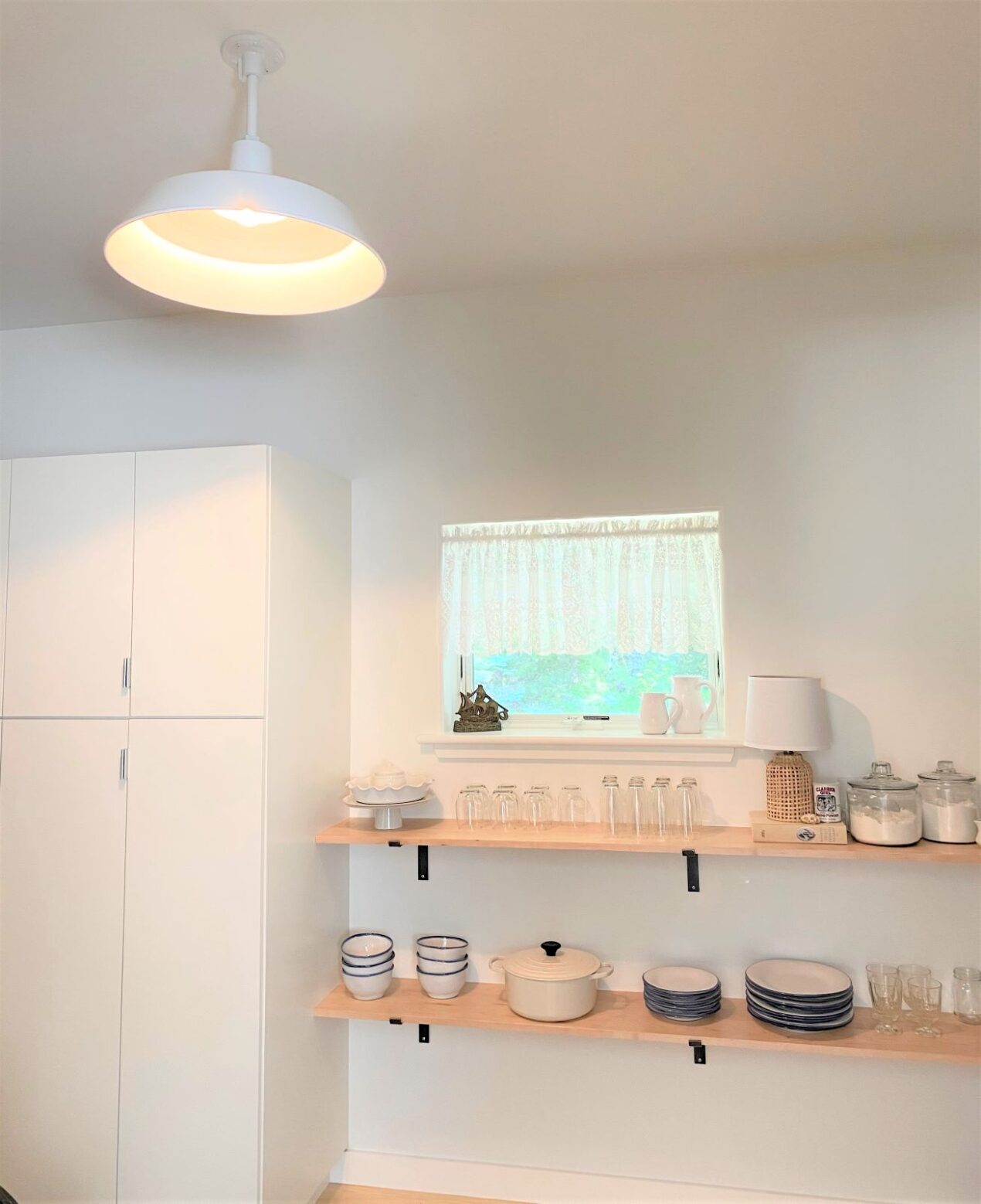 Crisp, White Lighting Offers Minimalist Touch to Home Remodel
If you missed Monday's blog post featuring Lauren and Matt's beautiful home in Kennebunk, Maine, be sure to check out the transformation of their kitchen and dining room. The couple purchased their home in December 2020 and have been slowly remodeling.
Thanks to ongoing supply chain issues, the work has been frustrating at times, but the results are oh so worth the wait! Today, we're taking a tour of several other rooms in the home including the walk-in pantry, office, and guest bedroom.
As Lauren made choices throughout the process, she wanted to create a bright, crisp, and clean look with simple, well-made designs. Although Barn Light's array of color options were enticing, Lauren chose to stay with a White finish on all of her lighting. To add visual interest to each space, she selected different styles of fixtures throughout the home.
For the pantry, Lauren chose the classic Original™ Stem Mount Pendant Light. She customized this handspun, American-made pendant with a generous 20″ shade, a White powder coat finish, and a 6″ stem with a heavy-duty canopy.
"I love the old-school, classic look of this fixture," Lauren says. "I went with the larger size here as I wanted a bit more of an overstated look. It feels luxurious, yet practical, for the space. It's actually one of my favorite lights in the house!"
Just off the kitchen, Lauren chose a different RLM-style pendant to illuminate the hallway. The Avalon Stem Mount Pendant Light brings a slightly modern touch to the classic warehouse shade. She customized these two pendants with 14″ shades, the same White powder coat finish, and 6″ stems.
Lauren took a leap of faith in the design of her office and guest bedroom. While she chose white as a dominant color throughout her home, she decided to introduce a variety of blue shades in these two spaces.
"Painting the guest room navy blue was a huge stretch for me considering everywhere else is super bright," she explains. "But I love it, and it's nice and cozy!" An Original™ Warehouse Flush Mount Pendant serves as overhead lighting in both rooms. These ceiling lights are customized with 14″ shades and the White powder coat finish used on other fixtures throughout the home.
"I chose the white Originals for the office and guest room for the white minimalist look to play off the blues," Lauren notes. "I wanted something simple and versatile yet beautiful on their own." Purchasing American-made lighting for their home renovation was important to Lauren and Matt. They discovered the extensive collection of fixtures crafted by Barn Light Electric after a local builder recommended the company.
"Once we began browsing the website, we stopped looked anywhere else for fixtures," Lauren says. "I love the brightness they bring into each room. Ultimately, the lights provide the clean, crisp look we were going for. We couldn't be happier!"
Photos courtesy of the homeowner