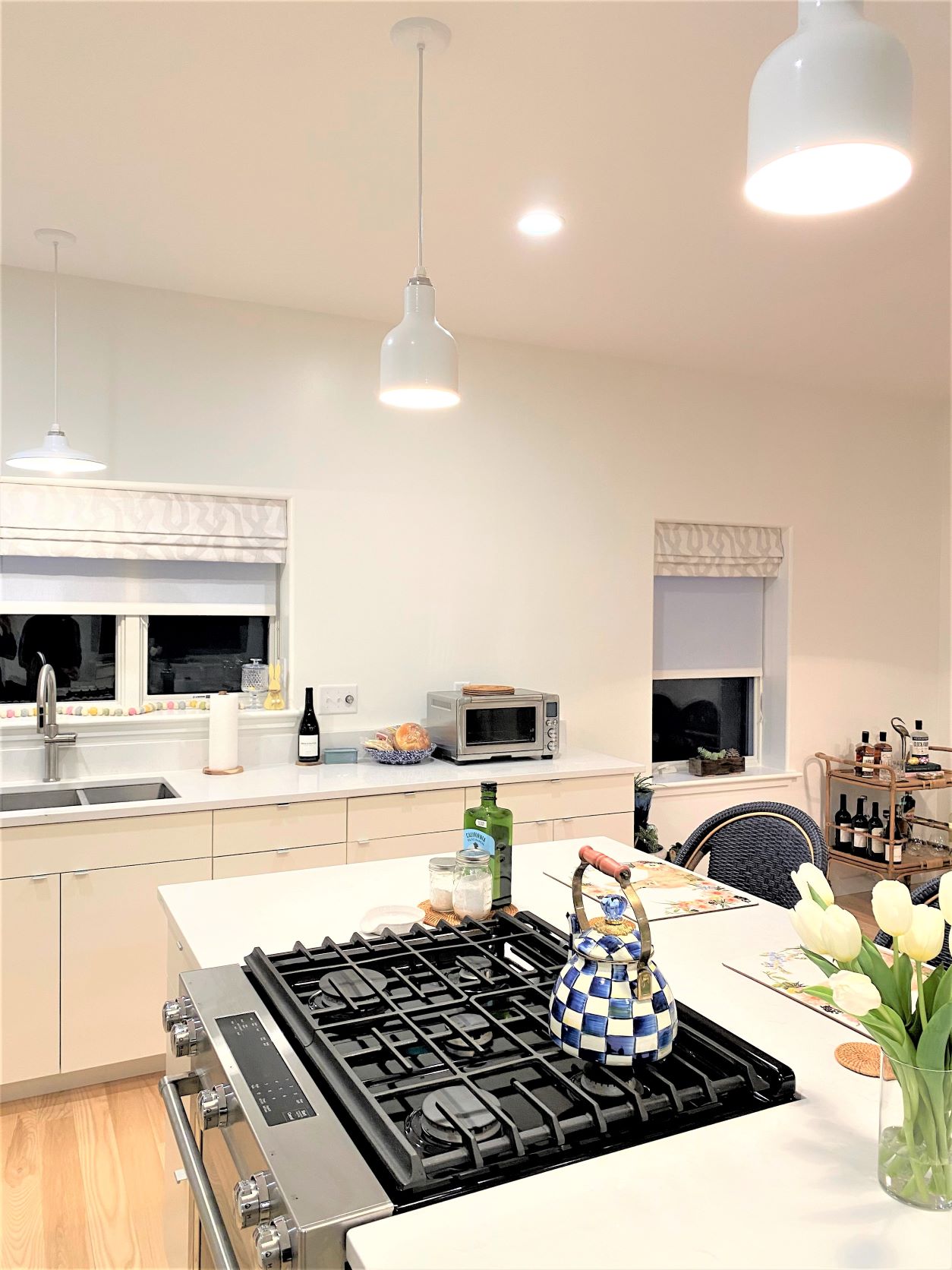 Crisp Palette of White Brightens Kitchen & Dining Remodel
When Lauren and Matt purchased a home in Kennebunk, Maine, last December, they planned a few updates to the house after they moved in. Remodeling, they reasoned, is easier than building, right? Like so many who tackled renovation jobs this year, the couple discovered that supply-chain issues draw out even the simplest updates.
"Things are still a work in progress as items have been delayed thanks to Covid and supply chain problems," Lauren says. "But we swapped out the light fixtures, replaced the kitchen counters, and painted or wallpapered every room." Lauren admits that Matt leaves the designing up to her which is "great and annoying all at the same time!" She envisioned a bright, crisp, and clean look with simple designs that are well made.
"It was really important that our lighting was American made," Lauren explains. "I wanted to stick with an all-white color palette for the lighting, and I liked the idea of using different fixtures but in the same color scheme throughout."
To highlight their new dining room table, Lauren chose the Aero 2-Light Stem Mount Pendant. She customized the 12″ handspun shades with a White powder coat finish, then selected 18″ arms to best accommodate the table.
"It was so nice to have options on sizing for this fixture," she notes. "This pendant reminds me of the light we had in my childhood home growing up, yet it has a modern spin to it!"
For the nearby kitchen island, Lauren was drawn to the Tuscany Cord Hung Pendant. She customized these two pendants with the White powder coat finish to match the dining room table fixture and standard white cords.
"We saw these in another home and loved them!" Lauren says. "They have an industrial feel to them while still remaining delicate."
Since the living and dining areas are an open, combined space, Lauren chose the Marathon Pendant Light to complement the other fixtures. She customized this handcrafted RLM-style shade with a 12″ shade, the White powder coat finish, and standard white cord.
"Barn Light Electric was recommended to us by a local builder," Lauren says. "Once we began browsing the website, we stopped looking anywhere else for fixtures. We were sold on the company very easily!"
Photos courtesy of the homeowner