Copper Lantern and Stacked Stone Column for Driveway
The quiet community of Fontana Lake Estates is nestled in the Blue Ridge mountains of western North Carolina. Fontana Lake was created by the Tennessee Valley Authority during the World War II era, and today, this unique community is one of the rare few with properties touching the lake's shoreline as more than 90 percent of the lake is surrounded by national park or national forest lands.

Those lucky enough to live in this neighborhood have a deep respect for the wildness of the land surrounding them, and the homes built there use plenty of natural materials, muted colors, and locally harvested wood. Stacked stone is a favorite building material in this area not only for its natural beauty but because it's environmentally friendly, drains naturally, and never needs maintenance.
Take, for example, this stately column at the driveway entrance to one home. The beautiful stacked stone column, with a matching one on the opposite side of the drive, beckons a gracious welcome to passersby. On top of the column, a gas-lit lantern makes sure that even on moonless nights, you won't miss the driveway! This lantern is similar to our Ezra Lantern, part of the collection of Copper Gas and Electric Lanterns in our Outdoor Lighting section.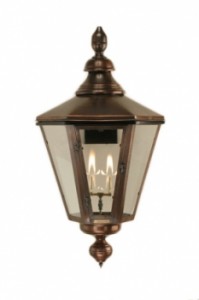 Like all of our copper lanterns, the Ezra boasts old-world craftsmanship and style in a product manufactured to last a lifetime. The Ezra comes in four sizes including an extra-large version suitable for commercial sites. The lantern can be column mounted such as this or wall, post, or pier mounted. Glass and light source options are also available including electric, natural gas, or propane. Copper is a wonderful choice for an outdoor setting as it ages gracefully over time yet never needs more than a simple soap-and-water cleanup. Between the stacked stone and the copper lantern, this is the perfect, maintenance-free accent for this landscape!