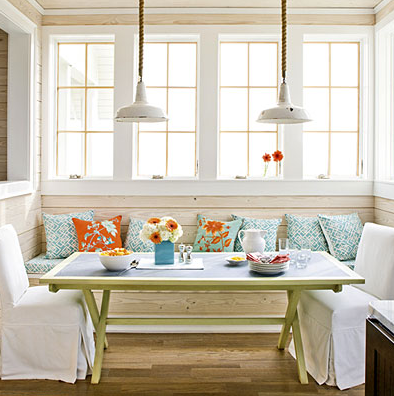 Complementing Styles Found In Vintage Beach Decor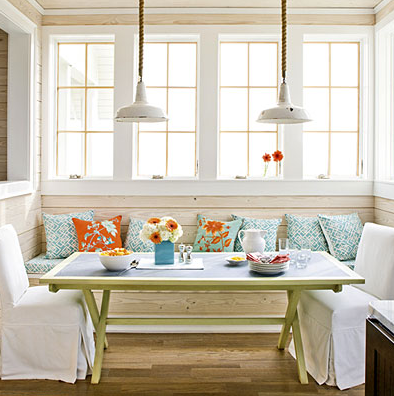 Photo courtesy of Southern Living
Today's inspiration comes from a past Southern Living Idea House. This inviting Texas home sits along the Gulf Coast awaiting family and friends for long weekends.

A window filled alcove functions as a dressy, yet informal dining room. Two white slip covered chairs are easily washable and the picnic style dining table is easily movable for sweeping. A built in bench utilizing horizontal wood planks was custom made to make the nook appear larger and wider. Surrounded by natural light, a soft aqua and orange are combined to give the already bright, airy dining nook a pop of color. Dropping in for a bit of fun are two vintage, white porcelain enamel shades. Instead of the traditional chain or cord, the designer chose to hang each pendant using clever nautical style rope.
Vintage accessories much like these shades are combined perfectly with traditional beach decor. Coastal inspired furniture and accessories are often worn or distressed much like the original shades above. These shades were built to last – the few dings or scratches that are apparent add history and give them their charm. Originally used in the 1930's, 40's and 50's, porcelain enamel shades were the go-to fixture for most warehouses and factories due to their sturdy craftsmanship. It wasn't until the 1960's that strict EPA regulations caused most porcelain enamel companies to close or shut down. Due to the later destruction of most buildings, similar shades to these shown above, were either destroyed, or are hard to find today.
Barn Light Electric offers several styles of vintage lighting similar to these pictured above. All limited in quantity, we try to keep our Vintage Barn Lighting category stocked with several shade styles and colors. We only carry shades that are in near mint to average quality, and unlike other stores, you will find our shades are reasonably priced to fit within your budget. It is unfortunate that so few vintage shades remain today, but thanks to the exceptional craftsmanship that went in to their production over 50 years ago, those that do remain have been salvaged and can be reused for future generations.