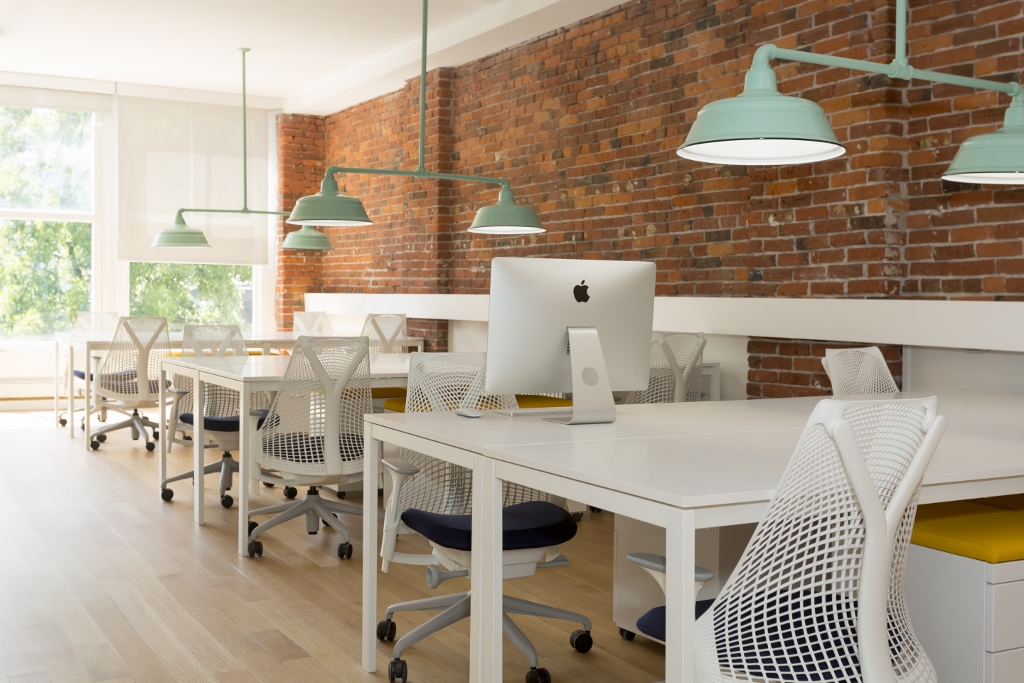 Colorful Industrial Barn Lights Elevate Mood in Shared Office Space
While those who live in the oft-rainy city of Vancouver, Canada, may get used to the gloominess of the weather, that doesn't mean they embrace it in their everyday environments. The design team from Mak Interiors in Vancouver recently infused a shared office space with colorful industrial barn lights to create a happy space for the freelancers and entrepreneurs who work there each day.
"We went for a very eclectic style, a modern-meets-industrial chic," says Sabrina Chammas, creative director at L'Atelier. "Our members have the option to reserve a desk on a monthly basis or just buy time passes to access certain parts of our space." Located in Gastown, Vancouver's oldest neighborhood, L'Atelier provides a comfortable, inspiring office and networking space.
Mak designers Amber Kingsnorth and Kathlene McGuiness spearheaded the remodeling of the 100-year-old building which houses the office space. Aged brick walls were exposed and ancient lighting fixtures were replaced with colorful industrial barn lights to fit the vibe of the new interior.
The team selected the Bomber 2-Light Stem Mount Pendant to highlight the desk groupings. These handcrafted pendants feature 17″ shades finished with a creamy porcelain enamel Jadite color and dual mounting arms.
"Good lighting above the desk increases your productivity and boosts your energy," Sabrina says. "We chose the two-light pendants so that light reaches every desk evenly. We felt that having the bright  beachy color was needed to boost morale. And the soft Jadite finish creates a nice visual contrast against the rough brick walls."
Another seating area receives light from three Original™ Warehouse Gooseneck Lights also in the porcelain enamel Jadite finish color. These handcrafted, American-made wall lights feature 16″ shades and impressive G2 gooseneck arms that project the shades 39″ from the wall.
"While it is important for these areas to be well lit, we also considered the overall look and feel of the space," Sabrina notes. "Instead of hiding the pipes, wires and lights, we chose to expose them as a central element of the design."
In a nearby conference room, more colorful porcelain enamel barn lights bring a cheery note to the space. The Sterling Stem Mount Pendant features a 16″ shade and a high-gloss Yellow finish.
"We chose yellow as an accent color because it's a fun and happy color," Sabrina says. "People don't think of work spaces as being fun or happy, but we're trying to change that perception. The pops of yellow act as a reminder that this is a happy space where they can enjoy getting things done."
Sabrina was concerned, at first, about placing a large order with a US-based manufacturer due to shipping times. But her custom barn lights arrived in a timely manner and the office opened on schedule.
"We wanted an office space to match the uniqueness of our members who are very creative," Sabrina says. "They shouldn't have to work in a traditional and boring office that's dark and gray! The colorful industrial barn lights instantly lift your spirits and make our space stand out."
Photos courtesy of Deanna Flinn and L'Atelier