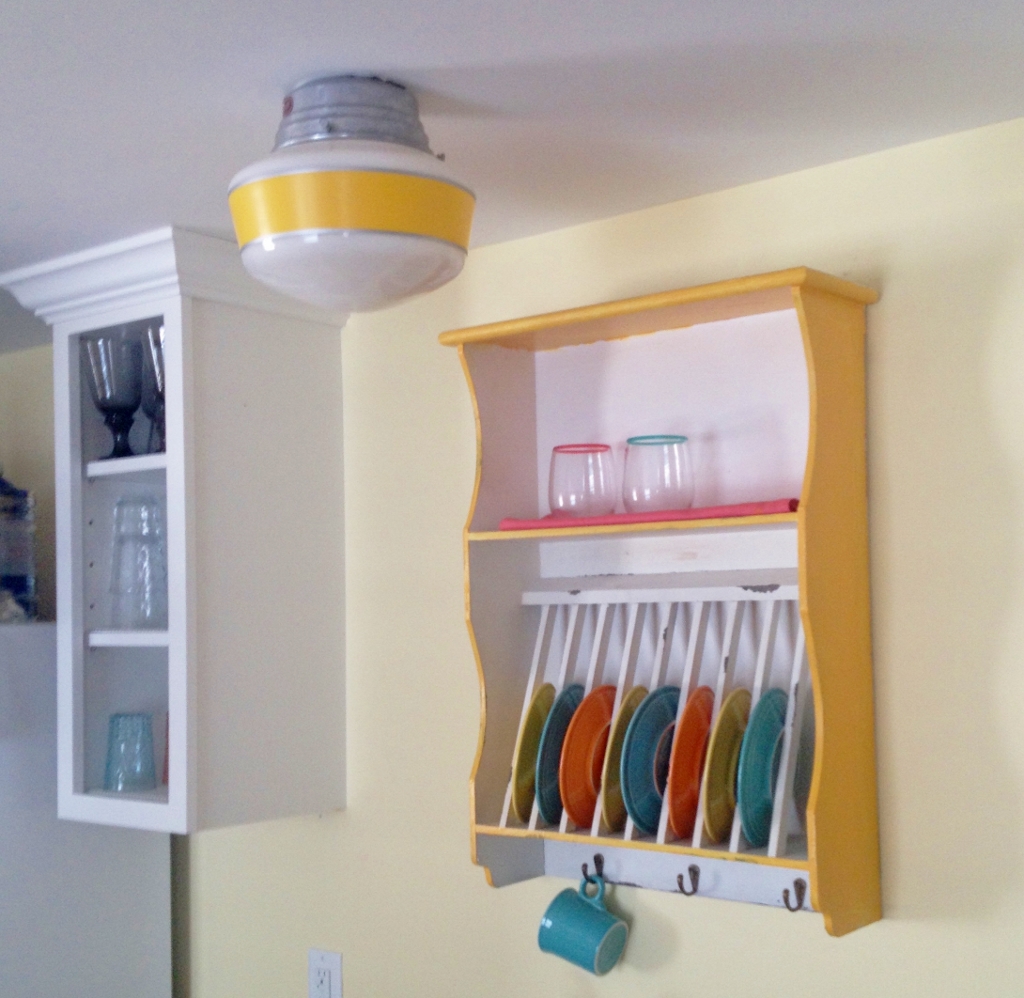 Schoolhouse Lights Suit Relaxed Style of Coastal Beach House
When does a renovation take on a life of its own and become a full-gut, strip-to-the-bones remodel? For Cynthia, the moment came when her contractor found previously undetected termite damage in her Ocean Springs, Mississippi, cottage. The cottage was run down, having sat empty for years. But had she known the true extent of the damage, Cynthia admits the structure would likely have been torn down.
"When we first stepped into the house, we were blown away by its condition, but I could immediately see its potential," Cynthia says. "I wanted to stay with the same structural design but go with a classy coastal/beach theme. I wanted it to be clean, comfortable, fun, and eclectic all wrapped into a nice little place that I could enjoy while visiting family in the area."
As Cynthia looked for lighting, finding American-made fixtures topped her list along with fun, eclectic lights in an array of colors. Her kitchen features pale yellow walls and colorful Fiestaware dishes. When Cynthia spotted our Schoolhouse Lights Collection via Pinterest, she knew they were perfect.
"I pored over the website, studying it, dreaming about it, and visualizing many lights in all in the different places I needed them!" she notes. "It was so much fun. I ultimately chose the schoolhouse lights because they fit the style I wanted to portray. I love the fusion of color mixed with the glass."
For the kitchen, Cynthia chose the Primary Schoolhouse Stem Mount Pendant Light to highlight the island she found at an antique mall in Pensacola. She customized these schoolhouse lights with a Galvanized fitter, canopy and stem, and Buttery Yellow painted bands on the globes.
Over the sink, she chose the Primary Schoolhouse Flush Mount Light to complement the island lights. This compact flush mount light features a small globe, Galvanized fitter and the matching Buttery Yellow band of color.
"The flush mount light above the sink is perfect for that area because, even though I hadn't purchased the plate rack yet, I always visualized a plate rack in that spot," Cynthia explains.
In the adjoining dining room, Cynthia picked out the Conoco Stem & Loop Pendant Light for its eclectic look.
"I wanted something different and I love the look of this light," she says. "I like the silver stem, the graniteware, and the fact that the fun bulb is visible on the bottom." Cynthia customized this ceiling pendant with a 15″ shade and a Jadite and Black finish. The black cotton twist cord and nickel knob switch add to the vintage look.
Cynthia named her beautifully renovated home Butterfly Cottage and has it listed as a rental when she isn't in town.
"I love each light! I love that they are different than any light that I've ever had," she says. "Each one is beautiful and I am thoroughly enjoying them. An added pleasure is that I get many compliments from all the guests that rent the cottage."
Photos courtesy of the homeowner