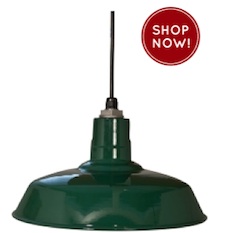 Classic Barn Lights Used on Popular TV and Movie Sets
Photo Courtesy of Tri Star Pictures
You may recognize many of the classic barn light fixtures sold at Barn Light Electric Co.®from your favorite TV shows and movies. Regardless of the genre, today you can find a movie or TV show with vintage inspired barn lights in the background.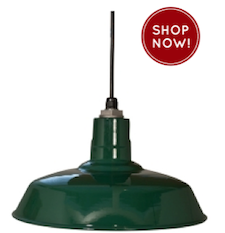 For example, in the classic sports drama Rudy, the lights in Notre Dame's football locker room resemble our Ivanhoe® Sky Chief Warehouse Pendant. Although set in the 1970's, Rudy was filmed using popular lighting styles from the 30s-60's. Porcelain barn lights like these were commonly used in stadiums or industrial warehouses and factories, but today they can be brought into your living room, kitchen, garage, or front porch for a nostalgic look and feel.
Photo Courtesy of HBO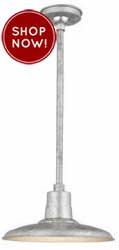 If you've been following HBO's Boardwalk Empire, you may have noticed a variety of vintage industrial lights that add to the "Roaring 20's" era portrayed in the new HBO hit series. These lights are in scenes throughout the show, from back alley mobster fights to elaborate parties, and secret boardroom meetings. Look closely and you'll see lights similar to the Barn Light Vented Warehouse Pendant and the Ivanhoe® Sinclair Industrial Porcelain Pendant. In the scene pictured above, a Shallow Bowl Pendant purchased from Barn Light Electric Co.® hangs above the entryway. The image is from Boardwalk Empire Episode 7, also titled "Home." Our Barn Light Shallow Bowl Pendant is available with shade sizes ranging from 12 to 18 inches and can be mounted with a cord, stem, or flush to the ceiling. Each pendant is available in well over 50 finish options, but the set designers of Boardwalk Empire chose traditional galvanized metal lights to capture the feel of this classic era. Optional accessories include wire cages and cast guard units that will add a unique focal point to your space.