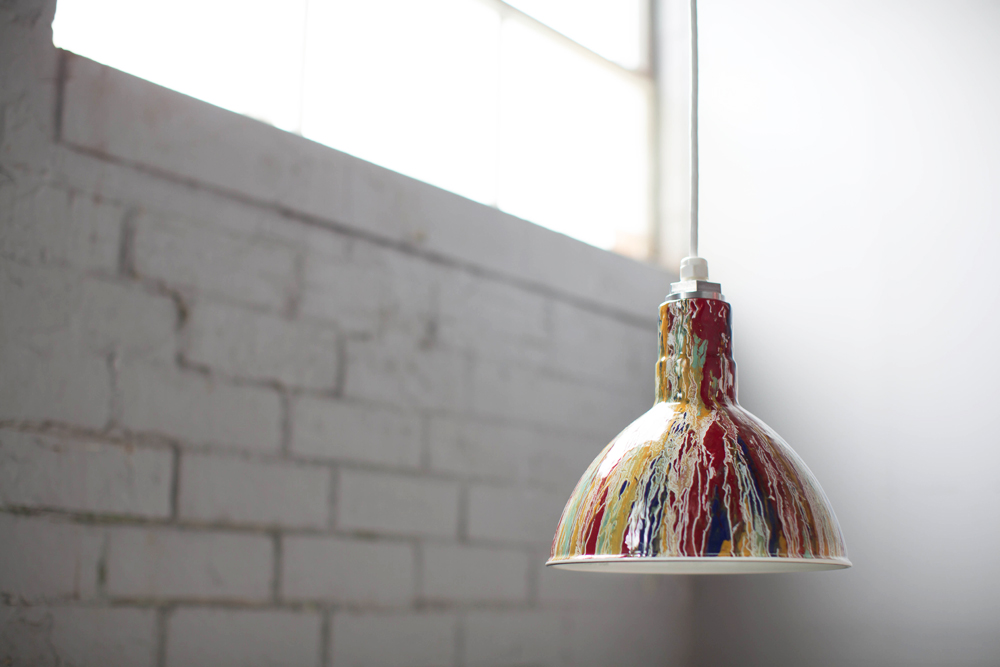 Classic Barn Lights Collide with Colorful Art Style
From the very beginning, Barn Light Electric has been built on the foundation of honoring original barn lighting styles while updating these traditional fixtures with modern touches. Offering a wide range of customizing options for our signature line of gooseneck barn lights, for example, gives customers a timeless look with up-to-date amenities. Or by hand crafting a classic porcelain enamel light with the latest in LED technology, you get the vintage styling you love in an energy-efficient fixture.
This week we added a new dimension to our motto — where vintage and modern collide — by introducing the Pollock Collection of cord-hung pendant lighting. Inspired by the vivid works of American painter and abstract expressionist Jackson Pollock, this collection of porcelain pendant lighting offers a truly unique blend of barn lighting and classic art.
With 13 vibrant color combinations, these American-made pendants are one of a kind. Each deep bowl shade is hand spun from commercial-grade steel and hand finished with porcelain enamel glass. The shades are baked in our porcelain oven which seals the glass to the shade forming a high-gloss, never-fade finish.
This hands-on approach ensures that each fixture is its own work of art, with each finish varying slightly from shade to shade with its own special characteristics.
Shades are available in a variety of designs including drip, swirl, and marble patterns. This lovely pendant is the Pollock No. 14 which shows the swirl pattern in Jadite and White. Rated for damp locations, the Pollock No. 14 can handle a 200-watt bulb making it suitable for kitchens, dining rooms, or offices that need well-focused lighting.
If your space needs a splash of color, don't miss the Pollock No. 2, one of the most colorful pendants in the collection. Its drip-style finish includes Red, Cobalt, Yellow, Jadite, and Delphite in a brilliant display perfect for a kid's playroom, a retail boutique, or a restaurant that wants an eye-catching and memorable piece of décor.
Everyone has enjoyed creating this new collection of lighting from the painters who got creative with colors and patterns to our photographers who got to capture each of the new lights on camera. Check out this behind-the-scenes look at our recent photo shoot!
Barn Light Electric's Behind the Scenes Photo Shoot Video from Barn Light Electric on Vimeo.