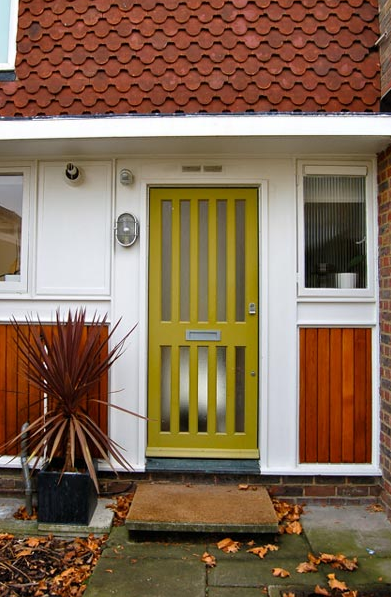 Breathe New Life Into Your Mid-Century Cottage With Nautical Lighting
Appearing to be straight out of an issue of Dwell magazine, it's hard to determine what the coolest part of this photo is. Is it the Avocado green slatted door? The gingerbread like scalloped shingles? The ultra modern, nautical light fixture? Everything about it entices me to want to check out the interior!
Your home should be a welcoming abode – one that smiles at you or causes you to smile after a long day – one that doesn't appear abandoned or scare off neighborhood children. Not everyone may be in their dream location for now, but you can make do with what you have and spruce up your home with a few simple fixes! What potential does your home have?
Whether brick, stucco, or wood siding, paint is the easiest way to brighten up a home. If it's plastic siding, consider renting a power washer from your local Ace Hardware or Home Depot! A popular trick to use a contrasting, bold color for your front door to give your home a focal point – like the green shown above!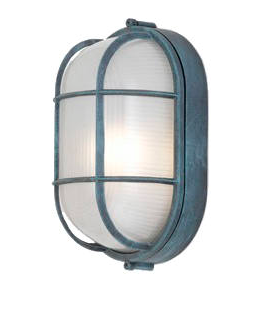 While we're on the topic of brightening up – if painting is a bit more than you were up for, consider simply swapping out faded or outdated light fixtures around the exterior of your home. The photo above added a fixture similar to the Amidships Bulkhead Wall Mount. Available in two sizes and dozens of finish colors, this light can be completely customized to fit your home's exterior decor. Originally used on ships and in naval yards, this light has a sense of nautical style, but can take on a modern appearance when customized in a galvanized or metallic finish. This fixture is ideal for use as a single fixture positioned next to your front door, or can further complement the existing lighting around the exterior of your home next to windows or patios.