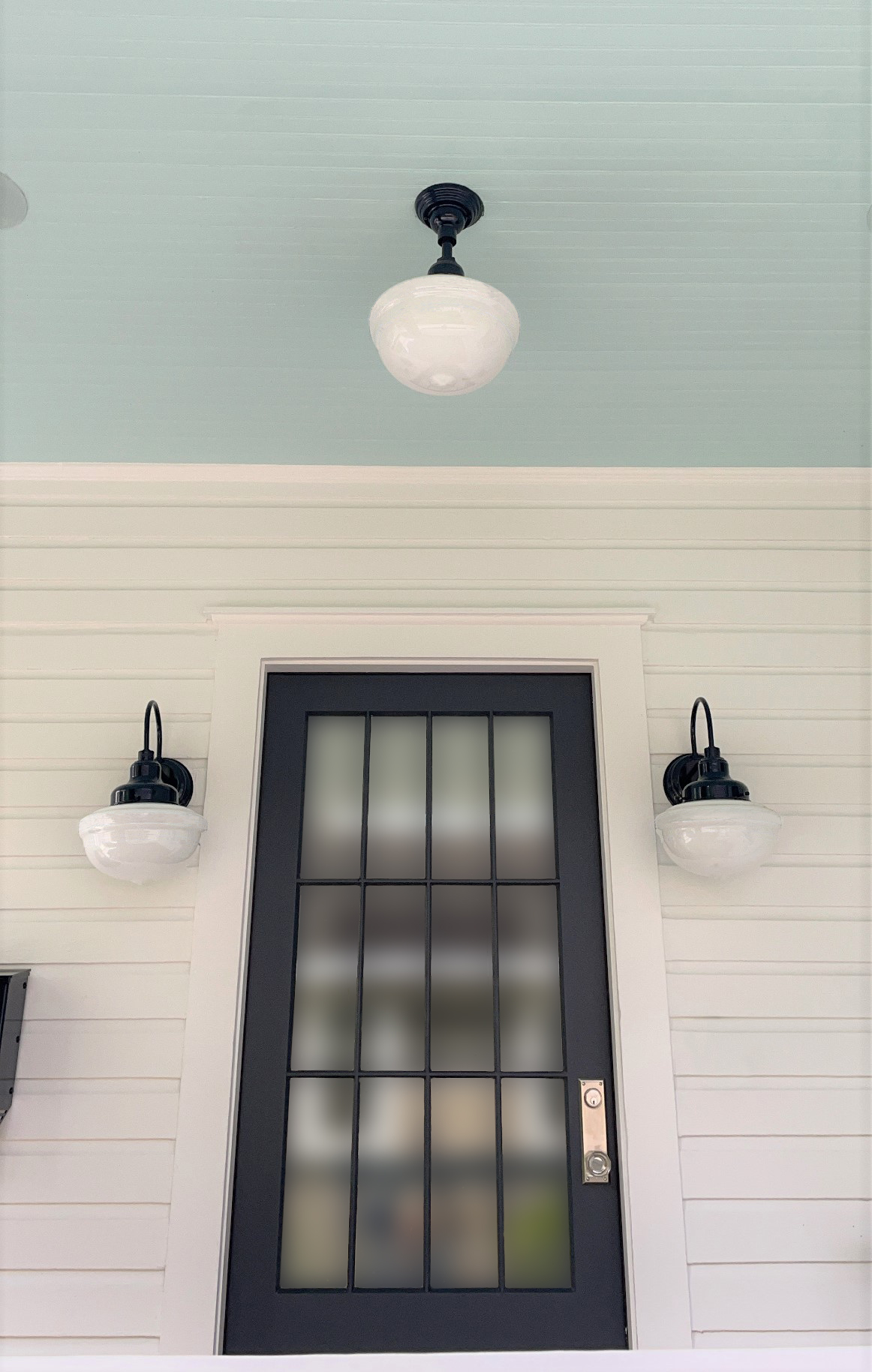 You Asked! We've Got Answers to Most Oft-Asked Questions
Barn Light Electric makes shopping for handcrafted, American-made lighting as smooth and seamless as possible. Our website features easy-to-navigate menus and plenty of beautiful photos to help customers choose the best fixtures for their homes and businesses.
Questions do come up however, and our Customer Care staff stands ready to help with every detail. Today we're sharing some of the most-often asked questions that our team members address.
Q: Will a dusk-to-dawn photocell work on my screened porch?
A: For a photocell to work properly, it must be directly exposed to sunlight such as the one above. Sunlight triggers the photocell to turn the fixture on and off automatically. At dusk, when the sunlight fades, the fixture turns on. As the photocell senses enough light in the morning, it turns the fixture off. No need to remember to flip the switch!
Q: What is the difference between damp-rated, wet-rated, and dry-rated fixtures?
A: A damp location is subject to the moisture in the air but is protected from direct exposure to the elements. A screened-in porch that gets damp with summer's humidity but is protected from direct rainfall is considered a damp location. Other damp locations are bathrooms with tubs and showers or a breezeway between a garage and house that has a roof but no walls. Dry locations are dry — no rain, no dampness, no humidity. To read more about the differences between wet, damp, and dry ratings, check out this blog post.
Q: Can I install a vented pendant outdoors?
A: Fixtures with vents in the neck are not suitable for wet locations — those exposed directly to precipitation. Rain, snow, or sleet can enter through the vents and damage the electrical wiring inside. Vented pendants, such as these beautiful Original™ Vented Pendants, should be installed in a damp or dry location only. The fixtures above feature 14″ shades, a Mint powder coat finish, and white cloth cords.
Q: Can I put my enamelware dishes in the dishwasher? How about the microwave?
A: Just like our porcelain enamel lighting, our enamelware dishes start as a flat sheet of commercial-grade steel. The steel is molded into the desired shape then coated with multiple layers of porcelain enamel glass. The pieces are fired in our 1600-degree oven where the enamel is sealed to the steel for a high-gloss finish. Since our enamelware is crafted from steel, it cannot be microwaved. We recommend handwashing to preserve the finish, but if you choose to use the dishwasher, place the pieces in the top rack with plenty of space between them so they don't abrade during the wash cycle.
Q: Can I install a schoolhouse light with painted bands on my front porch?
A: The painted band option on the Schoolhouse Light Collection is recommended for dry locations only. See question #2 above or this blog post for a full explanation of damp vs wet vs dry locations.
Q: Why does my copper light keep turning green?
A: Copper is a "living" metal. Without regular cleaning, copper undergoes a natural weathering process called oxidation. Much like the formation of rust on iron, a patina will develop on copper when oxygen and water interact with the metal. Patina develops with different colors and patterns depending upon a number of factors including geographic location, temperature, humidity, precipitation, air pollution, and even room ventilation. In Utah, Natalie's Chestnut Gooseneck Lights started developing a patina shortly after installation. Her before-and-after pics, above, show the rich color and pattern that the elements in her area produced on the metal. For more about copper lighting, check out this blog post.
Q: What is the difference between integrated LED and an LED bulb?
A: Socket-based fixtures accept incandescent, compact fluorescent, and LED bulbs. As a consumer, you choose which bulb works best for your particular lifestyle and space. Barn Light's LED collection uses LED components integrated directly into the fixture's design eliminating the use of bulbs and maximizing the output and efficiency. These fixtures can be customized with a domed or flat lens as shown above.
If you have a question not listed here, feel free to reach out to our team via email (sales@barnlight.com), via our toll-free number (800-407-8784), or via Live Chat from our home page.