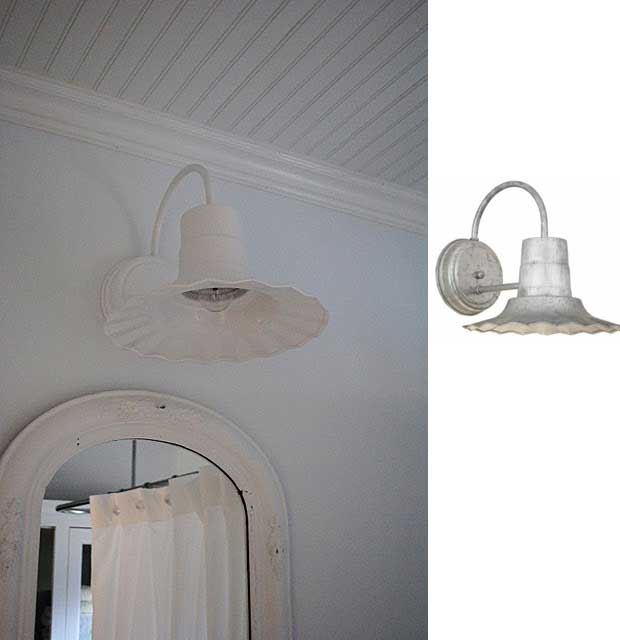 Barn Light Radial Wave Sconce Completes Canadian Cottage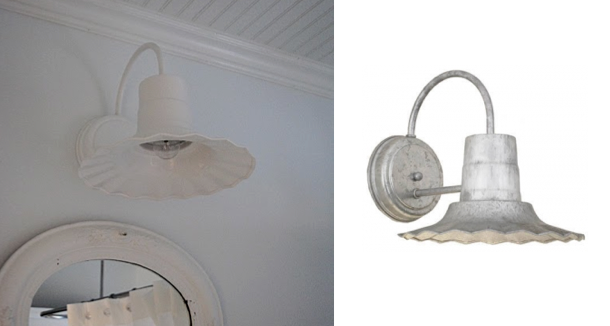 The customer submitted photo today shows the versatility of one of our most popular barn light fixtures at Barn Light Electric Co.® – the Barn Light Radial Wave Sconce. Our most recent photo submission comes from a young couple who reside in a 'Canadian Cottage.'

As you can see in the photo, this Radial Wave Sconce, which starts at $184 each, was a crown jewel and the perfect finishing touch for their newly renovated bathroom. The one pictured above is a 12″ shade with a white finish. The homeowners added the sconce after a new tub and sink were installed. It matches perfectly with the subtle worn mirror and bead board trim below.
To accommodate your home's specific needs, the Radial Wave Sconce is available in multiple sizes – ranging from 12″-16″ and comes in a wide variety of finishes choices. This sconce is a smaller version of the Radial Wave Pendant, which was featured on Frugal Farmhouse Design. For ceiling mounting, this pendant version is available ranging from 8″ to 24″.
The Radial Wave Sconce is an ideal choice for homeowners who are in the process of restoring an old home or redesigning a room where ceiling space or wall space is limited. It maintains a rustic and aged look with a wavy appearance that originally lit streets around America in the early 1900's. It's a proud representation of the inventive minds that created timeless products in the midst of the great depression. The scalloped design of the Radial Wave is carried over in an 8″ to 14″ gooseneck light or larger 16″ to 24″ gooseneck light.
The Canadian Cottage's bathroom overhaul was just one phase of a house-wide renovation project by the owners. Other areas of the cottage with a barn-style design include the kitchen, where the flooring was built with 100-year old barnboard from a salvage shop in Coburg, Ontario.
For more information about vintage lighting fixtures including gooseneck lights and porcelain enamel lights, visit our shop at barnlightelectric.com