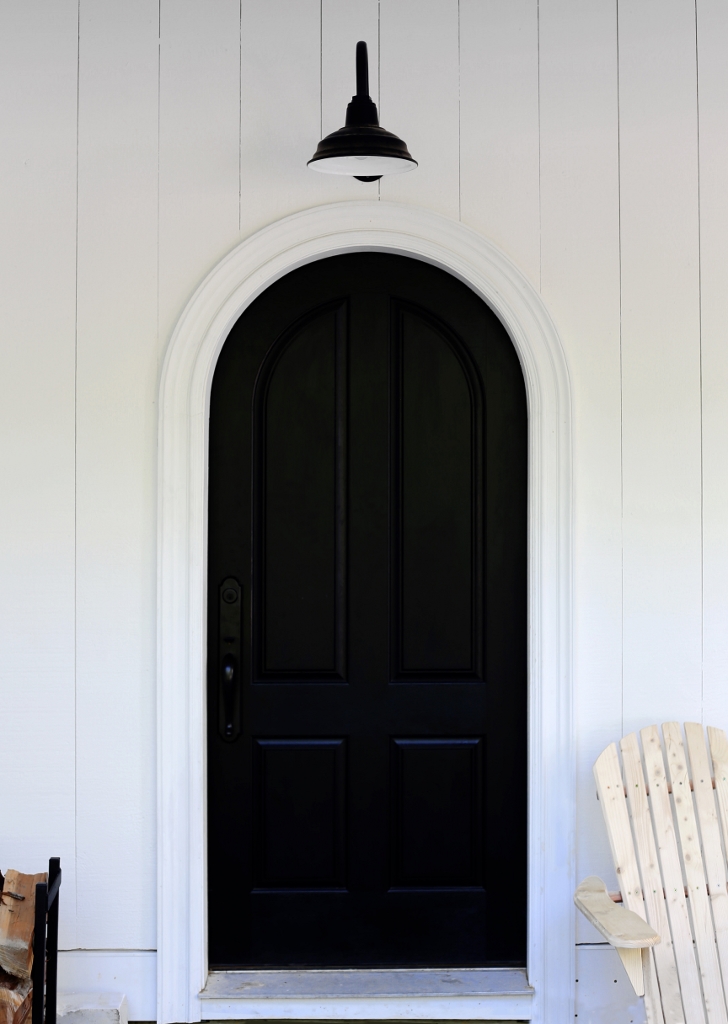 Modern Farmhouse Journey | Exterior Lighting Tips
We've been following Whitney and Peter on their modern farmhouse journey for several months now, and it's been a real treat watching all of the details come together. If you missed Whitney's first two posts, be sure to check out this one from April and this one from July.
In today's post, Whitney moves outside to share the couple's decision-making process when choosing exterior lighting. Take it away, Whitney!
Isn't it interesting how different the outside of your home looks from day to night? When you approach any home or commercial building, you immediately get a sense if it's welcoming and accessible or empty and foreboding. Lighting is essential in differentiating your house from others in your neighborhood and showing guests where to go. Finding the right light fixture for your home's entry is only the beginning.
When our family selected Barn Light Electric's beautiful Bomber Gooseneck Lights for our home's exterior, we knew that the placement, bulb brightness, color temperature, and ease of access would be paramount in the lighting's functionality and aesthetics. We did a lot of research, pondered countless examples, and created a number of sketches to ensure that their placement would be perfect.
I was inspired by a house that I pass every day on my way home from work — an historic Stowe, Vermont, mansion which boasts a perfectly faded brick exterior and a low, black roof over a wrap-around front porch with matching black wooden railings.
The houses on either side of this home are beautiful as well, but this homeowner chose a single barn light fixture with a warm-hued bulb directed to illuminate their unexpected coral red door at night. It's a spectacular sight to behold! I wanted to emulate their entryway focal point and that influenced our decision to place all of our barn lights above the windows and doors.
The next step was color! Bulbs emanate light, and all light falls somewhere on the spectrum from cool to warm. The exterior of our house is white which means it easily reflects the lighting temperature around it whether natural or artificial.
While I'm a fan of the truest and whitest lights available, we chose to go with a warm, rich, auburn hue to create an inviting and cozy look to our house year round. Yellow color temperatures attract fewer insects during the warmer months and also create the perfect ambiance on the front porch for after-dinner drinks with friends.
An added bonus is that each of these bulbs is dimmable which makes late nights spent chatting on the porch even more enjoyable. The technology is hard-wired into our light switches and also accessible via our smart phones. When we pull up to our home after dark, a simple tap on the phone turns the lights on so we're never fumbling around in the dark. This ease of accessibility means we stay safe and comfortable entering our own home and our guests do too!
The lights featured in today's post are the Bomber Gooseneck Lights with 11″ shades and Black finish. Whitney chose the G14 straight gooseneck arm for the fixtures over the windows and the G15 gooseneck arm for the fixtures on the front porch.
Whitney May is a Digital Marketing & Social Media Manager from New York City now living the mountain life in Vermont. Follow her progress on the farmhouse on Instagram @midcenturymodernfarmhouse