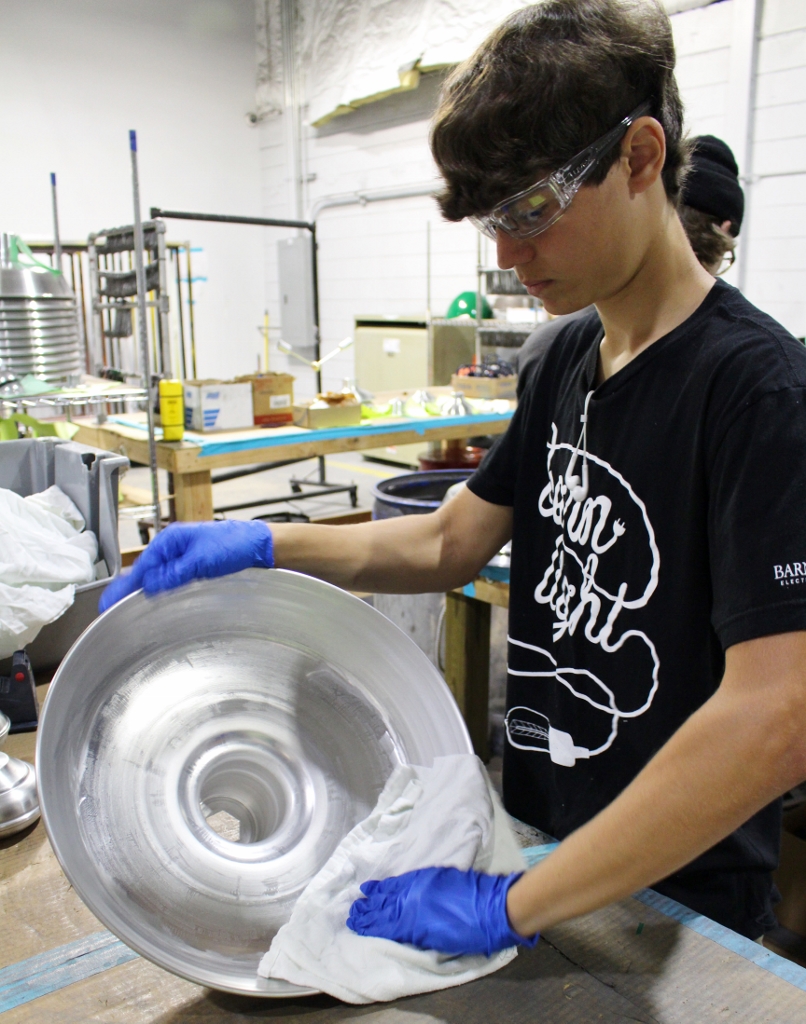 Behind the Scenes | Barn Light Interns Learn All About Manufacturing
According to Mike Rowe, TV host and advocate for trades and manufacturing jobs, "Opportunity usually shows up in overalls and looking like work."
This summer, opportunity at Barn Light Electric showed up in company t-shirts and jeans as four interns took their places alongside our full-time staff to learn the processes behind creating American-made lighting. These four young men, three high school students and one college student, all grew up on the Space Coast and were welcomed into the Barn Light ranks in June.
Linkin, a sophomore at Astronaut High School, spent much of his summer in assembly making sockets and creating hardware kits.
"I also got to spend a few days working in shipping making boxes and packing lights which was fun," he says. "The learning curve was hard at first, but I got experience for the next time. Linkin enjoys video games, lobster fishing, and playing the bass drum in his high school band.
Trey attends Titusville High and is heading into his junior year after spending the summer learning to clean and prep hand-spun light shades. After cleaning, Trey sorts the shades onto a rack, matches them with the appropriate paperwork, then carts them off to the paint department for the next step in the process.
"The best thing about working here at Barn Light is meeting new people," Trey says. "It's also nice to work full time and have money in my pocket."
Alex, a classmate of Trey's at Titusville High School, spent his summer vacation working in the porcelain department. He sanded each steel shade by hand to prep it for the application of porcelain enamel glass. After the shades are sprayed, they are rolled into the porcelain oven for firing.
"There are good people here to work with although it's hot in this area with the porcelain oven," Alex says. "I could see myself doing this full time." In his spare time, Alex enjoys fishing with Trey in the Indian River.
Calvin, another Titusville native, attends Prairie View A&M in Houston, Texas, where he is entering his junior year as a mechanical engineering major. Calvin put his books aside this summer as he learned how to operate a number of tools in the machine shop including the water jet which cuts disks out of solid sheets of metal. These disks are then spun on a lathe into light shades.
Although Calvin was on his feet all day, he enjoyed the direct experience in helping create quality lighting.
"I like the hands-on part of the job," Calvin says. "And I'd like to thank Barn Light Electric and especially Mark, Richie, Glenn, and Ron for giving me the opportunity to be a part of the team here this summer."