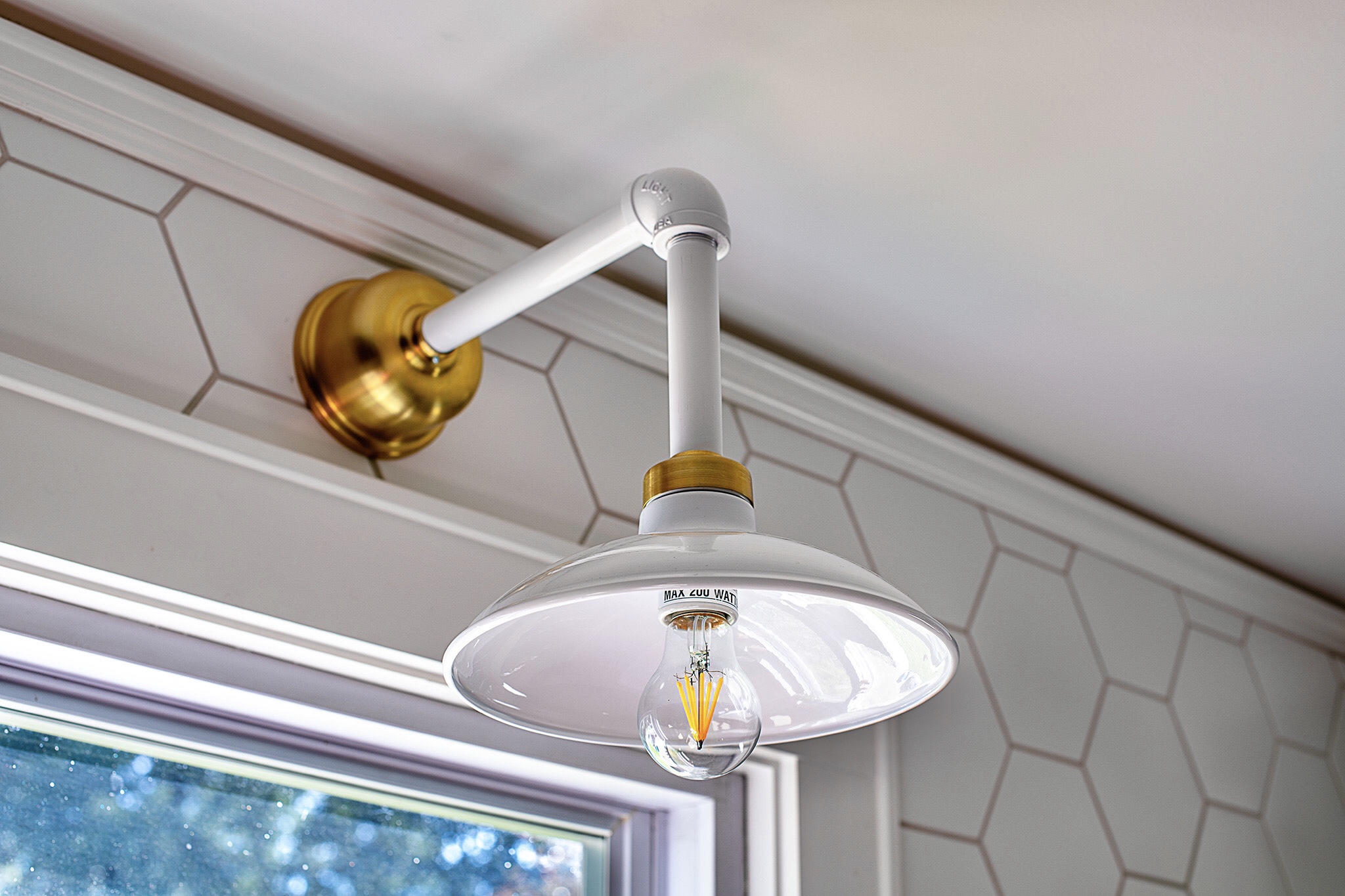 Vintage Lighting Adds Retro Style to Kitchen Reno
The open floor plan continues to be popular especially for those who like large, combined spaces for entertaining. It also works well for families who enjoy spreading out between kitchen, living, and dining rooms but still want to carry on a conversation or keep an eye on kids.
Lighting these spaces is both a challenge and an opportunity as Jennifer discovered when she recently renovated her kitchen.
"I wanted to create a space that was comfortable for family and friends including my two-year-old son," Jennifer explains. "The dining space would only accommodate a small table and three chairs. By eliminating the wall between the kitchen and living room, I was able to fit banquette seating and a larger table. And now, if I'm in the kitchen, I can see my son playing in the living room." Because the kitchen, dining, and living rooms are combined, Jennifer wanted lighting that coordinated, but not necessarily matched.
"I wanted brass hardware to coordinate with my cabinet pulls and kitchen faucet," she notes. "I loved the customizing options at Barn Light Electric because I could get exactly the light I wanted!"
Jenn chose the Sinclair Gooseneck Light for over the sink. She customized this handcrafted wall light with a 10" shade, White finish, and G34 gooseneck arm. She chose the brass backing plate and hex cover to complement her kitchen hardware.
"I knew I wanted colored cabinets, so I didn't want the lights to compete with them," Jenn says. "I chose White because it is neutral, but bright and clean."
Over the enlarged dining space, she chose the matching Sinclair Industrial Pendant Light. This ceiling light boasts a 16" shade, White finish, and a brass socket. Jennifer also added a pop of texture and color with a gold-and-white cloth cord.
"I chose the Sinclair for both the kitchen and dining room because I wanted the two fixtures to coordinate. I also wanted lights that were a little retro and casual, not fussy," Jennifer notes. She debated between a back-and-white cord vs a gold-and-white and ended up calling customer service with a last-minute switch.
"They were so accommodating, and I am so happy with how it turned out!" she adds. "I love the retro look of the fixtures."
As part of her renovation, Jennifer added a new entrance off the driveway which eliminated a closet and half bath but afforded her a bigger laundry room and pantry. To highlight the new entrance to her kitchen, she chose the vintage look of the Rochester Vintage Industrial Gooseneck Light.
"I wanted a pop of color for my black-and-white exterior," she explains. "I chose the dusk-to-dawn photocell option so I wouldn't need to remember to turn on the light before I leave. My light is always on when I come home after dark!" Jennifer customized her new porcelain enamel light with a 14" shade, Yellow finish, and G11 gooseneck arm. She also added a Galvanized wire guard and clear glass.
She chose a matching Rochester Vintage industrial Stem Mount Pendant for the porch. This wet-rated pendant also sports a 14" Yellow shade like the gooseneck plus a six-inch stem. Jennifer rounded out the look with the matching Galvanized cast guard and clear glass.
"I love the vintage charm of these lights and all the fun colors," she says. "I like how cool they look. They don't steal the show, but they always get noticed!"
Photos courtesy of Taylor Newton