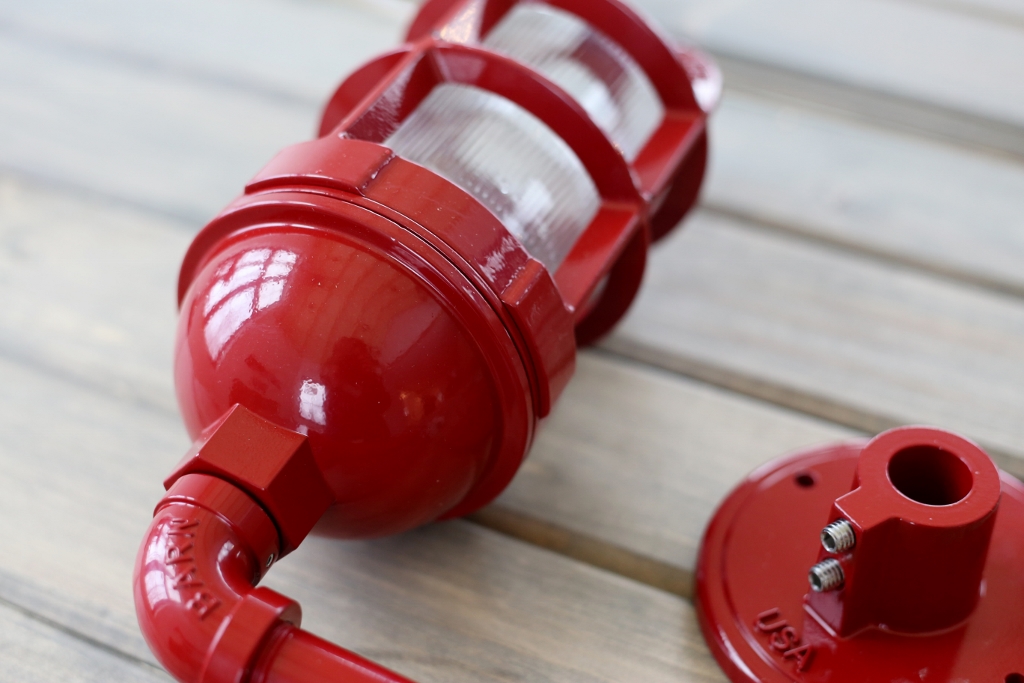 Modern Farmhouse Journey | Creating a Vintage-Inspired, American-Made Home
We're excited to introduce a new series to the blog today! Whitney May and her husband Peter are sharing their journey of building a modern farmhouse in Vermont. We will follow along as they make decisions on colors, materials, décor, and yes, lighting! Whitney will take over the blogger's chair on a regular basis this spring and summer to chronicle the ups and downs of the construction process.
Today's inaugural post includes a bit of background plus a bold idea that came upon Whitney and Peter as they sourced a variety of vintage pieces to include in their new home.
Whitney: After growing up in New York City, I married the love of my life and moved to the beautiful green mountains of Vermont. As Peter and I started our new journey, we wanted to build a house that reflected both my former city life and our new country life together.
Mixing industrial, turn-of-the-century style with a hippy-chic barn influence was a challenge that we embraced wholeheartedly.
We are creating what I call a Mid-Century Modern Farmhouse filled with antique cast iron sinks, clawfoot tubs, vintage light fixtures, and a retro cone fireplace.
It quickly dawned on us that the pieces we found at barn sales, auctions, and salvage yards were all made in the United States and that we were slowly collecting a small exhibit of America's industrial history.
Our builders were on board with our creative vision. Since they were already sourcing all of our materials domestically, we came up with a bold idea — to see if we could keep our house 100 percent American-made inside and out.
Every time a salvaged piece came home, we would assess its "rehabilitation" needs. As our restorations ranged from stripping paint to sanding metal, the inherent quality of each piece was undeniable. When bringing light fixtures, basins, and antique doors back to their original glory, we found ourselves constantly saying, "They just don't make things the way they used to."
This was particularly true for the lighting. We knew that barn lighting would be the design-savvy choice for our exterior, but the antique barn lights available to us were far from reliable for re-wiring.
After Peter, an electrical engineer, rebuilt and rewired a 1943 Mitchell Manufacturing Company shop light, it became clear that replicating that process and weatherproofing 10 exterior lights would be tedious and unwise. What would we do?
As I searched online for the perfect gooseneck lights, I re-discovered Barn Light Electric, a company our builder introduced to us over a year earlier. The wide selection of rustic and industrial lighting blew me away, and our problem of finding American-made, vintage-inspired lighting was solved.
Even before we pulled our new lights out of the boxes and felt the quality in our hands, it was clear that these are the next-gen wave of "They just don't make things the way they used to." The Barn Light Electric fixtures fit perfectly with the antique lights and curated fixtures already in our home.
The weight, texture, and finish all stand shoulder-to-shoulder with pieces from bygone eras, when makers like American Sanitary Corp., Westinghouse, and Herman Miller set a high bar for quality. Barn Light Electric lights don't just look authentic next to fixtures from the 1940s, they are authentic.
Our all-American farmhouse illustrates how American manufacturing and quality are intertwined. Our new barn lights are handcrafted in the same way the lights our grandparents purchased were manufactured – by hand with the highest quality materials and attention to detail. We know that our new lights will last until we become grandparents, too.
Whitney May is a Digital Marketing & Social Media Manager from New York City now living the mountain life in Vermont