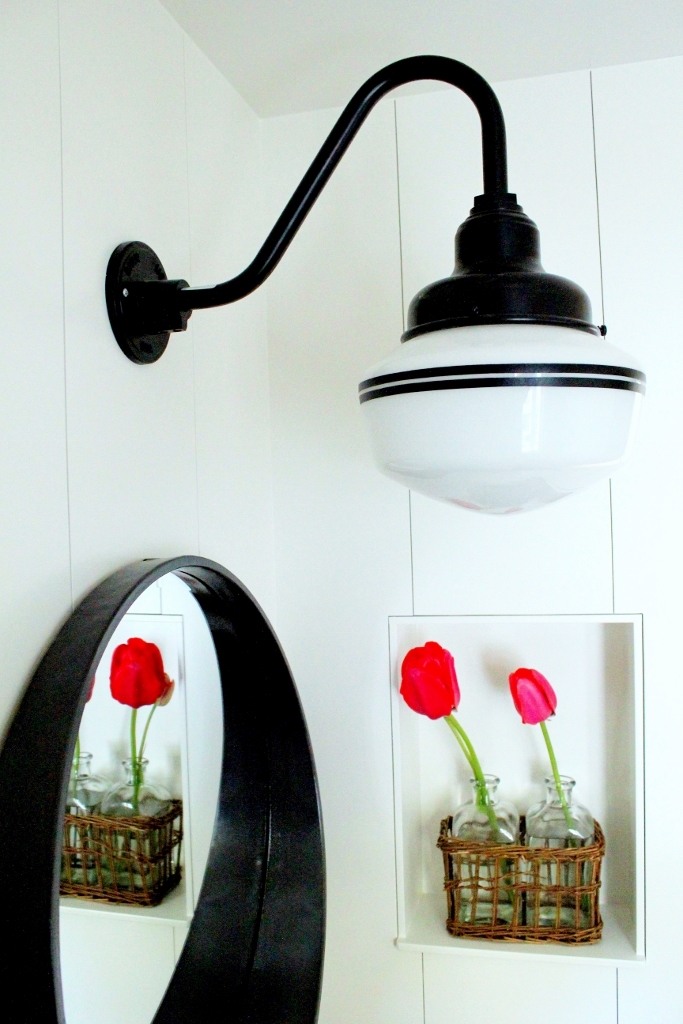 Schoolhouse Lighting Blends Old, New in Bath Reno
What's it like to work with your best friend every day? Darci Haney and her husband Matt are the design/build team behind MD Haney & Co. which has been tackling design and renovation projects in the Pacific Northwest for almost 15 years.
"It's a pretty good gig," Darci says of working side-by-side with Matt. "We do mostly residential projects. He builds and I get to help make them pretty." Their most recent project was right under their own roof. The couple own a sprawling, 1940s-era ranch home just outside McMinnville, Oregon.
"We remodeled our powder room which was last updated sometime in the 90s," Darci explains. "It's pretty spacious, but we did remove a funky linen closet that was in the middle of a wall so it was awkward. I love mixing old and new, and I wanted this little powder room to be a fun mix of the two!"
Darci also adores schoolhouse lighting and looks for opportunities to use it. For her renovated space, she chose the Primary Schoolhouse Gooseneck Light to highlight the reclaimed fir vanity that Matt built. She customized the American-made wall light with a small opaque globe, Black fitter, and a G26 gooseneck arm also in Black.
"It was so hard to choose from all the beautiful schoolhouse lights that Barn Light offers," she notes. "But we chose the Primary Schoolhouse Light because we liked the shape of the shade and the contrast of the black and white. I'm such a sucker for black and white!"
In customizing their new fixture, Matt wanted to add the optional black bands. They chose the double bands to complement the Black fitter and gooseneck arm.
"Matt wanted the bands and I'm so glad we chose to do those. We just love it!" Darci says. The new gooseneck light provides a soft glow of light that is perfect for the renovated space.
"I can't get over how it just pulls the room together! I love the black against the white wall paneling, and I love the old school feel it adds to the room," Darci says. "To me, you can't tell if the powder room is original to the house or if it was just updated. I love that the look of the schoolhouse light is so classic and never goes out of style." To read more about this makeover, check out Darci's blog post on the project.
Photos courtesy of MD Haney & Co.