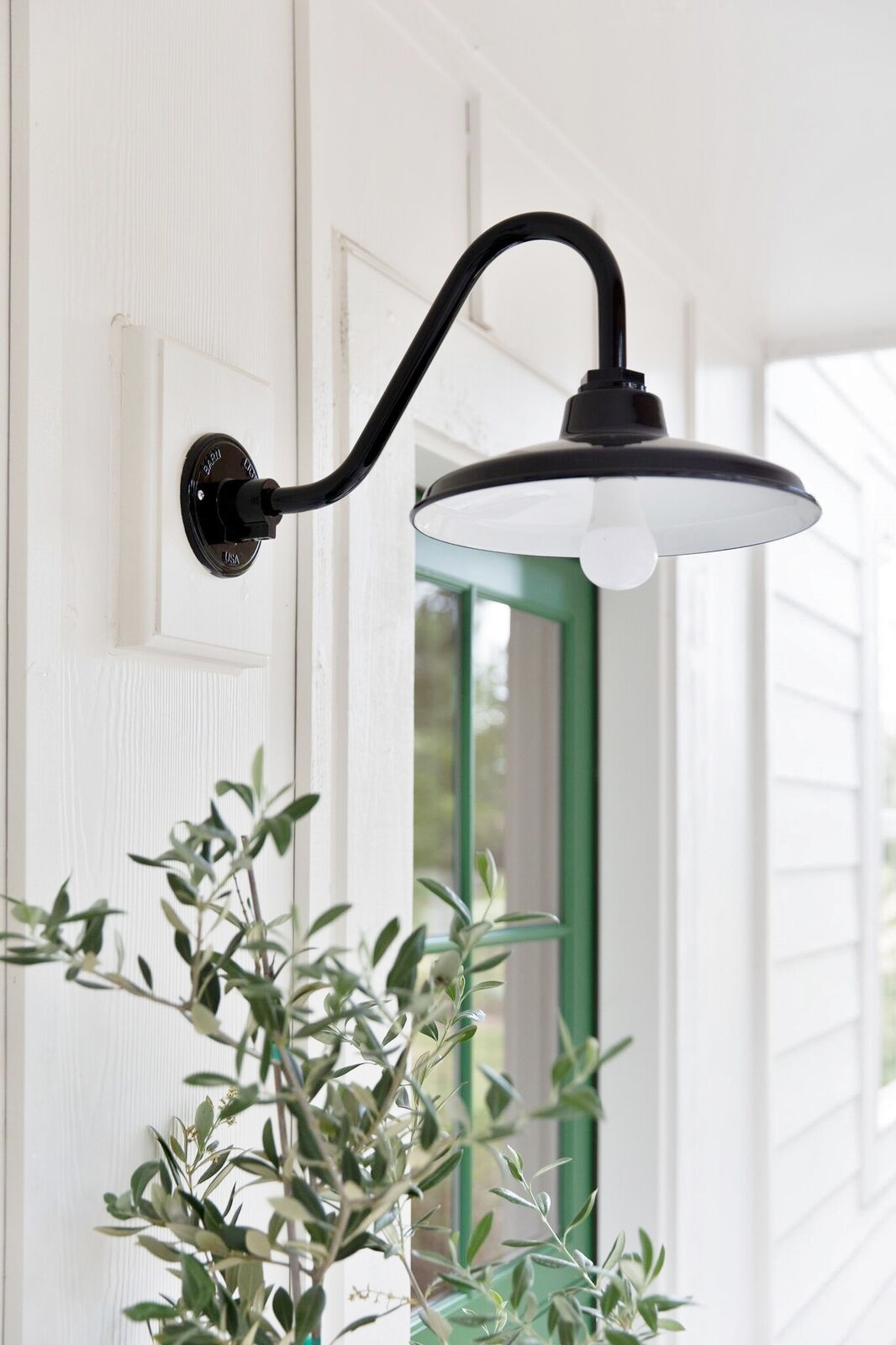 Barn Lights Star in Major Home Renovation
As soon as Janna saw the six-acre farm in Salem, Oregon, she started dreaming. Even before she and her husband made an offer on the land, which included a 120-year-old farmhouse, she envisioned beautiful, black barn lights highlighting the white facade.
The couple purchased the home last December and, after five months of extensive renovations, are settling in to life on the farm. Janna chronicled their journey on Instagram @yellowprairieinteriors. 
"The house was built in 1890 and because of electrical and plumbing concerns, our builder took the walls down to the bare studs," Janna explains. "We are so thankful it was renovated to this level because it turns out the electrical was not safe." Their goal was to create a warm, inviting, and bright feel to bring the homestead back to her former glory.
"We're a casual, kick-off-your-shoes kind of family so we wanted something comfortable and humble feeling," Janna says. "Nothing too fancy. No intricate trim work. Just fresh, clean board-and-batten and shiplap for this old farmhouse." When it came to lighting, Janna knew classic barn lights would play a starring role.
"As a designer, I always feel like lighting is the biggest opportunity to really finish a space and drive home the desired feel," she explains. "We love American-made products and since we live out in the beautiful countryside, barn lights are the perfect reflection of our surroundings."
In true laid-back style, Janna and her family use the back porch as their main entry. The Dutch door is brightened by a Marathon Gooseneck Light. Janna customized this shallow bowl fixture with a 12″ shade and the Black finish she envisioned from the start.
"When I saw the Marathon Goosenecks, they were exactly what I had in mind!" she says. The Marathon's design, rooted in early 20th century lighting styles, features a handspun shade of steel coated with multiple layers of porcelain enamel glass.
In Janna's kitchen, she chose another Marathon gooseneck. This Marathon Gooseneck Light features a 12″ shade, Black finish, and G26 gooseneck arm.
"This light was the perfect fit for the spot over our sink," Janna notes. "The Maritime complements the vaulted ceiling and the classic, casual feel fits our design aesthetic. I love a touch of black in every space, and it pops beautifully off the white trim."
The nearby powder room, though tiny, got a lively pop of color and style from a Bantam Wilcox Deep Bowl Wall Sconce. The handcrafted 10″ shade is finished in a deep Emerald Green.
"We were looking for an unconventional fixture here. The green is a fun surprise and ties into our front door color," Janna says. "It's always great when you can incorporate something surprising in a few areas, plus the rest of the room is so neutral, the green can really shine!"
Janna searched for barn wall sconces to flank her rugged stone fireplace in the living room. She chose Gladstone Wall Sconces because, as she says, "They're the cutest!" She customized the 8″ sconces with a Black finish and paddle switches.
"These wall sconces were a little different than anything else I have seen," she notes. "I fell in love with the skinny little gooseneck arm, and the black finish ties in with the other black accents in the room." Janna stumbled upon Barn Light Electric on Instagram where she enjoys sharing her design projects.
"I knew some day I wanted Barn Light Electric fixtures in our home," she says. "I love the humble, unassuming look and the fun detail they bring to every room!"
You can read all about Janna's renovation on her blog Yellow Prairie Interiors.