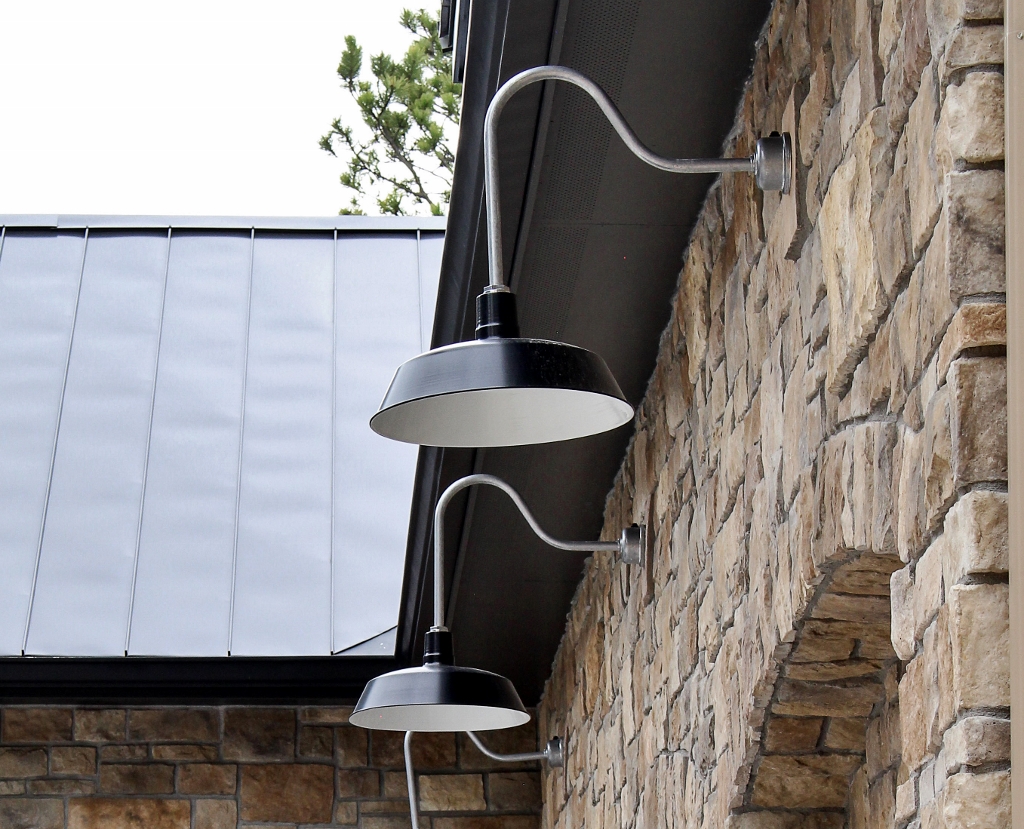 Oversized Barn Lights Complement Scale of New Home
When clicking through the multitude of customizing menus for our handcrafted barn lights, customers often focus on the finish options such as color, guard, glass, and beautiful cotton cords. It's so exciting, in fact, that the fundamental design question of scale might get lost in the conversation.
When Shauna was considering exterior lighting for her new Colorado Springs home, the scale of the lights was most important.
"Scale and size were the first considerations when choosing our outdoor lighting," she notes. "Our home is very tall, so I knew we needed large lights for balance and that wouldn't disappear into the façade." Shauna describes her new home, which sits on five acres of forested land, as a modern chateau with farmhouse style flair. She shares her passion for design on her blog The House of Silver Lining.
In creating the color palette for her home, Shauna looked to the surrounding forest for inspiration. She chose dark charcoal board-and-batten siding mixed with European stone to blend with and complement the wooded area.
To highlight her large, L-shaped garage, Shauna chose the Original ™ Warehouse Gooseneck Light with its hefty 20″ shade and G24 gooseneck arm. She customized these striking fixtures with a Black finish, Galvanized arms, and dusk-to-dawn photocells.
"The style and unique swoop of the arm of the Original™ Warehouse Gooseneck fit perfectly above our garage doors," Shauna explains. "And although I love black, it's always good to have some contrast. The galvanized arm accentuates the black shade and adds even more visual interest and character."
In the porte-cochère, the covered carriage entrance that leads to the garage, Shauna chose Original™ Warehouse Gooseneck Lights for the doorways. She customized these fixtures with 14″ shades, Black finish, and a G64 Galvanized arm with chain.
"I love this fixture's classic style and I thought it was such a fun feature with the chain giving it even more of a customized, unique look," she notes. "It's definitely a conversation piece when guests arrive. They all love the chain!"
The Original™ Goosenecks are handspun from commercial grade materials. Finished and assembled by hand, these American-made lights are crafted to last.
"Brand quality and reputation were important to us as we have extreme temperature changes here in Colorado," Shauna notes. "I wanted lights that would be able to stand the test of time." With the finishing touches completed on her new home, Shauna loves the overall look.
"I love the size and scale of the lights!" she says. "They are big, they really stand out, and they accentuate the character and style of our home. I think exterior lighting is often overlooked, but it really make a big impact on the overall aesthetic of your home!"
To see more of Shauna's beautiful home, check out her reveal blog post.
Photos courtesy of The House of Silver Lining