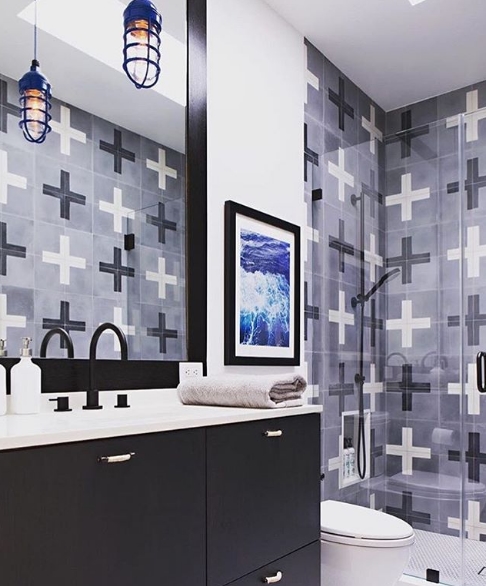 How To | Choose Lighting to Complement Patterned Elements
When faced with a blank palette, most people consider adding color to enliven a space. But throwing a vibrant texture or pattern into the mix can take a room from routine to remarkable in short order. Adding lighting to patterned walls, or ceilings, can be tricky, but luckily, we found some great examples of patterned spaces on our Instagram feed to share!
Jamie, of Jamie Keskin Design, lent her magic touch to a kid's room by using star-covered wallpaper on the ceiling. The center of the space is anchored by a 20″ Outback Flush Mount Pendant in beautiful Teal.
In the same home, Jamie chose the Austin Triple Vanity Light in White to complement the texture of the wood patterned wall.
Our Atomic Topless Industrial Guard Pendant in Royal Blue holds its own against the bold pattern in this boy's bathroom from @raili_ca_design.
From the same collection, the Atomic Industrial Guard Sconce in Cobalt Blue is a perfect match for these vivid doors. Our favorite hashtag from @whitefurrycat –#dontbeafraidofcolor — we couldn't agree more!
Lori's bold kitchen wallpaper called for more subdued lighting so she chose the Eclipse Cord Hung Pendant to highlight her new peninsula. She customized these American-made pendants with compact 8″ shades and a Textured Black finish. Black cotton twist cords add another element of texture to the space.
At this wine-and-cheese store in Larkspur, California, owners embraced a sense of history and character with vintage-style Barn Light Benjamin Industrial Pendants. These handcrafted pendants, replicas of the original Benjamin pendants from the 1930s, contrast nicely against the bucolic wallpaper.
With bold, monochrome tiles and shiplap walls, this bathroom called for a Galvanized gooseneck barn light to serve as the perfect accent and vanity light.
The Galvanized finish on this Arlington Wall Sconce also provides a nice contrast against the rustic wood wall. Hand spun from commercial grade materials, our barn wall sconces come in an array of powder coat finish colors to suit any space.
With the subtle pattern in this bath, a simple, Black Bowie Wall Sconce becomes a focal point above the black-framed mirror.
With bold wallpaper and the added texture of brick in this kitchen, classic schoolhouse pendants provide a soft glow without overpowering the space. Our handcrafted schoolhouse lights can be customized in a variety of ways including optional painted bands on the globe to add even more visual appeal.
Be sure to follow our Instagram feed for your daily dose of inspiration!