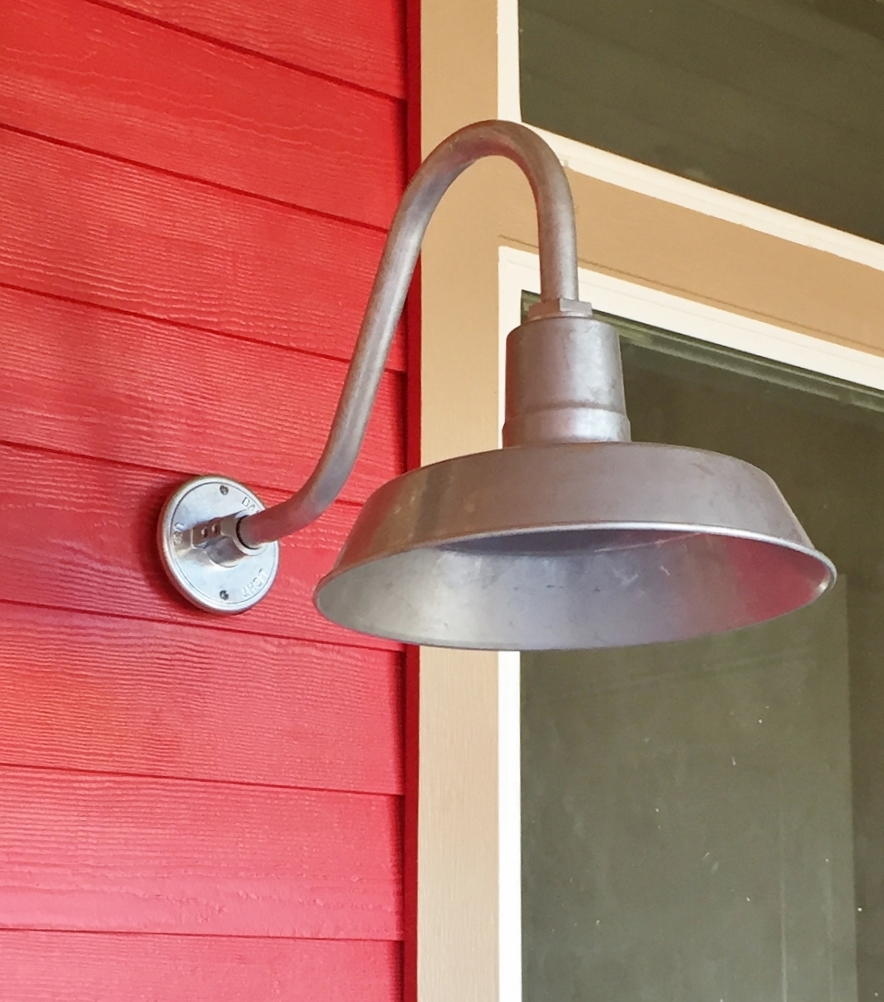 All You Need to Know | The Original Gooseneck Light
If we had to pick the most popular light on the Barn Light Electric website, the Original™ Warehouse Gooseneck Light would win hands down. Customers who purchase this gooseneck light describe it as iconic, classic, and timeless.
In this month's installment of our All You Need to Know series, we're taking a look at this versatile and quintessential fixture and the countless ways customers incorporate it into their homes and businesses.
How, you may ask, could this simple gooseneck light be adaptable to so many settings? From traditional farmhouses to modern urban lofts, and from downtown office buildings to boutique retail stores, restaurants, and pubs?
It's all in the customizing options that Barn Light Electric is famous for offering. Using the drop-down menus on the product page, you build a fixture from the options shown which include shade size, finish color, gooseneck arm size and style, plus other accessories like a wire cage, cast guard and glass, or dusk-to-dawn photocell.
With multiple shade sizes to choose from, starting at 12″ up to an incredible 28″ like the one above, there is a shade to fit almost any space.
Next, browse our finish palette which features more than two dozen powder coat colors plus five natural finishes. It's easy to find a color to complement any decor style. All of our shades are spun right here in Florida and are finished and assembled by hand to ensure the highest quality.
This customer chose a Dark Green finish for his Original™ Gooseneck Light which he mounted on a post on his farm. Joseph chose the wire cage option to add extra protection for the bulb.
This lovely Watermelon, one of our newest finish colors, offers a lively pop of color against the gray-and-white facade.
One customer loved the Chartreuse finish so much that he color matched the paint for his front door.
Our gooseneck arms come in more than 30 different styles, including the new chain-hung model above, so you can pick the perfect size and shape for your application. If you find that none of these work in your space, just contact our sales team who will walk you through a custom order for exactly what you need.
While many people think of gooseneck lighting as an exterior fixture, there are plenty of customers who find homes for these adaptable lights inside. Sabina chose gorgeous copper Original™ Gooseneck Lights to highlight the stairway in her new home.
Edy loved the Original™ Gooseneck Light so much that she chose a Barn Red shade with a Galvanized arm for one bathroom…
….and a White shade with the same Galvanized arm for a second bathroom.
Commercial spaces also benefit from the downward directed light of the Original™. The generous 20″ shades on the barn lights above, installed with G2 arms, provide plenty of lighting with no glare. Our commercial customers also love the added bonus of our LED option to save both time and money on energy and maintenance costs.
With just a few clicks, you can create a light that goes from elegant to industrial to traditional or trendy!
No matter how you choose to customize the Original™ Gooseneck Light, its handcrafted quality and durability will impress you the moment you hold it in your hands. While many big-box stores import look-alike fixtures crafted from cheaper materials, we refuse to compromise on quality. Your gooseneck light is American made to your specifications to last!