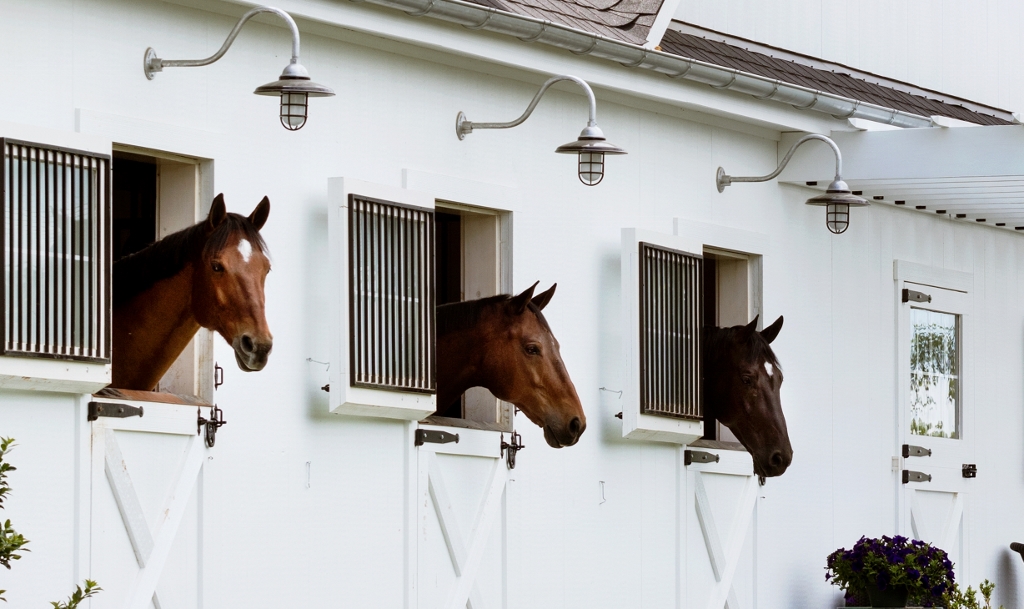 Rustic Industrial Lighting for New England Farm
Every now and then, pictures cross my desk that set off the share alarm. Pictures so perfect that I just can't wait to share not only with the rest of the Barn Light Electric team but with our followers as well. Today's pics of a barn in Ridgefield, Connecticut, definitely sounded the alarm!
Designed and built by Sequoia Contracting, this new construction for Dark Horse Farm was created with an eye towards a charming, historic feel.
"We were looking for a classic New England barn," says Lauren Megerdichian, social media manager for Sequoia. "Our color scheme for all of the structures on this project was white with black detailing and a vintage, understated style."
The project included a 14-stall barn, a three-bay equipment garage, a jump storage shed, a large shaving and hay storage shed, and a two-car garage. When it came to lighting, Lauren notes that choices of color, size, and customizing options were most important to the team.
"We wanted all of the buildings to have a consistent theme of white with black accents," she explains. "Light fixtures with black shades match the accent details and galvanized mountings go well with our galvanized half-round gutters."
Highlighting the exterior of the buildings is the Bridgeport Vintage Industrial Gooseneck Light. This vintage-inspired shade has roots in the industrial lighting of the early 20th century and is finished with a rugged yet high-gloss porcelain enamel finish that will never fade.
"We used the industrial goosenecks on the exterior of the barn above the stall doors and on the gable ends of the barn and the garage," Lauren says. These handcrafted lights were customized with a Black finish on the shade and guard, Galvanized gooseneck arms, and frosted glass. The team customized the lights with different size shades and styles of gooseneck arms depending on the location.
"On the large gable ends, the 16″ shades were more appropriate, but above the stall doors where we had less space, the smaller 12″ shades worked better," she adds. "For the three-car utility garage, we chose two goosenecks that worked well between the doors."
Inside the barn, 14 Wallaby Flush Mount Pendants offer plenty of light and even more industrial style. These rugged flush mount pendants offers focused down lighting through sleek flared shades and a bit of decorative up lighting via the cast guard-and-glass design.
"This pendant worked well with our ceiling height," Lauren says. "We had to be conscious of how far down the fixtures hung from the ceiling considering the horses' heights. Since we needed to use a large number of fixtures, we wanted to make sure they didn't overpower the space while also providing ample light."
These rustic industrial pendants are customized with 14″ shades, Black finish, and clear crackle glass.
"The black finish went well with our color palette as we used black hardware on our doors and stall fronts. And we used the crackle glass so the bulbs would be less visible," Lauren says. "We love the way all of the fixtures look as they complemented our overall design theme. At night, the lights give off a warm, welcoming glow."
Photos courtesy of Tim Lenz Photo and Sequoia Contracting