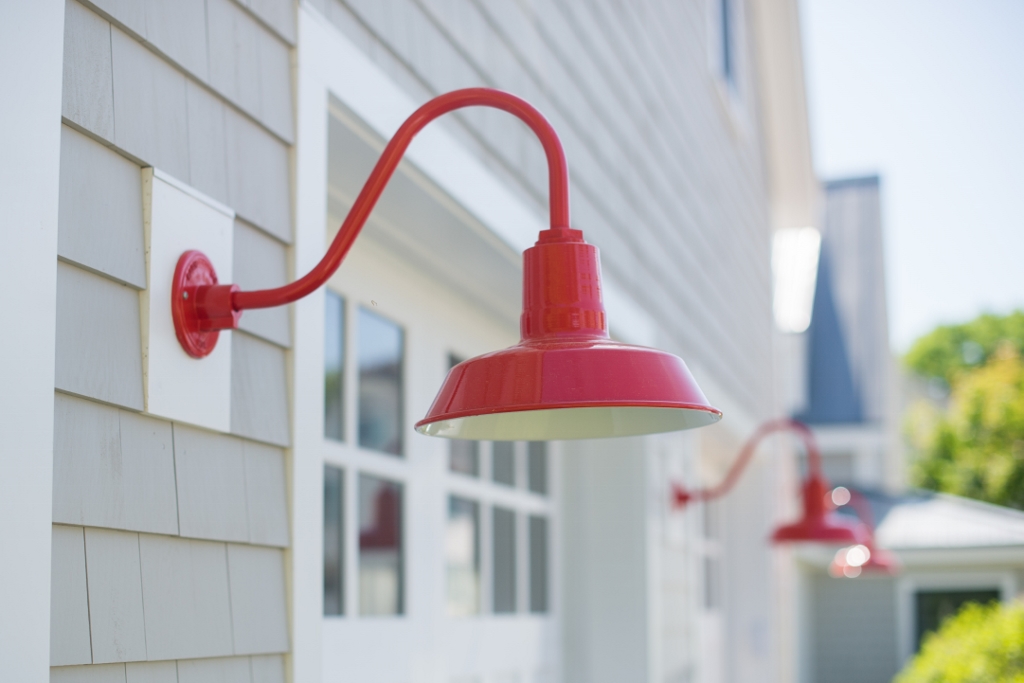 A Look Back at our Favorite Spaces 2017 | Part Two
Earlier this week, we hopped on the year-end-review bandwagon for a look back at some of our favorite spaces of 2017. This post included a gorgeous barn with copper pendants, a dreamy bathroom, and one of our absolute favorite kitchens of all time.
Today we continue our tour starting off with a project that featured our Original™ Warehouse Gooseneck Light. When we introduced a new palette of finish colors earlier this year, interior designers were quick to embrace the bright new hues. The owners of Alice+Bird Interiors in York Beach, Maine, chose a happy Watermelon finish for this exterior wall light.
Entryways got a lot of play this year with many customers opting for the wow factor with their foyer lighting. Kelli, who writes the Lolly Jane blog with her twin sister Kristi, decided to go big with two Wilcox Vented Pendant Lights for her entry. In looking for new lighting, Kelli searched for American-made products with authentic finishes to keep the history of her childhood home intact.
We featured many commercial spaces over the last 12 months but this one is worth another look. The Doughnuttery, located in New York City, has two of of our favorite things — donuts and copper lights! Next time you're riding the subway in the Big Apple, hop off at the Columbus Avenue station, grab a donut, and check out these Union Pendant Lights in beautiful Raw Copper!
Who said mud rooms can't be beautiful? This functional space features a bench with cubbies and rich, hardwood floors finished in Mocha all highlighted by Original™ Pendant Lights. The train sign is a nod to the Long Island Railroad which passes near the backyard.
We admit being a bit starry eyed when we found out that one of our new modern chandeliers plays a starring role in the home of Spy Kids alum Alexa PenaVega and her husband Carlos. The Ellis Adjustable Arm Chandelier was chosen as the perfect accent in their newborn son's nursery.
And finally, we were so proud when this remodeled kitchen captured first place in the 2017 Remodelista Considered Design Awards. While bringing his 100-year-old kitchen into a more modern era, Zachary Leung, in Toronto, Canada, also wanted to incorporate traditional elements.
"The Original™ Warehouse Pendant, to me, was the most classic choice because it is based on an original vintage design," he says. "That gives it longevity and ensures that it will never really go out of style."