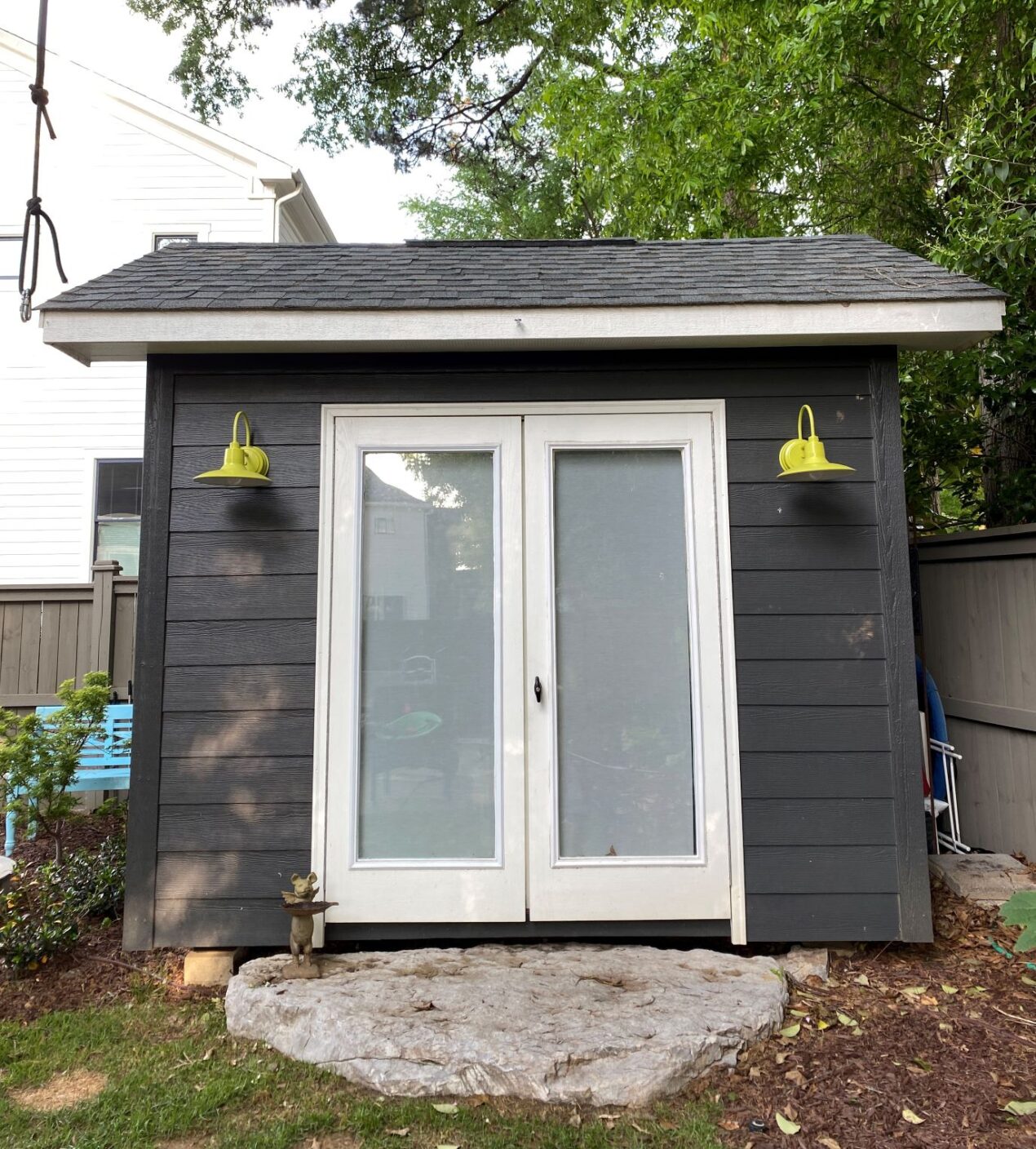 Wall Sconces Add Fun Splash of Color to Outdoor Shed
When Diane built a new home in the historic Mordecai neighborhood of Raleigh, North Carolina, she also wanted a shed on site to store garden tools and her grandchildren's outdoor toys. Her homeowner's association requires that sheds match the style and color of the home, so Diane worked closely with Clark and Clark Interiors from Charlotte to create the perfect look.
"Aesthetics and color were most important," Diane says. "I wanted lights on the shed that have a lot of character because they are an important design feature in the overall project." The designers from Clark and Clark recommended Barn Light Electric so Diane hopped over to the website to take a look.
"I chose barn-style lighting because it's a good design and a functional choice," she explains. "And it's a fun trend." Diane found Barn Light's collection of American-made wall sconces and chose the Dominion Wall Sconce as the best fixture for her new shed. She customized these two lights with 12″ shades handspun from commercial-grade aluminum. The lively Chartreuse powder coat finish pops against the dark façade.
"I chose the Dominion Wall Sconce because I liked the low profile of the dome," Diane notes. "I liked a lot of the gooseneck options, but I was concerned they would stick out too far and get in the way of the entrance and the step." With the space between the corner of the shed and the door frame at 24″, the proportion of the shades works well.
"The 12″ shade was a good ratio at half that distance," Diane says. "It's not too large to overwhelm but large enough to have a presence. I chose Chartreuse because it's fun and provides an unexpected contrast."
The Dominion Collection is one of Barn Light's most popular. The shade is available in six different mountings including chain, cord, stem, and flush mount. Finish colors include 28 powder coat colors, 11 porcelain enamel colors, and five natural metals.
"I love everything about these lights," Diane says. "The pop of color. The scale of the lights. The simplicity with character and the light they provide."
Photos courtesy of the homeowner