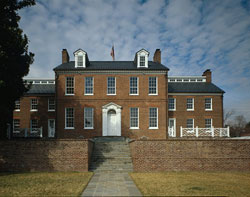 Vintage RLM Warehouse Shades in Georgian Style Mansion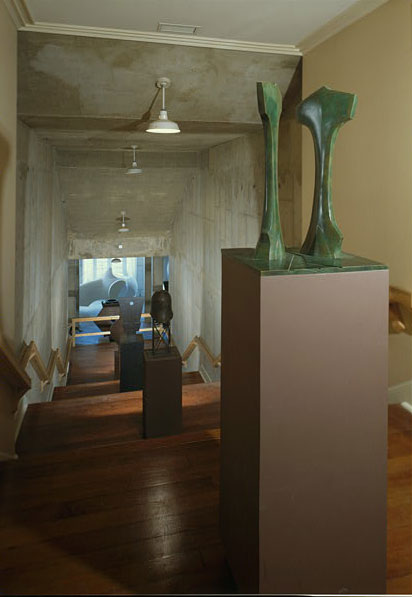 Porcelain enamel RLM Warehouse Shades light the stairway at the Halcyon House, a 30,500 square foot Georgian-style mansion located on a half-acre overlooking the Potomac River and the Key Bridge in Washington D.C.
Vintage barn lights, like the ones shown today, weren't made until the early 1900's. Each of the lights are strategically placed above the art exhibits and they combine to provide ample directional lighting down the entire length of the stairway. These barn lights may have been installed during part of the 17-year long restoration project by architect Edmund Dreyfuss, who bought the house in 1966. Despite many additions and alterations in the 20th century, many of the original details and fixtures of the house remain. Thanks to the tradiaional styling on each RLM Warehouse Shade, the lighting still blends with the historic decor. A perfect example of this is the original wide pine flooring that has been tied into the modern day hand rails and today's industrial concrete walls.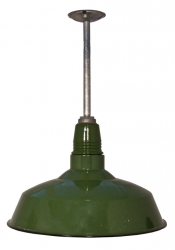 Imagine all of the possible areas of your own home where you can incorporate a vintage barn light. With a wide variety of classic shapes and sizes to choose from, you can add a functional style to your residential or commercial space. All of the porcelain enamel lighting products at Barn Light Electric were made using an inner steel shade and an exterior coating of glass. It's this same process used almost 100 years ago that makes these lights the most durable lighting products still on the market today. Whether you own an industrial farmhouse or a modern apartment or loft, you can surely find a great place to add one of these versatile fixtures!
This Halcyon House was built in 1787 by Benjamin Stoddert, the first Secretary of the Navy. During the planning stages, Stoddert claimed the design inspiration came from the manner of some of the finest homes he saw in Philadelphia. According to the Library of Congress, Stoddert's home was the scene of frequent informal conferences in connection with the shaping of our nation's history. It is now listed on the National Register of Historic Places, and for many years, it was rented out as an events center.
Photos Courtesy of the Library of Congress