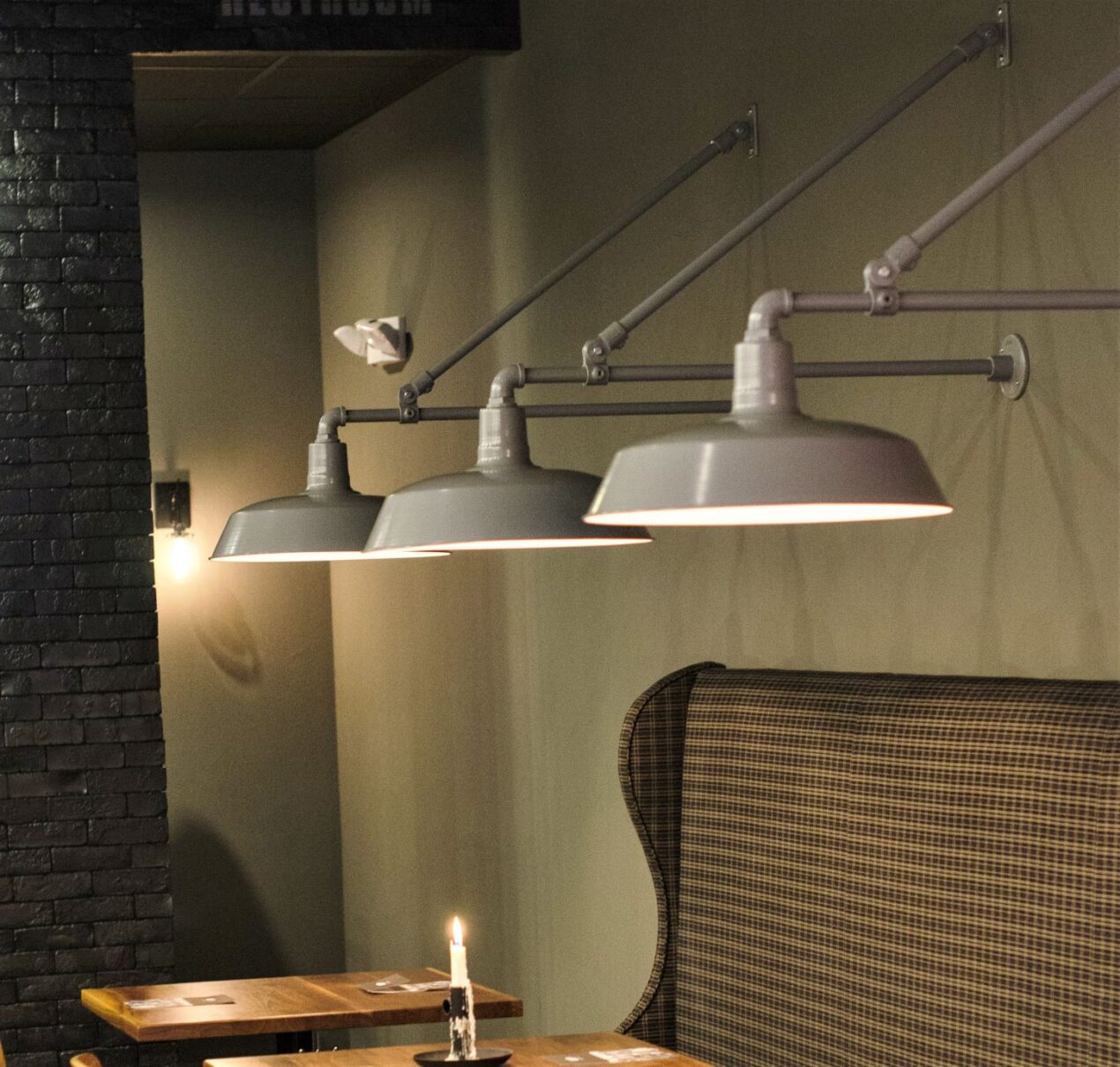 Bare Bulb Pendants, Warehouse Shades Add Simple Style to Sushi Joint
One of the best parts about our business is the interaction we have with so many talented professionals such as interior designer Lisa Gilmore of Lisa Gilmore Design in St. Petersburg, Florida. Offering her services to clients in Florida, Atlanta, Chicago, L.A., and New York, Lisa believes in "liveable glamour" — creating spaces that merge a variety of elements for functional, everyday living.
Lisa recently turned her talents to the KELP Sushi Joint in nearby Tampa which opened up in a space previously occupied by a yogurt shop.
"The direction of KELP was to design a space that was modern but also felt like it could be homey," Lisa says. "The sushi was the main focus for the design, letting it really stand on its own from the interior with no distractions. Every plate bursts with color." Lisa's palette for the space includes limited but rich color choices that give the restaurant a cozy feel.
Lisa designed a large custom banquette for the space but didn't want people to feel like they were simply parked against a wall so she chose a trio of 20″ Original™ Warehouse Gooseneck Lights to extend over the space.
"I felt that the warehouse lights extending from the wall created a sense of division and intimacy for each seating grouping," Lisa explains. "I selected the Industrial Grey finish because I wanted it to be subtle, not too shiny of a metal and not too stark of a black." Lisa chose the G2 gooseneck arm to customize these classic, American made barn lights.
The restaurant is adorned with many vintage photos of the owner's family and Lisa selected six Indy Porcelain Socket Pendants to help highlight some of these photos. The pendants are customized with a standard black cord and the Nostalgic Edison 40 Watt G30 Light Bulb. Lisa was attracted to these bare bulb pendants because of their simplicity.
"I love the filament style lighting," she notes. "They are their own little pieces of art that don't cause too much distraction." Lisa finds her inspiration from many places including nature, the work of other designers, and unexpected places like book covers, music, or the way a textile makes her feel.
"I really feel like a chameleon when it comes to my design work, ever changing for each client and their specific taste or brand that they are building," Lisa says. "I find a lot of things inspiring and beautiful in their own unique way, so it's a little tough to pinpoint where the inspiration comes from. I just hope it keeps coming!"
Photos courtesy of Lisa Gilmore Design