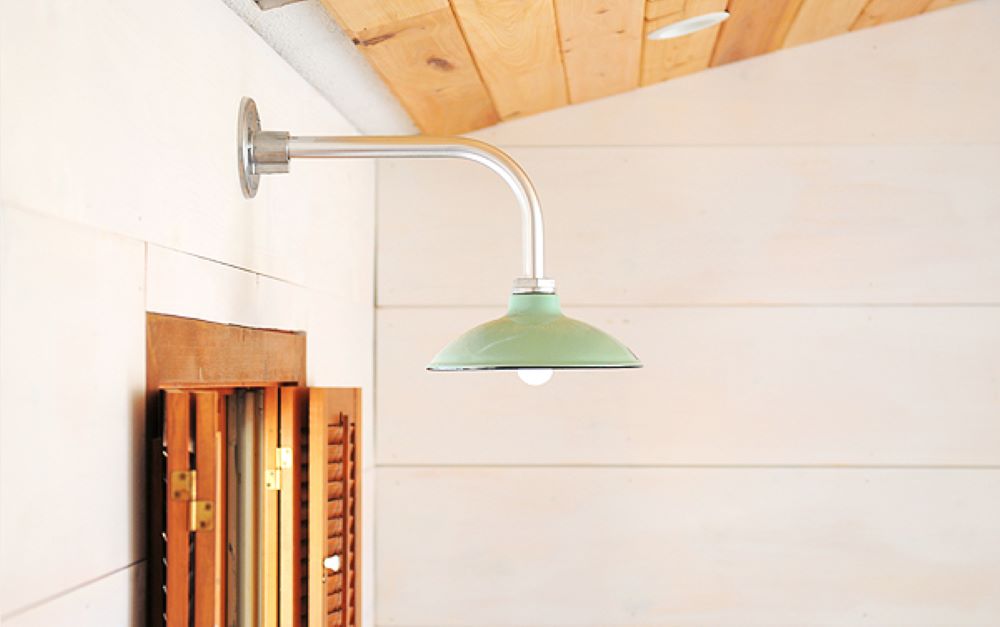 Blogger's DIY Renovations Take Shape with Porcelain Enamel Kitchen Lighting
One of the best things about this blogging gig is that I get to meet and work with other bloggers. I've met some incredibly talented people, both in person and online, who share their spaces, their ideas, their inspirations, and even their failures online every day for the world to see.
One of my newest friends is Amy Johnson of She Wears Many Hats. I love the blog name and I'm sure many of us can certainly relate! One of Amy's most recent projects is the renovation of a vacation home she and her husband found nestled in the gorgeous mountains of western North Carolina. They have been slowly but surely remodeling the home doing much of the work themselves.
"The view grabbed us right up," Amy says. "We knew we could update any home; we were really looking for a place with a view." The couple's plan of attack began in the kitchen and upstairs living areas. The kitchen was dated with a leaking dishwasher, an ill-wired stove, and a hidden source of moisture that had to be found and fixed.
"For us, the kitchen is the place everyone gathers," Amy explains. "It's the most used space. We are always cooking, sometimes for large groups, so we knew we wanted to tackle that right away." The basic galley kitchen was gutted making way for a more open layout with better flow and more task space. The resulting L-shaped kitchen not only opened up the space but provides for more cabinet and counter space as well.
"We were going for a clean, fun, and fresh feel but still warm and cozy at the same time," Amy says. To light up her new space, Amy spent a lot of time browsing our Porcelain Enamel Lighting selections. She chose two Sinclair Pendant Lights in creamy Jadite for her new kitchen island. These American made porcelain pendant lights were customized with a 10″ shade, a Putty cotton twist cord, a polished nickel socket with a knob switch, and matching Jadite canopy.
"I liked the simple lines and the retro feel of the Sinclair although it was hard to choose with so many fantastic options," Amy notes. "I've always loved the Jadite color and actually have a collection of vases in that color range." Amy admits to being rather shy about color and usually sticks with white, black, grey or other neutral shades.
"But I couldn't keep thinking about how the Jadite would add such a fun touch especially with the rest of the kitchen being fairly light and neutral," she says. "The putty cords blend perfectly with the wood we chose for the ceiling too. Everyone has commented on the lights as soon as they walk in the front door."
Over the sink, Amy chose the Sinclair Gooseneck Light also in a 10″ shade and Jadite finish. She modified a standard G8 gooseneck arm to project about 12″ out from the wall. This classic gooseneck farm light also features a polished nickel socket with the knob switch like the pendants. While her remodeling efforts are still underway, Amy is very pleased with how the kitchen is shaping up.
"The lights are happy with the perfect amount of color and interest without being obnoxious," she says. "The light that the pendants spread across our island and sink area is bright without being harsh. They're really the perfect combination of form and function for our home."
Be sure to keep up with Amy's blog as she continues the renovations on her mountain home. The kitchen reveal is coming soon!
Photos courtesy of She Wears Many Hats