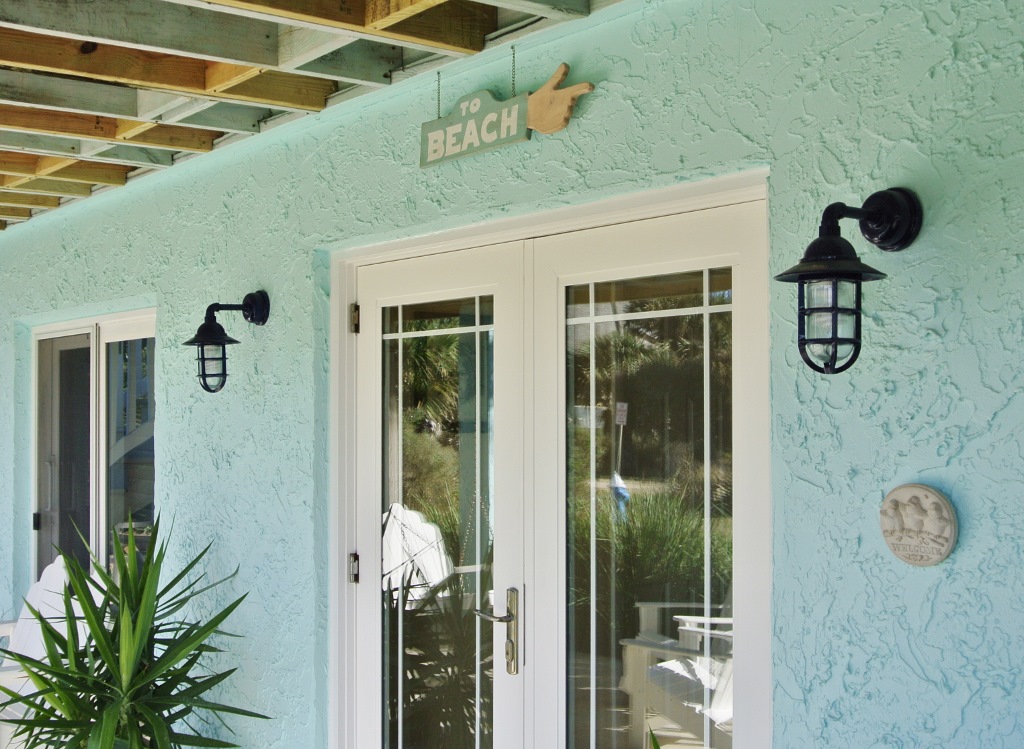 Brilliant Cobalt Blue Nautical Lighting for Florida Beach Home
When Tom and Susan replaced their wooden decking and added a porch on their Palm Coast, Florida home, they knew the fading exterior light fixtures would also have to go.
"The plastic fixtures were getting really old looking and the plastic was eroded from the combination of wind, sun, salt, and age," Tom explains. "They were about eight years old and whatever we put up had to be beach-friendly because we don't want to replace fixtures year after year." The couple's home is just south of St. Augustine, Florida, and is subject to the wear and tear that accompanies our famous Florida sunshine. Susan spotted an ad for Barn Light Electric in Coastal Living magazine and knew she'd found the look she wanted for their new outdoor living area.
"Susan wanted a nautical look and feel as the house is painted a very beachy color called Surfside, and all of her decorations are oriented toward the ocean and the beach," Tom says. And while it took Susan a long time pick out exactly what she wanted, Tom notes that the fixtures "appealed to me because they are aluminum and the finish is powder coated."
After much discussion the couple chose to install five Industrial Guard Gooseneck Lights upstairs where their new PVC decking was in place. Susan chose our Cobalt Blue finish because, as Tom says, "I'm not allowed to choose colors!" Susan liked the darker blue contrast against the turquoise blue of the house and felt the only other option would be white.
"I did chime in that we should get a color that stands out," Tom says. The Cobalt Blue is part of our paint-to-match porcelain color palette where you can select one of our porcelain colors to be applied to a powder coated fixture. The couple further customized their new gooseneck lighting with a G11 gooseneck arm and ribbed glass.
"We both like the look of the gooseneck and Susan felt it had that certain nautical look she wanted," Tom explains.
Downstairs, beneath this new deck, the couple chose the complementary Industrial Guard Sconce to accent the French doors. These heavy-duty wall sconce lights were customized with the same Cobalt Blue finish, a thick cast guard, and ribbed glass. They also used a Decorative Backing Plate Cover in Cobalt Blue to give each fixture a finishing touch.
"I chose the Industrial Guard rather than the Wire Guard because it has a more by-the-sea look," Tom says. After the renovations were complete, Tom notes that the neighbors voiced their admiration over the improvements.
We like the look and it fits in with our location," he says. "We both appreciate older stuff and have several antique pieces of beach-type furniture, so sticking with the traditional look just seemed right for the outside living space as well."
Photos courtesy of the homeowner