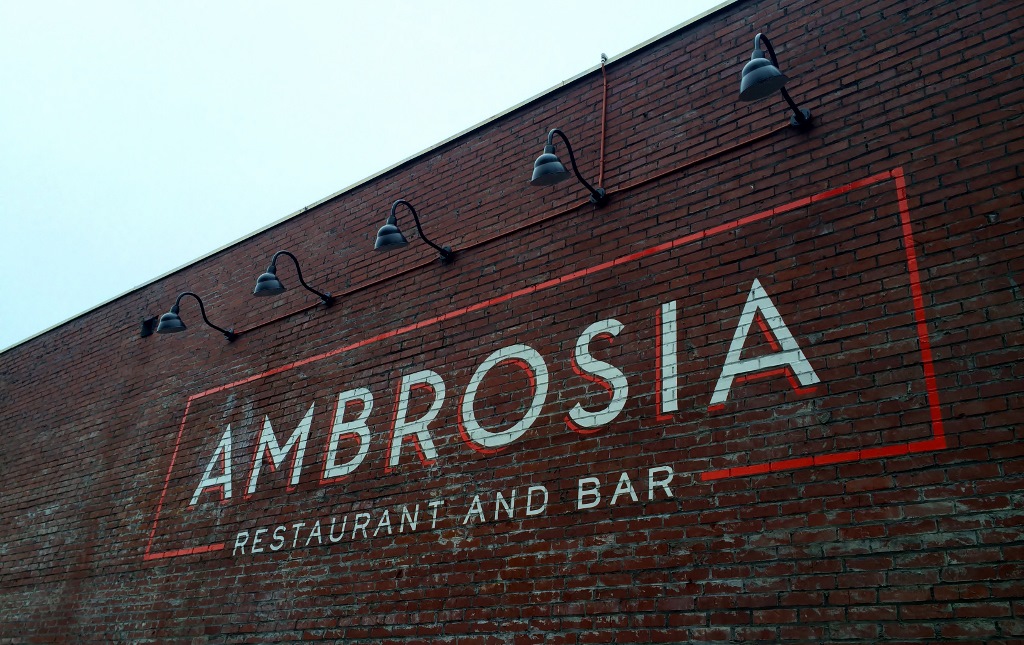 Gooseneck Sign Lights Add Pizzazz to Restaurant Renovation
After 26 years of serving fine Italian food and wine in downtown Eugene, Oregon, the Ambrosia Restaurant was ready for a face lift. Owner Armen Kevrekian put art directors Elissa Kevrekian and Ray Burnham to the task in collaboration with the folks at Factory North, a branding studio in Portland. Their goal — a new and updated look but one that still fit in with their established historic neighborhood.
"Our warm interior is decorated with classic furniture primarily from the original  owners of the building who were antique dealers," explains Elissa. "The soul of the restaurant is its wood-fired brick oven which was imported from Italy in pieces and assembled on site. In re-crafting our brand, we sought to capture that essence and reflect it back through our new creative direction."
The first step was creating a new logo and signage which set the creative tone for the entire brand roll out. The new sign was hand painted on the exterior brick wall and spotlighted with five Emblem Sign Lights. Elissa chose the 10″ shade with a Black finish, and each American-made angle shade sign light is outfitted with a G22 gooseneck arm in a matching Black finish. The wall and its 21-foot sign take up about half a city block so figuring out the right scale was tricky.
"We looked into a lot of options and were drawn to Barn Light Electric initially because of the large selection, plus we were interested in using lighting that was made in the USA," Elissa says. "The more we learned about the care and craftsmanship that goes into the product, we were sold."
The Emblem Sign Light has a classic yet timeless look and comes in four shade sizes and 15 durable powder coat finish colors. One of the newest additions to our American made Sign Light collection is the Dual Arm Emblem Sign Light which features two gas station-style angle shades on one mounting.
"The Emblem lights fit in perfectly with our neighborhood and our building," Elissa notes. "They feel like they've always been there. We love them!"
Photos courtesy of Ambrosia Restaurant & Bar