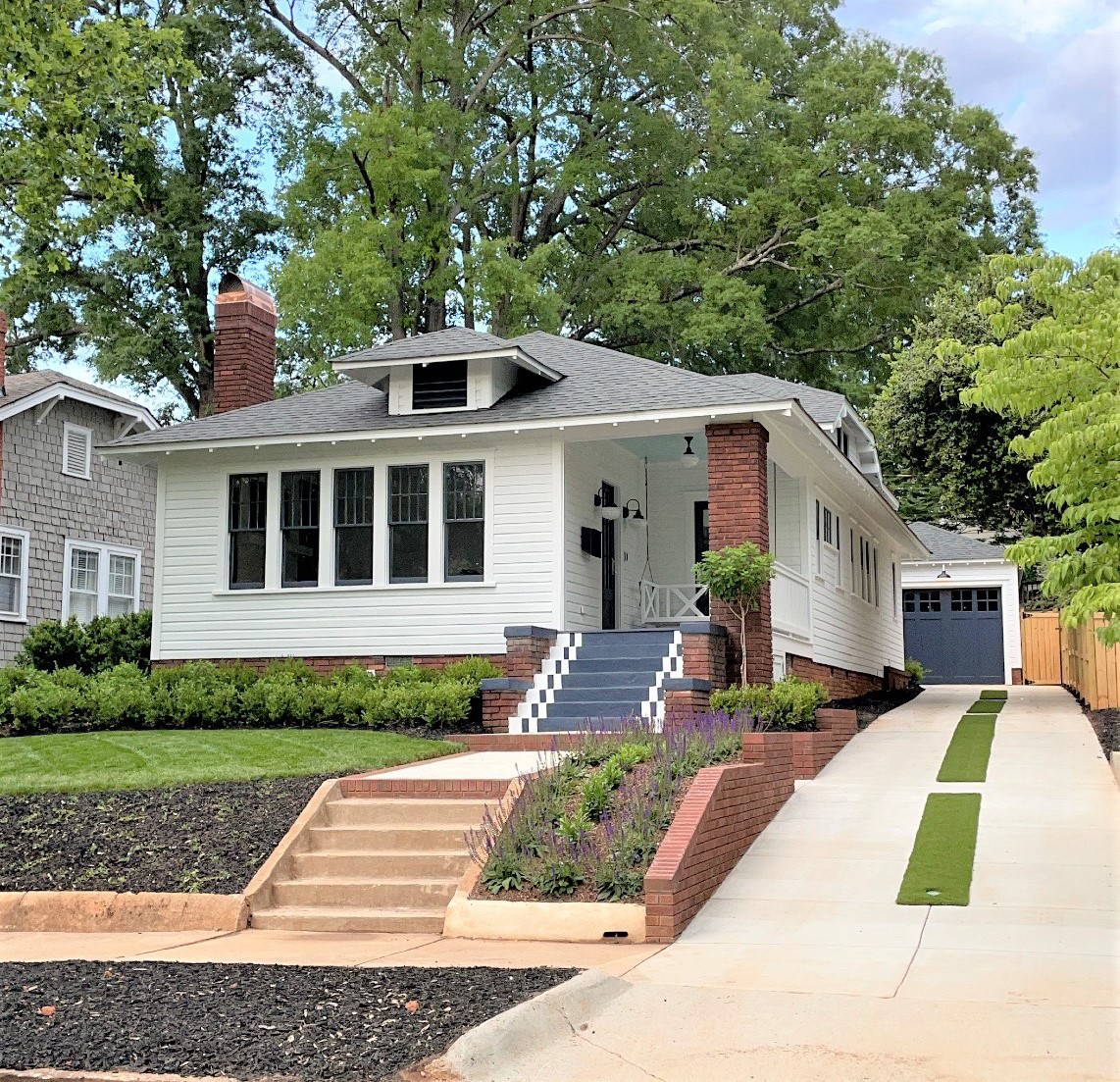 Vintage-Inspired Lighting Blends Old & New in Historic Bungalow Reno
Listed on the National Register of Historic Places, the Dilworth neighborhood was first settled in the 1890s. Located just southwest of downtown Charlotte, North Carolina, this tree-lined neighborhood offers an eclectic mix of restaurants and boutique shops, and is home to both historic bungalows built in the early 1900s and modern luxury apartments.
When Alexa decided to remodel her Dilworth bungalow, she wanted to capture its original 1920's vintage charm while infusing the space with a balance of old and new.
"I wanted a Nantucket feel with a mix of the 20s," Alexa says. "This was an extensive project with the addition of a second floor and a down-to-the-studs remodel of the entire house." One of Alexa's priorities was a navy-and-blue palette to add a pop of color.
When searching for inspiration on Pinterest, Alexa found Barn Light Electric. She discovered that Barn Light carries not only the handcrafted, vintage-style fixtures she desired, but also offers a wide range of color and customizing options.
"I wanted lights that had my color options plus added to the personality of my home," she notes. "These lights match my home and add the finishing touches to make it all come together." For her garage, Alexa chose the Avalon Gooseneck Light. She customized this handspun wall light with a 14″ shade, Navy finish, and G26 gooseneck arm in a contrasting White finish.
"I needed the garage light to stand out," she explains, "and the Navy with the White contrast adds that pop of color I was looking for." For the nearby back patio, Alexa chose the same gooseneck light but with a smaller 10″ shade. These three fixtures provide plenty of downlighting on the façade and patio with their dark sky-friendly design.
"This size seems not too big and not too small," she notes. "The garage light stands out but flows well with the others."
For the front porch, Alexa chose classic schoolhouse lighting which first came into vogue in the early 20th century. She fell in love with our Acorn Schoolhouse collection which features the familiar schoolhouse glass available in both opaque and clear styles.
Two Acorn Schoolhouse Sconces flank the front door while an Acorn Stem Mount Pendant brings added light to the porch. Both are customized with opaque glass, a Navy fitter, and Navy mounting.
"I love the old-school style because it perfectly resembles my house," she explains. "The lights add character, and I'm always getting compliments from my neighbors." The Acorn Schoolhouse collection also includes a gooseneck light, cord and chain-hung pendants, a flush mount light, and LED options. All can be customized with glass, fitter, canopy, cord, banding, and other options.
"I travel often with work and notice Barn Light's fixtures at many different places," Alexa says. "You have the styles and color options that really make a home. It gives that vintage look with a modern twist."
Photos courtesy of the homeowner