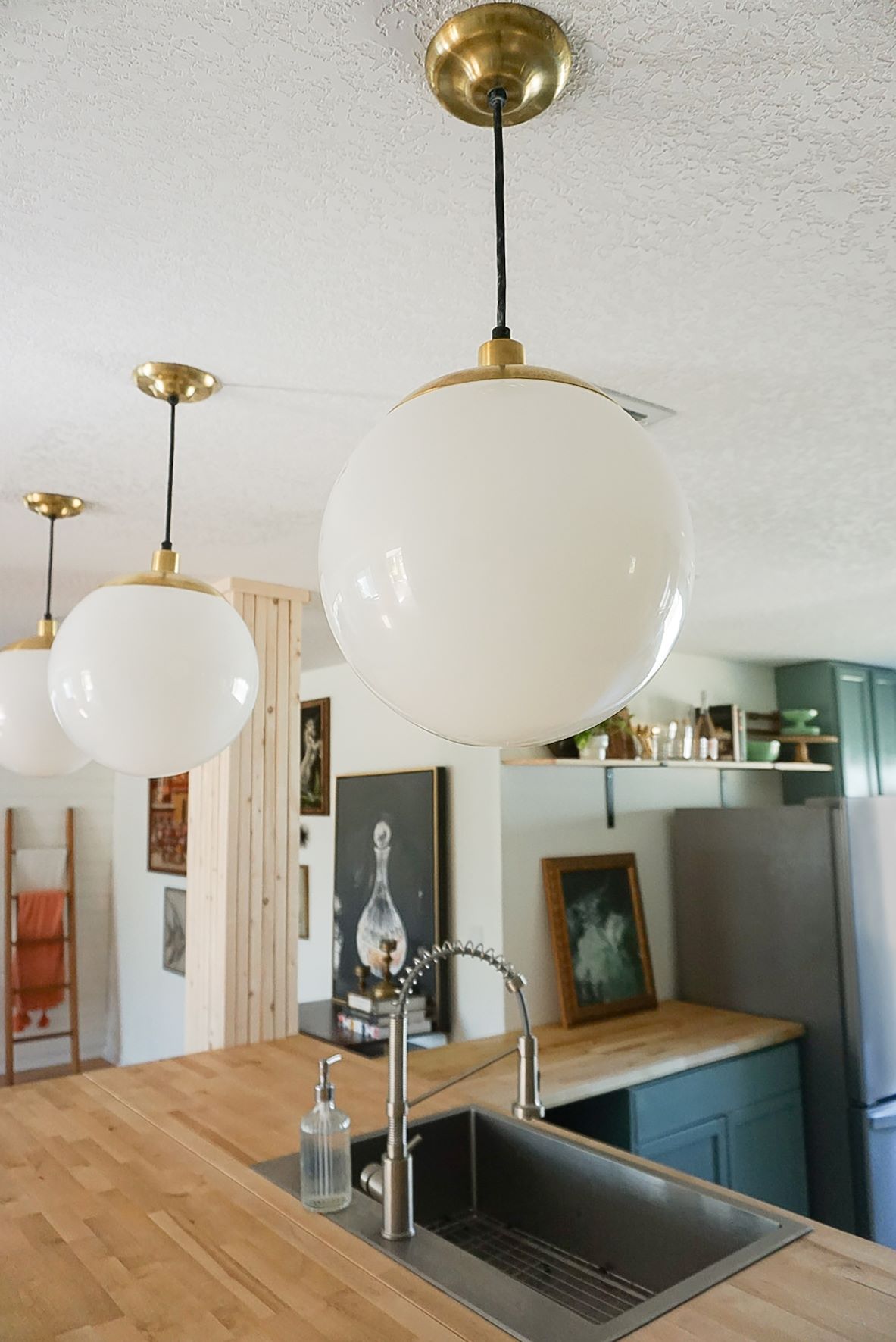 Glass Ball Pendants Add Dramatic Wow Factor to Kitchen Reno
When you live in a 1965-era ranch home, there is no shortage of updates to tackle. For Jess, it was easy to decide which room needed attention first in her Titusville, Florida, home.
"The kitchen was originally in the center of our home," she explains. "To get anywhere in the house, you literally had to walk around it. So we ended up flipping the kitchen into the existing dining room without moving the plumbing. It was a pretty big project, but so worth it!"
Jess and her husband Tyler envisioned a cozy, inspiring space with a bold but soothing color palette. Jess also wanted natural textures with a nod to European kitchens. They chose a white pine look for the hood vent and nearby beam support along with butcher block counter tops.
"For accents, we chose brass hardware to welcome in mid-century details that are constantly inspiring us to look back at the beautiful designs people before us have already created," she explains. As Jess started the search for lighting, she focused on American-made fixtures but wanted control over the options.
"We knew if we had more control over the design of the lighting, it would feel more intentional and elevated," she notes. "It just so happened that our best option was right here in town!" Luckily for Jess, Barn Light Electric also calls Titusville home and offers a wide variety of handcrafted, American-made fixtures.
Browsing Barn Light's website, Jess stumbled upon the Glass Ball Pendant Light which reminded her of the classic look of an old diner.
"Glass pendants are pretty popular, but finding a glass pendant that is oversized and can make a statement without looking cheap is difficult," she notes. "As soon as I saw these, I knew they would make a statement and be such a cozy feature!" Jess customized her new pendant lights with 12″ opaque glass, a Raw Brass top and canopy, and standard black cords.
"We chose the opaque because it's so much more subtle than a stark white globe. It's almost creamy in color," Jess explains. "We chose the standard black cord because we wanted the attention on the brass detail. The black cord takes a step back and allows the brass to shine."
Jess found Barn Light Electric after spotting fixtures around town that she loved and asking multiple people where they were sourced. She used them in her business location and is now thrilled to have them in her renovated ranch home.
"I love how bold they are!" Jess says. "We don't have an enormous kitchen. It's cozy and these lights make it feel grand just by hanging there. We couldn't be happier with the personality they bring to the space."
Photos courtesy of the homeowner