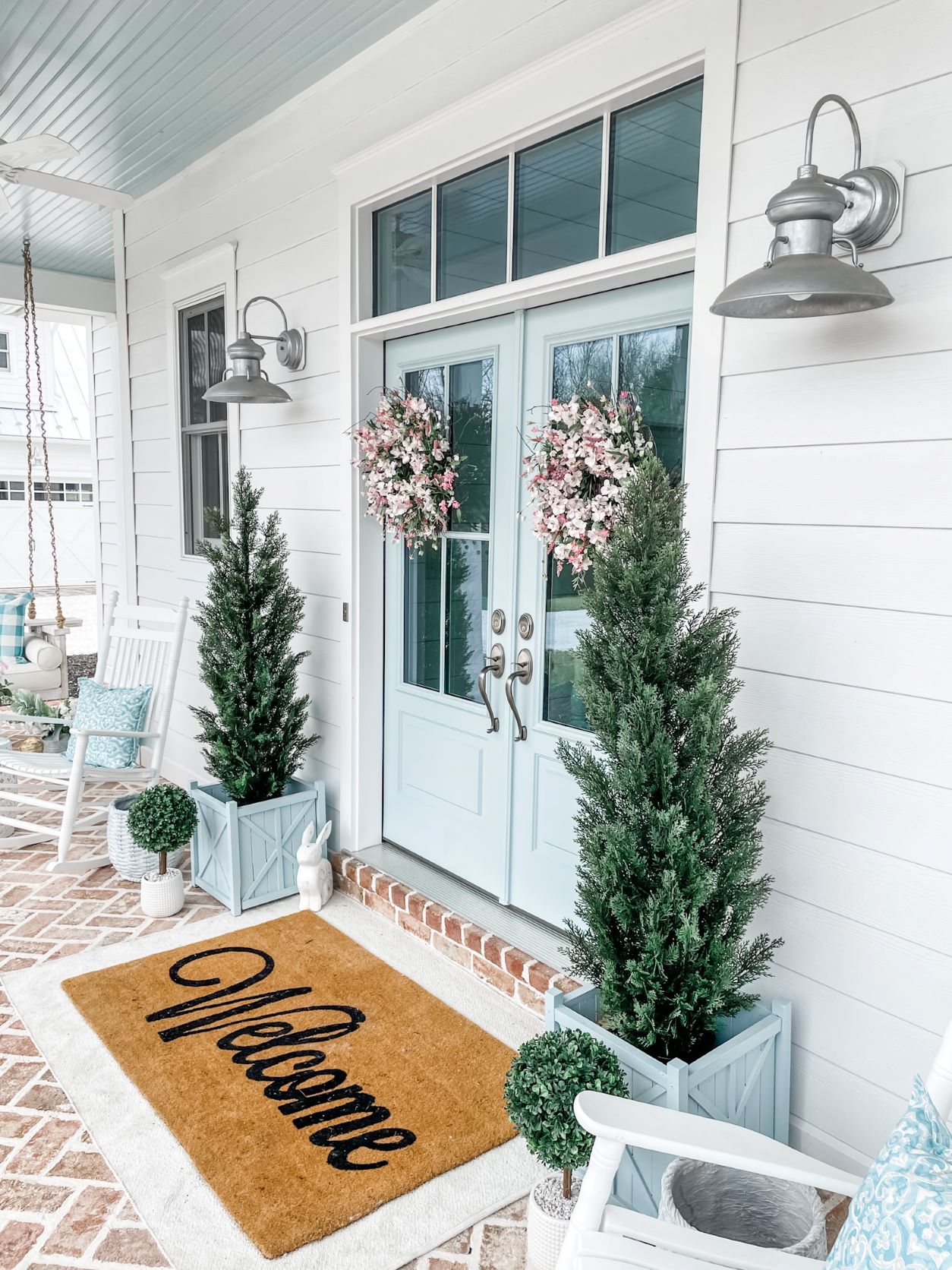 American-Made Barn Lights Lend Authentic Touch to New Farmhouse
What's the best compliment you can receive after completing a major construction project? For Monica, it's when people mistakenly think her brand-new home is an old house that has been restored.
"Score one for us. That's what we wanted," Monica says. "Our home is located in historic Gettysburg, Pennsylvania. The design is classic farmhouse, and we wanted it to suit our land and the area." The home is cozy, bright, and welcoming with classic materials including wide mouldings, aged brick-and-mortar, shiplap, and beadboard. Starting with a palette of crisp white, Monica added touches of pale blue, pink, green, lavender, periwinkle, and yellow.
When it came to choosing exterior lighting for her new home, Monica knew where to turn. She discovered Barn Light Electric online years ago and couldn't wait to use their lights in her new home.
"Lighting is a BIG deal!" she notes. "The lights had to fit the aesthetic of the home, and I wanted fixtures that are made in the USA and easy to customize." Monica chose the Laramie shade which is available in a variety of sizes, finishes, and mountings.
"The very first lights I chose were the Laramie Wall Sconces for the porches and the Laramie Gooseneck Lights for the garage," Monica explains. "I fell in love with the Laramie because in addition to having a classic look, it was just a little different. Once I saw the Galvanized finish to match our standing seam metal roof, I was sold!"
The new garage lights feature 16″ shades, the Galvanized finish, and G22 gooseneck arms. For the front porch, two Laramie Wall Sconces flank the door and sport 14″ shades and the same Galvanized finish. The same size and style of wall sconce brighten several other patio areas and doorways around the house.
All of the Laramie fixtures are handcrafted in our Florida manufacturing facility from commercial-grade aluminum. More than 30 finish colors are available as well as other options such as cast guard and glass, LED, and a plug-in option for interior installations.
"Barn-style lighting was an easy choice for our classic American farmhouse," Monica says. "Not too fancy, not too plain — the perfect fit for a farmhouse." Be sure to check back on Wednesday when we take a peek inside Monica's beautiful home!
Photos courtesy of @From.the.Hartland