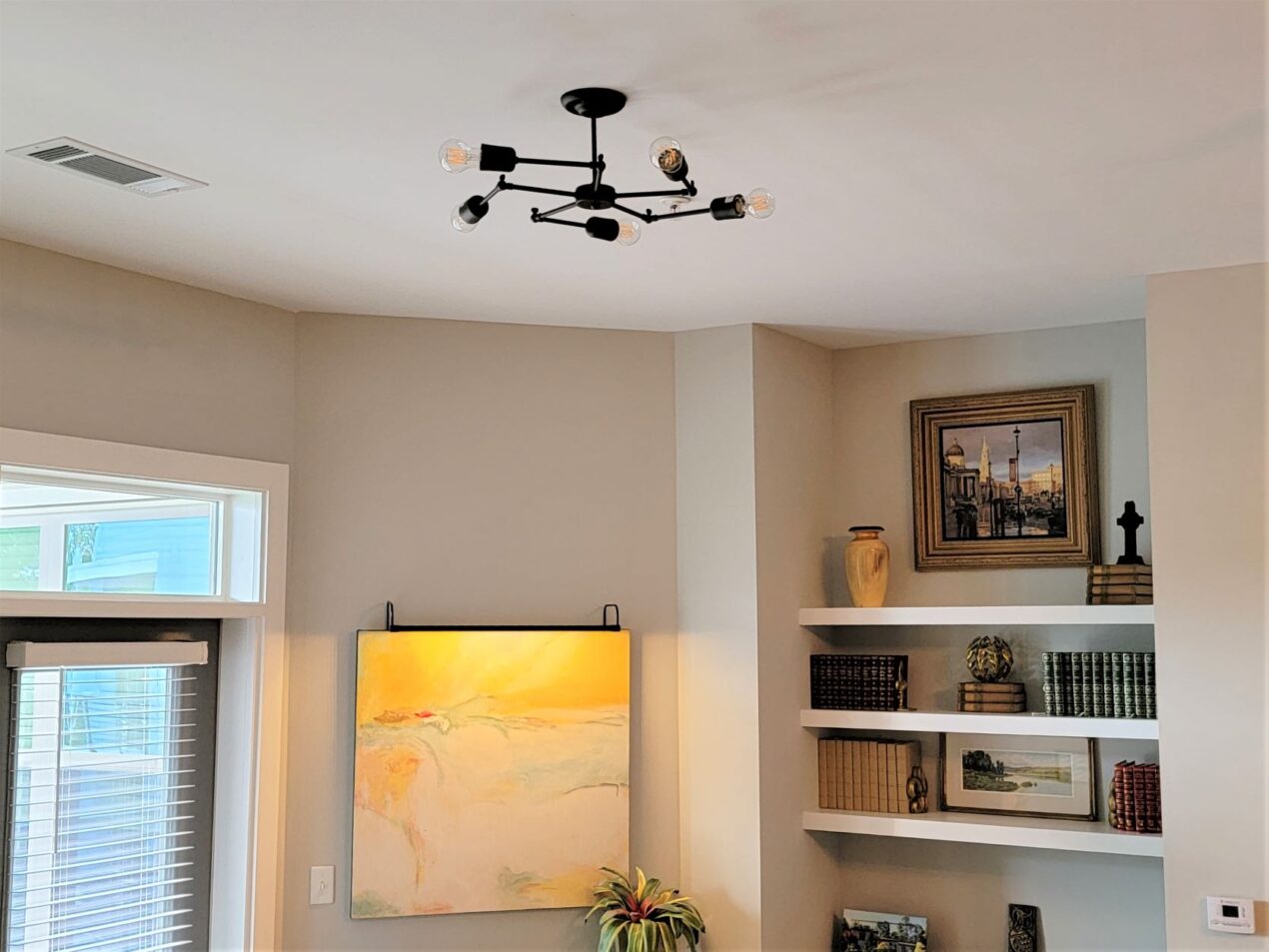 Eye-Catching Chandeliers Add Crowning Touch with Stylish LED Efficiency
When Pat and her husband moved into a luxury apartment located in Chapel Hill, North Carolina, the new place had almost everything they needed.
"Our apartment is in The Elliott at Blue Hill," Pat says. "When the complex was built, the interior designers used lights from Barn Light Electric. We have traditional barn lights over our entrance and on our small balcony." She notes, however, that the apartments do not come with overhead lighting in the living and dining rooms nor in her husband's study.
Wanting to keep with the same style as the other fixtures, Pat started browsing the Barn Light website for complementary ceiling lighting. She discovered the Ellis Adjustable Arm Chandelier which is constructed with five bare bulb sockets and horizontally adjustable arms.
Pat customized her new American-made chandeliers, crafted in Florida at the Barn Light factory, with an Oil-Rubbed Bronze finish. She also choose a 6″ stem length and Globe LED Tala Lamp bulbs. One fixture is in the study while the other two are in the open living and dining spaces.
"The Oil-Rubbed Bronze is a chameleon, reading rusty red in some settings and black in others," Pat notes. "Our furnishings have a Tuscan palate, but the apartment kitchen fixtures are black. The Oil-Rubbed Bronze plays well in both spaces."
The Ellis Adjustable Arm Chandelier is available in 32 finish colors as well as Raw and Weathered Brass. Five stem lengths are offered as well as custom lengths to accommodate most any setting. The Tala Lamps, which incorporate sustainable LED technology, feature unique designs favored by professional designers, architects, and homeowners alike. By converting electricity into illumination with unparalleled efficiency, these components reduce a building's energy demands thus lessening the environmental impact and lowering power costs.
"We live on the top floor — we call it the penthouse — and the fixtures shout 'up town' too," Pat says. "The lights are very interesting, eye catching, and fresh. Bulb selection was key. The Globe LED Tala Lamp, with dimmer switches, adds so much interest to the fixture and allows us to light the rooms well in any condition."
Photos courtesy of the homeowner