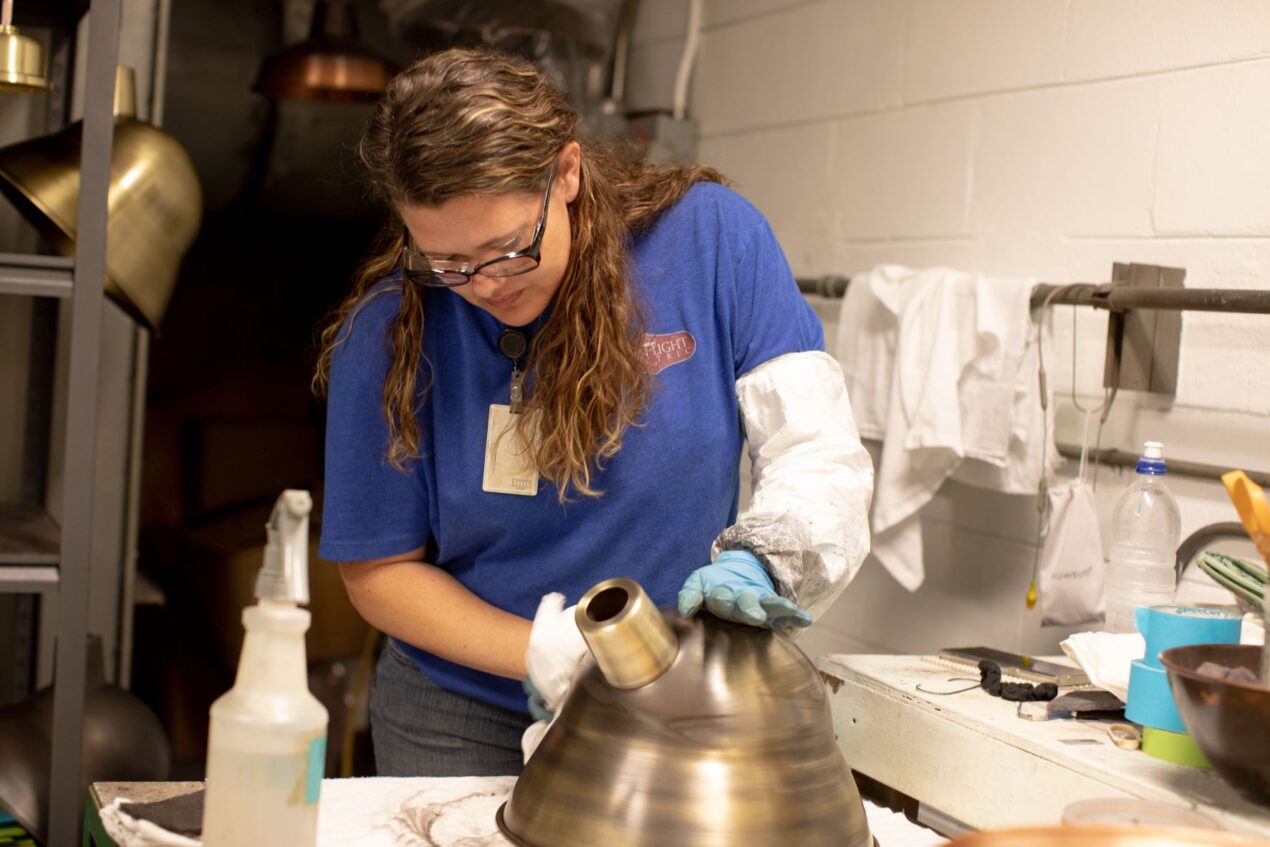 Behind the Scenes | Talented Hands Create One-of-a-Kind Finishes
The unofficial end of summer comes this weekend as people mark Labor Day with picnics, parades, and parties. But here at Barn Light Electric, Labor Day is also a time to celebrate the 120+ team members who do their part each day to create our vintage-inspired collection of American-made lighting.
From metal spinners and coatings laborers to assemblers, accountants, photographers, customer care specialists, and even social media gurus, everyone on the Barn Light team plays a vital role.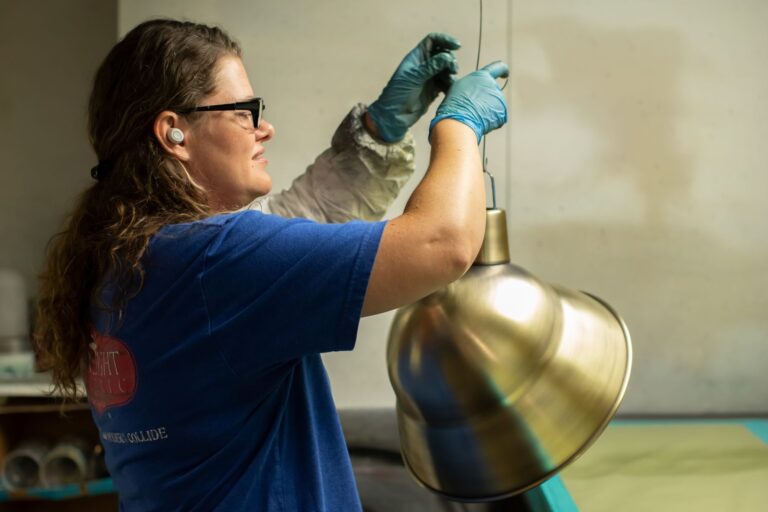 This Labor Day, we're featuring Amanda who has worked for Barn Light for more than three years. A Florida native, Amanda was raised in Alabama but returned to her home state about 10 years ago.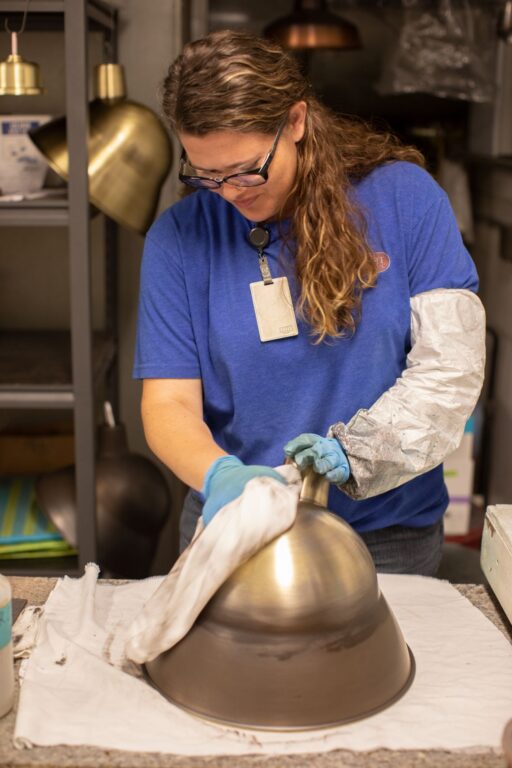 "I started out as a coatings laborer but then moved on to become a powder coater," Amanda explains. "About a year ago, I moved over to wet spray." Amanda currently lends her talented hands to our brass and copper fixtures. Her typical day starts with cleaning the brass or copper shades after the spinning process. For a Weathered or Oil-Rubbed finish, Amanda sprays the shade with the patina then scrubs the shade carefully to create the particular finish.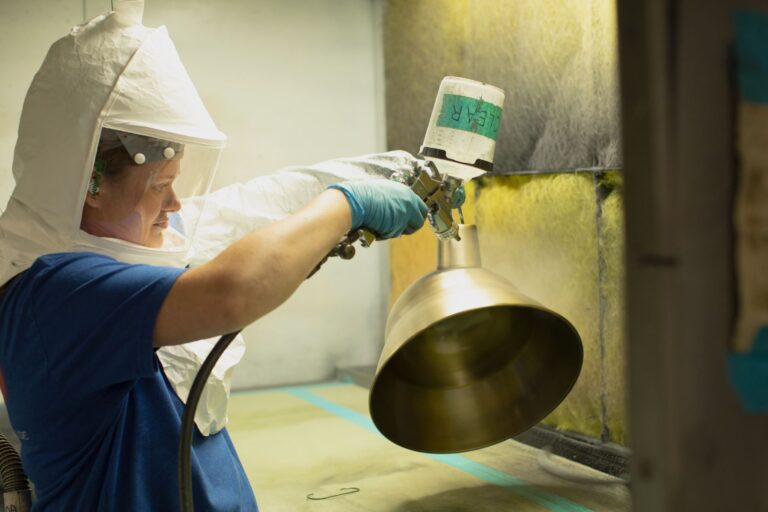 "The hardest part about my job is getting the Weathered Copper or Weathered Brass just right," Amanda notes. In these photos, Amanda is working on a Weathered Brass finish by wet scrubbing the patina. After that process, she applies clear coating to the shade to finish and seal it. Amanda and one other team member handle all of the copper and brass orders that pass through manufacturing.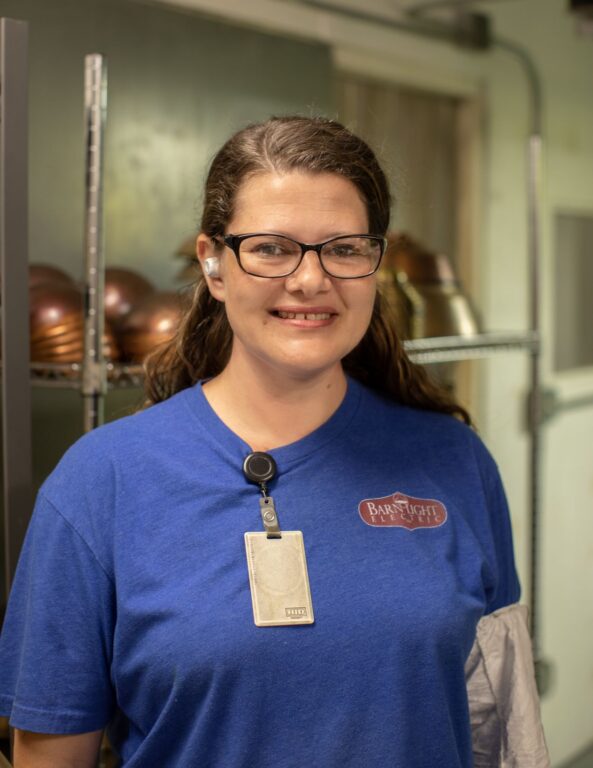 "I enjoy the people here," she says. "And of course, in my job, seeing the end result of something I did is always a proud moment." In her spare time, Amanda enjoys going to the beach or doing puzzles with her son. She adds that, although they aren't very good at it, they both like to bowl.
"Amanda has a great touch in working with our brass and copper finishes," says Josh, Amanda's supervisor. "She's diligent, a hard worker, and a great team member for Barn Light."