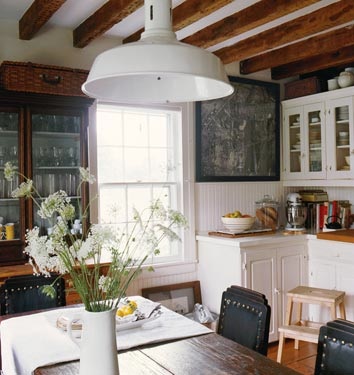 Vintage Enamel Pendant Lighting: Commercial and Residential
Warehouse pendant lighting can be used virtually anywhere – commercial or residential. Once used to light factories and barns, these pendant lamps had wide bowls that reflected light over a large areas. This was crucial, especially where heavy machinery met hard labor. Not only did these warehouse pendants need to provide adequate light, they also need to be durable and long lasting. Manufacturers of these quality American lights sought out only the finest materials to construct their light fixtures out of.

The Crouse-Hinds Company, along with Benjamin®, Abolite, and Wheeler™ utilized the combination of porcelain enamel and steel. The shade was spun out of steel, then coated and baked with an enamel coating. This enamel coating was resistant to moisture, ultimately preventing rust and corrosion, unlike lights constructed from only metal alone.
Nowadays, vintage porcelain shades are popping up everywhere. Because of their wide spread of light, many homeowners choose to hang them over kitchen tables and islands. Not only do they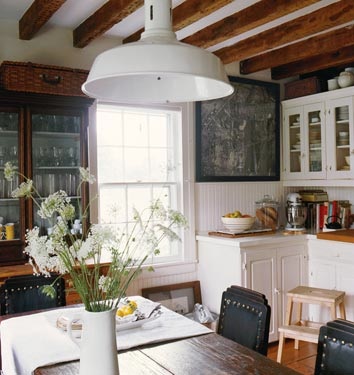 provide a high amount illumination, but they also act as a decoration – each vintage barn light has a history all its own. The kitchen shown today has a vintage porcelain lamp, just like the 18″ Vintage White Vented Porcelain Warehouse Pendant. The vents in the neck of the shade allowed heat to escape from the socket and light bulb, a necessityl for preventing fires and explosions.
If you haven't been able to stumble across an antique enamel light that fits your design or color scheme, shop within our Modern Porcelain Barn Lights. Our exclusive collection of products are also American made from quality materials and available in indoor or exterior styles. In the past, porcelain lights were most commonly manufactured in white or green, but today our modern lights are available in bright finishes like jadite,  yellow or cobalt.
Photo Courtesy of Katy Elliott