Classic Style Barn Lighting For Residential and Commercial Use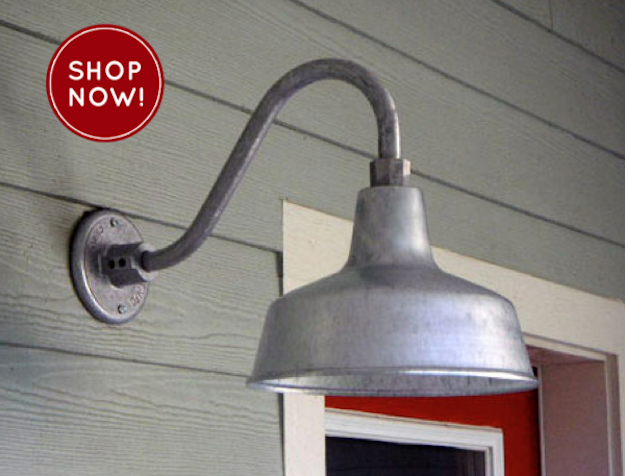 Whether you're renovating your home or starting a new business, gooseneck lighting offers a traditional look. The nostalgic styles of these vintage inspired light fixtures have regained popularity around the country, as people are searching for an accessory to revive vintage charm into their dwellings. The growing design styles of today have begun to utilize these fixtures for not only their classic look, but for their large amount of light they can project.
These light fixtures can be found in a wide variety of settings. Originally, vintage barn lights were used in agricultural areas such as barns or farmhouses, but today they can be found in modern homes, log cabins, or cottages – as well as within exterior and commercial spaces such as garage lighting, restaurant lighting, or placed on retail store fronts. They are made using a variety of materials including aluminum, steel, or our newest edition, porcelain enamel barn lights.
Gooseneck lights are ideal for showcasing your storefront during the evening to draw customers into your business or restaurant. For the most effective sign lighting, select longer goosenecks to highlight overhead signage and smaller gooseneck arms or wall sconces near the entrance. Gooseneck arms extend the shade away from the wall or building, allowing the shade to cast a larger, wider span of light onto the area. We offer both American-made and internationally manufactured shades that can fit into any budget. The possibilities you can create are nearly endless, and that is why so many customers keep coming back to us for all their lighting needs!
At Barn Light Electric, the majority of our gooseneck barn lights are available in nearly 40 finishes to meet the specific look and feel of your home or workplace. For residential areas, we have a great selection of small warehouse shades, such as The Artesia. The Artesia has the same barn style and gooseneck arms as the rest, but are more fitting for accenting the front porch or entryway. For tight corners or interior spaces such as kitchens or bathrooms, the Mini Artesia Shade is your best bet. Its compact size makes it a great addition to any porch, driveway, or any small area where measurements may require a smaller gooseneck lamp.