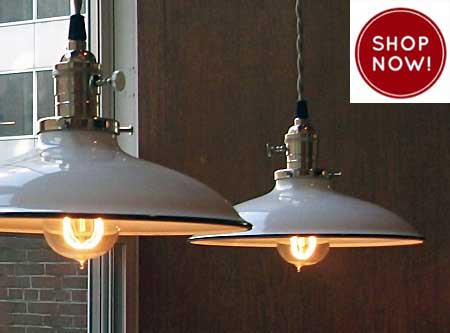 A Guide to Porcelain Enamel Barn Lighting
Barn Light Electric is the exclusive American manufacturer of the following porcelain enamel lighting styles: Goodrich® Gooseneck Lights, Benjamin® Stem Mount Lighting, and Ivanhoe® Pendants. Based on a classic style from the early 1900's, the porcelain enamel barn light has returned to prominence in modern design. Many Americans will recognize these barn lights from the early to mid 1900's, when vintage barn lights were commonly used around gas stations, agricultural areas, and industrial warehouses.
Barn Light Electric customers value these vintage inspired lights for their top-quality porcelain enamel construction formed from raw steel with an exterior glass coating. It's because of these two strong components that make these some of the most durable lighting products on the market today. It was also these qualities that helped original designs, (Goodrich® and Benjamin®) gain their mass appeal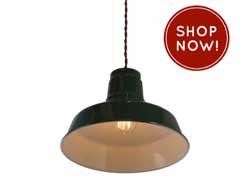 in the 1930′s.
Today, porcelain enamel lighting fixtures are available with designs that are as diverse as the homes and businesses they illuminate. For example, one of our most popular porcelain enamel lights, the Ivanhoe® Dino Porcelain Cotton Twist Cord Pendant, was featured as part of a laundry room makeover within Real Simple.
Ivanhoe® Sinclair Industrial Porcelain Pendants were used within Mood & Space Design, an industrial style coffee shop that recently opened in one of Oakland's most h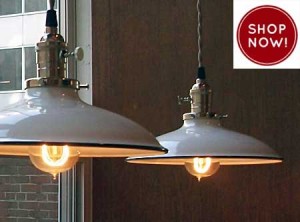 istoric landmarks, the Tribune Building. The Ivanhoe® Sinclair Industrial Porcelain Pendant comes with with your choice of a vintage brass or nickel socket and an authentic style turn key switch. The shop completed a vintage look by adding in a Nostalgic Edison Style Light Bulb.
Cloth cord pendants are just a few of the porcelain barn lights that Barn Light Electric offers. Many popular shade styles are carried over into Goodrich® Gooseneck Lights and the Benjamin® Stem Mount Pendants. Customers can bring a cohesive look to their home by combining mounting options. Popular residential uses include kitchen lighting and accenting the front porch. For commercial applications, porcelain enamel lights are the ideal choice. These vintage inspired shades utilize the same high quality craftsmanship that went into producing them almost 100 years ago. Today, these RLM warehouse shades are UL Listed and are ready to bring a long lasting style to your business or commercial workspace.