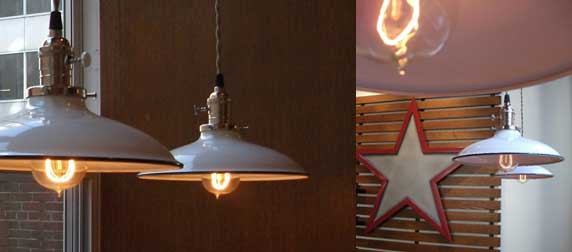 Pendants Revive Oakland's Modern Coffee Shop
Tony Ibarra and Dawn Carlson of Mood & Space Design share a passion for working with reclaimed materials. One of their collaborative renovation projects includes a salvaged bar in the historic Tribune Building in downtown Oakland.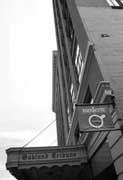 Recently,  Tony and Dawn completed phase one of Modern Coffee Shop, an industrial style coffee shop which will replace the former bar. During the renovation, the duo selected multiple Ivanhoe® Sinclair Industrial Porcelain Pendant Lights to assist in producing an original atmosphere for patrons.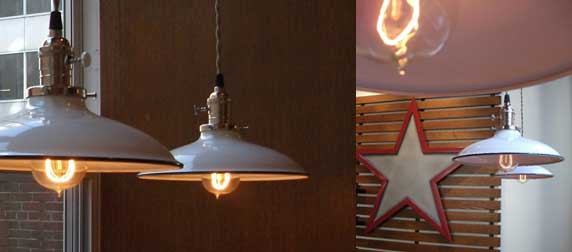 As you can see from the photos, the white Ivanhoe® Sinclair Industrial porcelain pendants come with a black finish around the bottom rim of the shade. Other vintage components of the porcelain pendant include a nickel socket, twist cord and the Edison-style light bulb. Along with powder-coated red stools, chalkboard menus and custom woodwork, the porcelain pendants revive the early 1900's atmosphere.
Tony and Dawn were fortunate to find the original factory pendants, which remain installed and fully functional above the front counter. These factory pendants are similar to the Altamont Pendant Light, from our Vintage Pendants and two pendants from our Barn Light Pendant section: the Sugarland Pendant and the Irion Pendant, all sold at Barn Light Electric.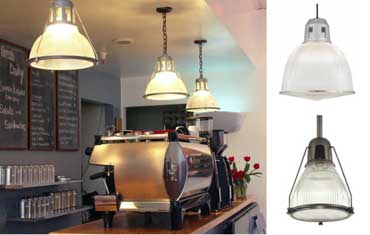 The coffee shop is part of one of Oakland's most famous landmarks: The Tribune building. Constructed in 1923, it stands 21-stories tall and is known for its clock tower designed by designed by Edward T. Foulkes. The building was home to the Oakland Tribune newspaper until 2007. Today, the Tribune building's primary tenants are businesses and condo owners. Dawn and Tony took special pride in their effort to revitalize an area from a building that not only recorded history in Oakland, but contributed to it.
"It was a local project with some wonderful clients, loosely based on industry and the history that the Tribune Building (where the shop resides) provided. We juxtaposed the historical references with contemporary lines for a cool, unique, but approachable space. Goes great with the cool, unique and approachable folks who run the company!"