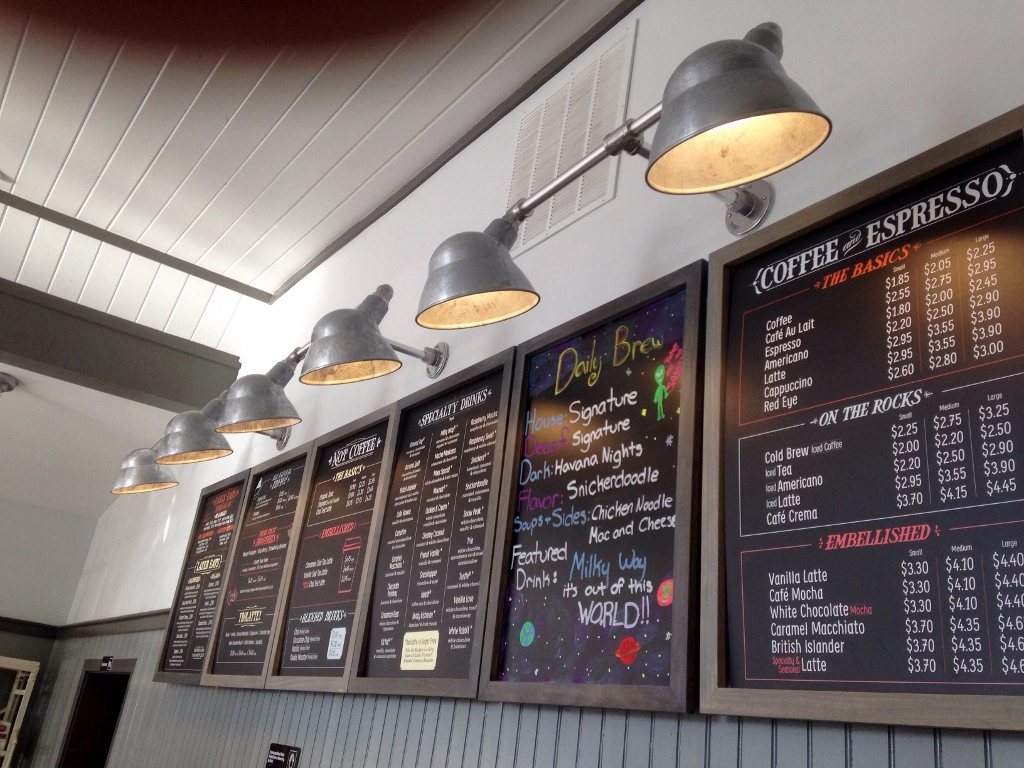 Inspiration Board Leads to Barn Lighting for New Coffee Shop
Whether you're working on a small laundry room remodel or a multi-million dollar commercial build, an inspiration board is often the birthplace of great design. Many architects, interior designers, and even homeowners start with simple sketches, color swatches, and pins from Pinterest that inspire them as they plan their new space.
An inspiration board created by Jacobs Global Building Design in Philadelphia led to the new look of Saxbys, a coffee house located in Peddlers Village, a 42-acre development in Buckingham, Pennsylvania.

"Louis Chang and Devyn O'Neill of Jacobs started with an inspiration board which basically looked at the space and the surrounding area to get a feel for how the café should be positioned," explains Doug Easterley, director of real estate development for Saxbys.
This newest location of Saxbys is located in Bucks County, Pennsylvania, a pastoral region north of Philly well known for its covered bridges, barns, and farmlands. To bring some of that bucolic charm into this completely renovated space, the design team turned to Barn Light Electric for authentic barn pendant lighting and sign lighting.
Louis and Devyn chose the Dual Arm Emblem Sign Light to highlight the six menu boards behind the counter. These American-made wall lights feature a rugged construction in the style of vintage gas station lights. Customized with 10″ shades, a Galvanized finish, and 12″ brushed aluminum gooseneck arms, these sign lights not only provide plenty of light on the boards but add a dollop of farm style too!
"The dual arm Emblem Sign Lights were the right fit here as they have a farm/barn quality to them," Doug says. "This area is renowned for its barns, so we were seeking something that looked like it could have come from the area."
Over the main counter area, the design team suggested these classic barn ceiling lights — The Original™ Warehouse Pendant Light. The high-gloss porcelain enamel finish they chose will never fade and requires minimal maintenance. Porcelain enamel is an excellent choice for restaurant lighting or other high-traffic commercial spaces thanks to its long-lasting and durable finish.
These ceiling lights were customized with 12″ shades, a creamy Jadite finish color, and a red-and-white cloth cord for yet another vintage spin.
Bringing some downlighting to the individual tables are two Von Braun 4-Light Chandeliers customized with 12″ shades and a Black finish. Featuring four RLM-inspired warehouse shades affixed to curving gooseneck arms, this barn chandelier brings a hint of industrial style without leaving its farm roots too far behind.
"These are a great part of Saxbys Coffee and the total rehab of the former space," Doug says. "Derek was such a pleasure to work with on this order, and the lights fit in the decor exceedingly well. I couldn't be happier with Barn Light Electric!"
Photos courtesy of Saxbys Coffee