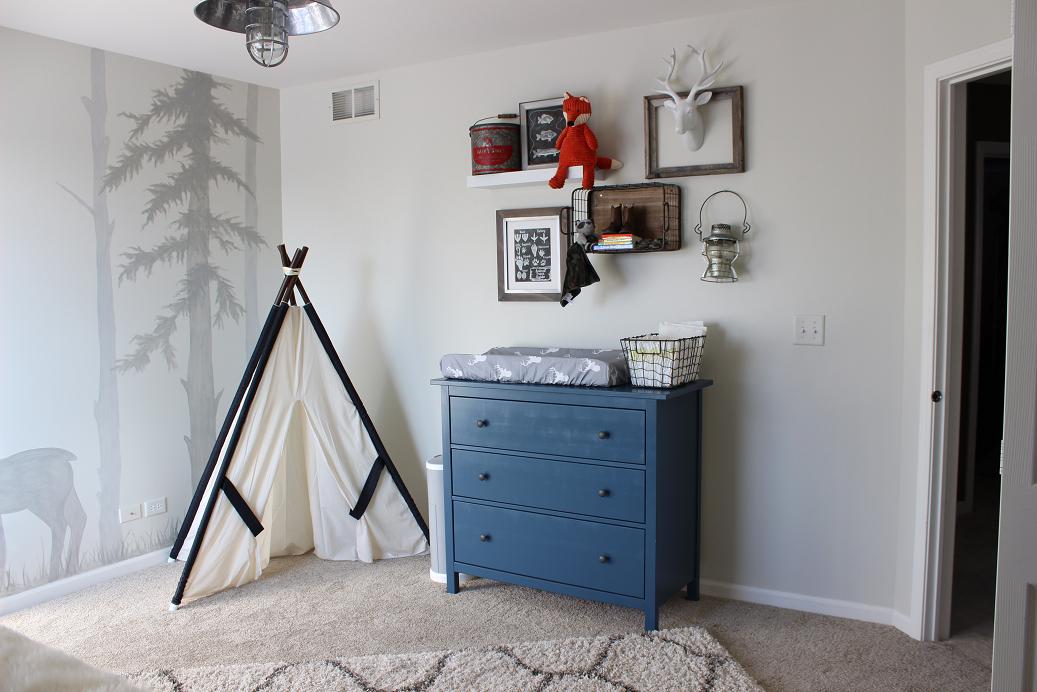 Warehouse Lighting Blends Rustic & Modern Styles in Nursery
Did you ever think you would see the words "warehouse lighting" and "nursery" in the same sentence? Perhaps not, but when you have an artist's eye, you can make warehouse lighting work, and beautifully so, in a nursery.
Rachel is an artist who creates prints from her hand-drawn and painted artwork for her Etsy shop called Lazy Sunday Studios. When her first baby was about to be born, Rachel and her husband transformed their home office/studio into a nursery for baby Ryder.
"I always wanted something outdoorsy for a nursery without being overly themey or babyish," Rachel says. "My husband and I both love being outside and going on adventures, and I wanted to bring that feeling indoors." Her design sense leans towards a mix of rustic and modern with neutral colors taking center stage. Fun accents and lots of texture bring the space alive.
"I think rustic touches, like the reclaimed wood wall, keep a space from becoming stuffy and make it more cozy," she adds. Rachel was interested in adding an industrial touch and began searching Pinterest for industrial barn lights. She soon landed on the Barn Light Electric site where she fell in love with the Original™ Warehouse Pendant Light.
This classic ceiling pendant is based on industrial lighting designs first produced in the early 1900's and features a traditional RLM warehouse shade. Thanks to its array of customizing options, this American-made ceiling light can take on a number of looks, from vintage to modern, depending on finish color and add-ons like cotton twist cording and cast guard and glass.
"I love how this light is rustic but still modern and industrial," Rachel says. She customized her new warehouse pendant with a 14″ shade and a Galvanized finish. She also chose a standard cast guard with clear glass which not only gives the fixture a hint of rustic charm but will protect the bulb when Ryder starts working on his pitching arm.
"I love it because I chose the galvanized letter above the crib, and it is a good way to repeat the galvanized finish in another place," Rachel notes. "The light is actually one of my favorite things in the whole room! I think the lighting is an opportunity to add something that can tie a whole room together. It adds a feature to your space in a place that is often overlooked, and I think that is what it does in the nursery."
The Original™ Warehouse Pendant Light is one of our most popular shades and can be crafted as a gooseneck light, stem mount pendant, flush mount pendant, or post mount light as shown in our Shop by Shade menu. The Original™ can also be hand spun from solid brass or copper.
"The galvanized warehouse pendant was the perfect choice for Ryder's room," Rachel says. "It is exactly what I was looking for — the perfect marriage of rustic and modern."
Photos courtesy of Lazy Sunday Studios