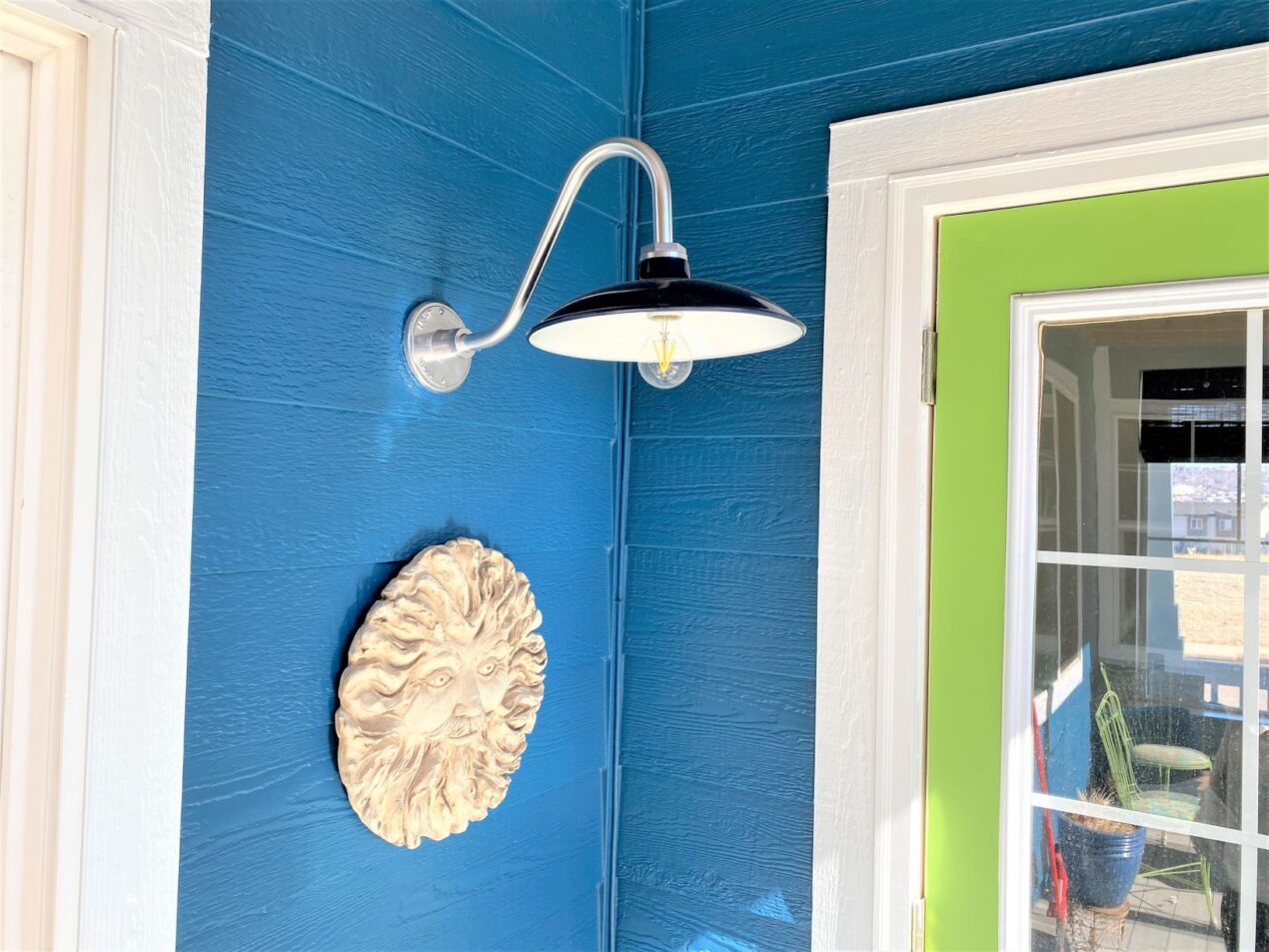 Upgrading Builder-Grade Lighting Brings New Life to Craftsman Home
Two of the easiest ways to give your home a dramatic makeover are with paint and lighting. The best news is that both will increase your home's value without breaking the bank.
When Lori decided that her 20-year-old, craftsman-style home in Castle Rock, Colorado, needed a refresh, she targeted those two details.
"We chose a modern blue color for the siding, contrasting white trim, and subtle navy blue for the shutters," Lori says. "The deeply shaded porches are brought to life with bright green doors."
With a fresh look on the façade, Lori turned her attention to the lighting. The original, builder-grade light fixtures were undersized and took a beating from the area's harsh weather conditions.
"We think of lighting as jewelry for our décor so finding the right style and color was important," she explains. "It looked like our home was wearing dime-store jewelry." Lori's criteria for new lights included genuine, not faux, finishes plus high-quality materials that could withstand the climate.
"A huge factor was finding coordinating fixtures that could be customized for size and mounting styles," she adds. "And supporting American companies and jobs was a bonus." Barn Light Electric fulfilled all of Lori's requirements with its handcrafted, easy-to-customize lighting.
Lori chose five Sinclair Gooseneck Lights for her porch. She customized these American-made wall lights with 12″ shades, a Navy powder coat finish, and G26 gooseneck arms in Brushed Aluminum.
"Pairing the sleek lines of the Sinclair shade with the traditional gooseneck arm gave us a modern, yet time-honored look that won't go out of style soon," Lori explains. "The wide, shallow shade casts a broad swath of light to fully illuminate each area, and the absence of lenses or glass globes means there's less to clean. We like low maintenance!"
As an artist and owner of Thread Play, a store supporting sewers in their creative pursuits, Lori has a love of color and unusual details. Her artistic eye is evident in her choice of colors for her home.
"The Navy blue shades are a subtle contrast to the slightly lighter blue siding color without competing with the bright green doors," she notes. "We have a mix of metal accents from authentically rusted ornaments to brass door hardware to copper address numbers. We chose the Brushed Aluminum gooseneck arms to play into the eclectic mix of metals."
For her garage, Lori chose the same Sinclair Gooseneck Light but in a slightly larger shade size. She customized this fixture with a 16″ shade and the same Navy finish color as her porch lights. She also chose a G15 gooseneck arm in Brushed Aluminum.
"The builder had placed a tiny light fixture over our two-car garage door. It looked like an afterthought," she says. "We chose the more substantial 16″ shade so that it wouldn't be dwarfed by the size of our garage door."
Lori also chose to replace the original patio ceiling pendant which was undersized for the space. She selected the matching Sinclair Stem Mount Pendant and customized it with a 16″ shade, Navy finish, and a 24″ Brushed Aluminum stem. She also chose the 25-degree hang straight canopy for installation on the sloped ceiling.
"This pendant hangs only a few feet from the gooseneck light by the door so it was important that the fixtures coordinate," Lori explains. "The larger 16″ pendant, along with the smaller 12″ gooseneck by the door gives the space a custom look." The Sinclair is one of our most popular shallow bowl shades and is constructed from commercial-grade materials and available in seven different mounting styles.
"The new lights update the exterior of our home and set our home apart from the others in our planned community. The quality workmanship and materials mean the lights will last a very long time," Lori says. "Our house makes us smile every time we pull into our driveway now."
Photos courtesy of the homeowner