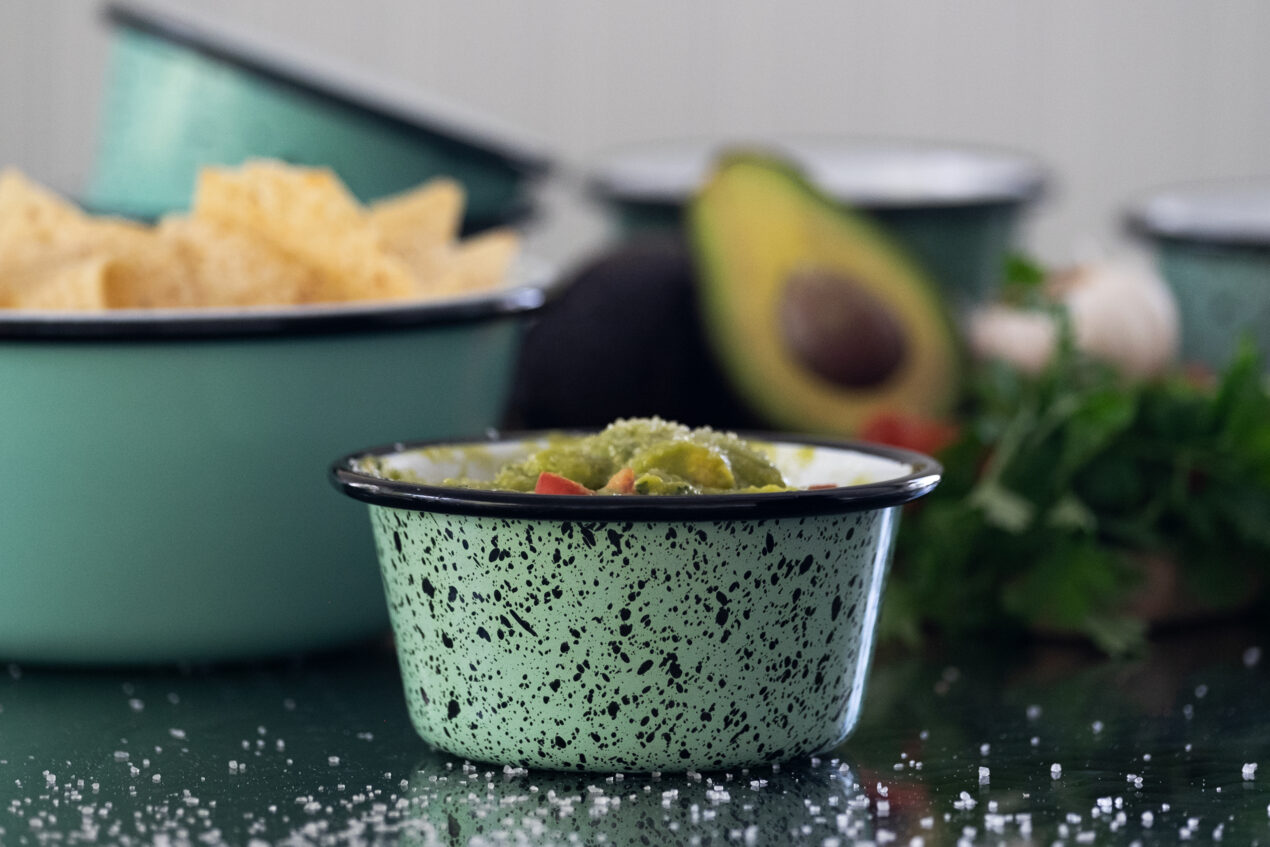 Olé! Celebrate Cinco de Mayo in Style with Genuine Porcelain Enamelware
Whether you appreciate the history behind Cinco de Mayo or just love any excuse to imbibe in nachos, salsa, and margaritas, the fifth of May is here and we're ready to celebrate! Homemade guacamole will be the hit of the party served in a beautiful porcelain enamel bowl from Barn Light Electric.
Handcrafted from commercial-grade steel just like our porcelain enamel lights, these bowls add plenty of personality to your table with their high-gloss finish and heirloom quality. Choose from eight solid porcelain enamel finish colors, six unique graniteware patterns, or the eye-catching dipped design.
Using time-honored techniques, each bowl is hand spun on a lathe to achieve the desired shape and size. A base layer of Black porcelain enamel glass is hand applied then multiple layers of the chosen finish color follow.
After the bowl is coated with enamel, it travels through our porcelain enamel oven which reaches temperatures exceeding 1,500 degrees. This high-temperature firing seals the glass to the bowl for a long-lasting finish.
Our bowl collection includes several size and finish options to meet any kitchen or serving need. Our single Enamelware Salad Bowl measures more than 10″ wide and four inches deep making it perfect not only for salads but for popcorn, pasta, and bread.
Need a whole set? Check out the Set of 5 Enamelware Nesting Bowls which range from the extra-large salad bowl down to a small, five-inch bowl suitable for dips and sauces.
For simple and convenient storage, the Set of 5 Enamelware Mixing Bowls are all the same height. But don't hide these beauties in a cabinet! They deserve to be seen and are stylish enough to be prominently displayed in any kitchen.
The Enamelware Dipped Bowls will become a family favorite for ice cream or late-night snacks. Each set of four can be customized with one of eight color combinations in a distinctive dipped design.
And if you love all of the customizing options, go crazy with the Build-Your-Own Enamelware Bowl Collection! You pick the size and finish color for each of five bowls. Make them all alike or each one can be different. Choose from five sizes, five solid enamelware colors, and six graniteware patterns to create the perfect bowls for your home!