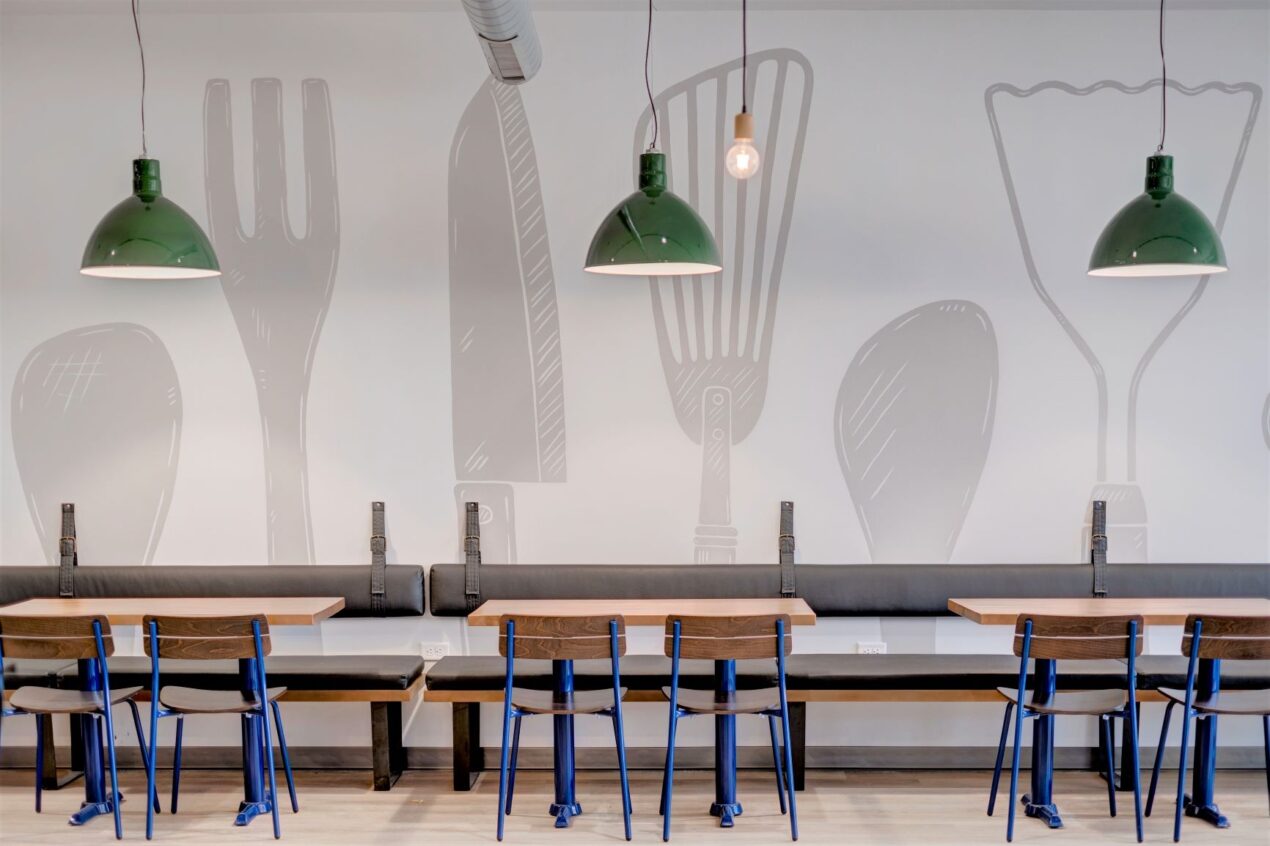 Variety of Pendant Lights Bring Warmth & Color to Restaurant Reno
When the owners of Grab & Go Gourmet moved their fast casual restaurant to a new location in Casper, Wyoming, they envisioned a fresh, inviting space that incorporated their signature colors of blue and green. Designer Lauren Griffith was tasked to bring that vision to life by renovating a downtown building that previously housed a gun and coin shop.
"This project was a full remodel. We took the building down to the shell and completely renovated it," Lauren says. "I wanted it to feel welcoming, fun, and contemporary." Lighting plays a significant role in the spaces Lauren designs so she turned to a favorite American manufacturer for options.
"I appreciate how easy it is to navigate the Barn Light Electric website and see the options," she explains. "American made is always important and, as a designer, having all of the finish, cord, and color options is amazing."
Lauren chose a variety of pendants to outfit the space starting with the Wilcox Studio Light for above the tables and banquette seats. She customized these handcrafted, deep bowl pendants with generous 20″ shades, a Vintage Green porcelain enamel finish, and black cords.
"I knew I wanted something large but simple and this was the perfect way to incorporate the green from the restaurant logo," she notes. "I also like the contrast of the black cords with the banquette backs."
For the opposite wall, Lauren was attracted to the shallow shade of the Sterling Studio Light. These pendants are customized with 12″ shades, the same Vintage Green finish, and black cords.
"This fixture is unique and fun," Lauren says. "I matched the green shade to complement the Wilcox fixtures and the black cord for contrast. The 12″ shade is just the right size above the bar top."
To round out the lighting plan, Lauren dove into Barn Light's Timber & Ore Collection where she chose three different styles of the Downtown Minimalist Wooden Socket Pendant. Four of the single pendants run down the center of the space while a 3-Light Pendant brightens the checkout space.
"I wanted more of an impact above the banquette so I used the Wooden Socket Pendants to complement the Wilcoxes while adding warmth and interest with the wood," Lauren notes. "I kept the cord the same throughout, and I love how the light wood finish looks with the wood plank floors."
Two Downtown Minimalist Multi-Light Pendants are also used near the front entryway. All of the Wooden Socket Pendants are customized with Oak wood, Emerald Green canopies, and black cords.
"They pack a punch! They function well and the light quality is great," Lauren says. "They also catch your eye from outside the window as you drive by and provide a fun design element in the space."
Photos courtesy of Lauren Griffith Interiors