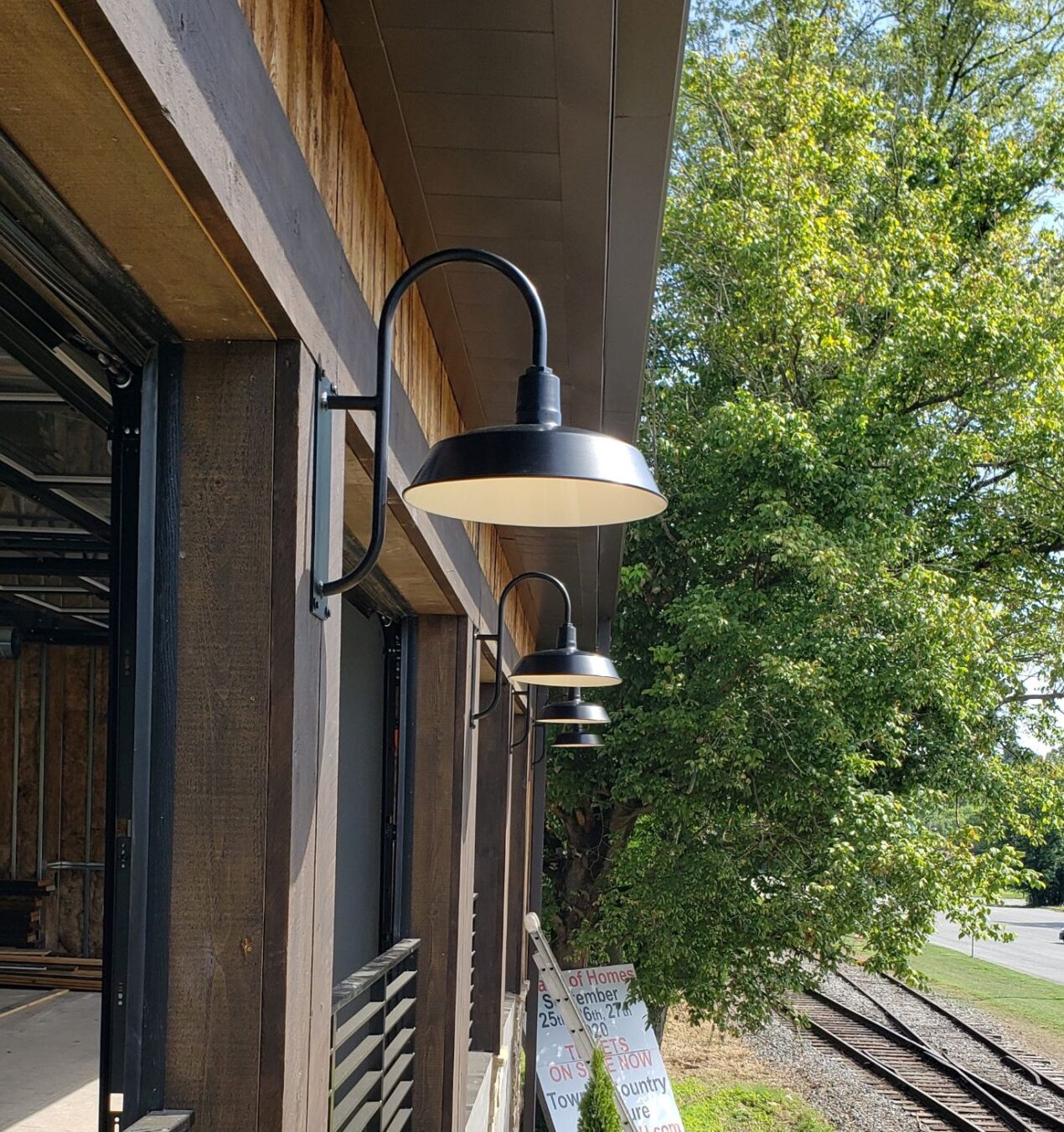 Gooseneck Barn Lights Add Historic Touch to New Building in Georgia
If you're looking for a new destination this summer, don't miss Blue Ridge, Georgia. This small town lies 90 miles north of Atlanta and is nestled in the Chattahoochee National Forest near the triangle of the Georgia-Tennessee-North Carolina state lines.
Surrounded by miles of trails to hike and rivers to fish, Blue Ridge also features an historic downtown which is home to upscale shops, craft breweries, and restaurants.
One of the newest treasures to open downtown is a mixed-use building called 55 Mountain. Although developer José Goyanes wanted to save the original building on the site, it was too far gone.
"Unfortunately, we could not salvage the old Brown's Feed Store nor its foundation," José says. "So we built a brand new building to house lofts, retail stores, and an upscale steakhouse with a bar."
José wanted to create a mountain modern design to allow the new space to blend with the historic downtown area. Dark colors, industrial accents, reclaimed wood, and local stone all add to the authentic feel. For exterior lighting, José looked for quality light fixtures made in the USA.
"Barn Light Electric offers both," he explains. "We chose barn-style lighting because the look is exactly what we wanted." José chose the classic Original™ Warehouse Gooseneck Light to highlight the exterior of his new building. Thanks to the array of customizing options offered, José could choose the perfect shade size, mount, and finish to fit each space.
The Original™ is a handspun shade available in seven shade sizes, 39 finish colors, and multiple mounting options. José chose a Black powder coat finish for all of his new gooseneck lights.
"The building is black, gray, and wood tones," he notes. "Black looks both masculine and industrial." For the front doors, he chose a 14″ shade and a G17 gooseneck arm. This style of arm gave the necessary clearance for the doors and foot traffic.
On the side of the building facing the railroad tracks, a larger 20″ shade and hefty G19 arm give these fixtures a substantial look.
"We wanted to make a statement with the lights along the scenic railway," José says. "There are four garage doors there as well, and the lights look great." He also opted for the largest shade size — 24″ — to accent the side and rear of the building. These larger shades are supported by G22 gooseneck arms and heavy-duty backing plates.
"These are mounted very high, and we didn't want a smaller shade to get lost," he notes. "The square base plate really sets it off." Thanks to the Original's™ adaptable aesthetic and Barn Light's endless customizing options, the new building exudes the historical character José envisioned.
"No one else has them! There are lots of cheap imitations that look as if the gooseneck has given way," he says. "These lights don't disappoint and give us the exact look we wanted."
Photos courtesy of José Goyanes