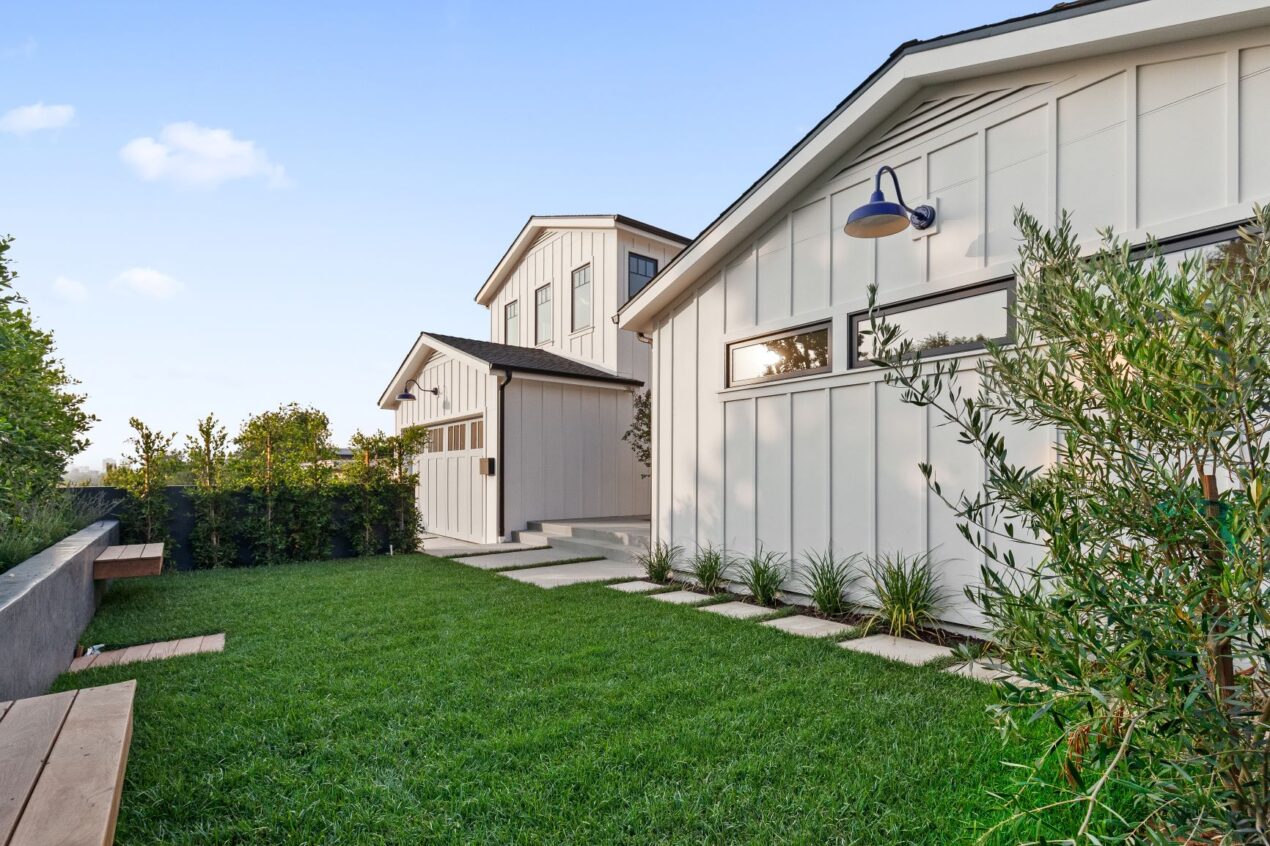 Gooseneck Lights Unite LED Efficiency with Classic Farmhouse Style
The farmhouse style knows no boundaries. From Maine to Florida and west to California, the ubiquitous farmhouse can be found almost everywhere. In addition to the traditional elements of wide porches and board-and-batten siding, modern farmhouses boast more contemporary design elements such as granite countertops, stainless steel farmhouse sinks, and sleek lighting.
For California designer Ames Ingham, finding appropriate lighting is a critical step in every design. For one of her latest projects, a new farmhouse build in Los Angeles, Ames searched for American-made LED lighting with plenty of customizing options.
"This home has a warm, fresh, coastal vibe," Ames says. "I chose barn lighting from Barn Light Electric because it's so chic, simple, and obviously completes a modern, barn-style home." City regulations require the use of LED lighting on new homes so Ames searched Barn Light's collection of LED fixtures. These handcrafted lights feature an integrated LED driver instead of LED bulbs which offer an average of 50,000 hours of energy-saving and environmentally friendly service.
Ames and her client chose the Avalon Gooseneck Light to highlight the exterior of the new home. Thanks to the multiple sizes and mounting options available, they were able to customize each fixture to fit the different spaces around the home.
The client chose eight of the gooseneck lights in four different sizes and with three different gooseneck arm styles. All of the lights sport a brilliant Cobalt Blue porcelain enamel finish.
"My client loves the Cobalt Blue. We needed different sizes for the different height and width of the walls," Ames explains. "The sides of the house are more constricted being in the city, therefore we had to do different sizes."
In addition to choosing the finish color and mounting style, the client also chose an 850 lumens, 2700K warm white color temperature, and flat lens for each fixture.
"The city makes you use LED," Ames notes, "but I love LED especially a yellow, warmer light instead of white." Barn Light's LED collection brings together the benefits of LED with the long-lasting, high-gloss shine of porcelain enamel. Barn Light is the only manufacturer in America crafting porcelain enamel lighting which can be customized with the latest in LED technology.
"These gooseneck lights are classic with a little custom feel," Ames says. "They are great looking and the fun splash of color makes them unique."
Photos courtesy of Ames Ingham Studio