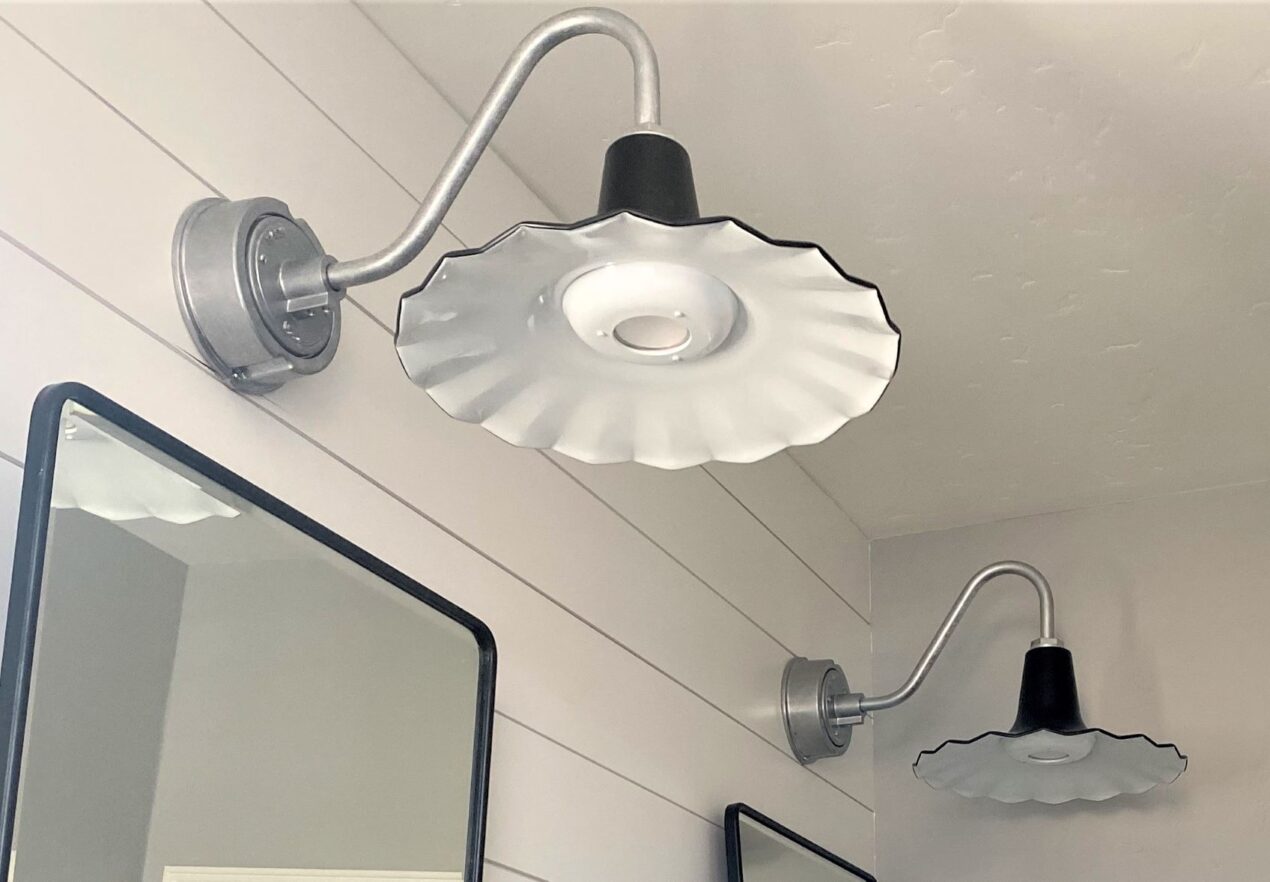 Gooseneck Lights Offer Attractive Upgrade from Builder-Grade Fixtures
Building a new home involves making countless decisions on every detail from flooring and cabinets to hardware, paint, and lighting. Builders create an allowance for each of these items as part of the overall budget. If a homeowner goes over the allowance in one area, they must scale back their choices in other areas to stay within budget.
"When I bought my brand new home seven years ago, I did not upgrade my lighting package," says Kristin, who lives in Folsom, California. "I still like my cabinets, counters, and flooring, but I wanted to change out a few things to give the space a more current look."
Kristin was inspired by the popular farmhouse style as she updated her lighting. For three of her bathrooms, she choose gooseneck lights to complement her existing counters, flooring, and cabinetry. Thanks to Barn Light Electric's endless array of customizing options, she could create the exact look she envisioned for each space.
In her daughter's bathroom, Kristin chose the Union Gooseneck Light. She customized these handspun fixtures with 16″ shades, a porcelain White finish, and a G15 gooseneck arm.
"I googled goosenecks and Barn Light Electric came up. After looking through the website, I was sold!" Kristin explains. "I was replacing bar fixtures which had three lights each. But I wanted a larger, single light so I scaled up."
The next target for Kristin's upgrades was the guest bath. In this space, she chose the Seaside LED Gooseneck Light with its signature wavy shade. She customized this American-made fixture with a 16″ shade, a Black powder coat finish, and G26 gooseneck arm. As part of the customizing process, she also chose the 1250 lumens option, a 3000K color temperature, and a flat lens.
"I love the unique scalloped edge," she notes. "I think it gives a fun, decorative touch to the gooseneck style. I replaced a basic bar light that had two bulbs, and I chose the largest size shade available." Although she hadn't planned on upgrading her master bath at first, when her order arrived from Barn Light, she fell in love with the Seaside.
"I knew that when I was ready to begin the renovation on the master bath, I would order the Seaside," she says. Kristin chose the same fixture and options for her master bath as for the guest bath and now enjoys the energy efficient and warm glow of her new LED lighting.
"I love the style, the colors I chose, and the amount of light these fixtures put off," Kristin says. "I also love that the lights are American made and that I could customize all of our lamps. The variety of options is incredible."
Photos courtesy of the homeowner