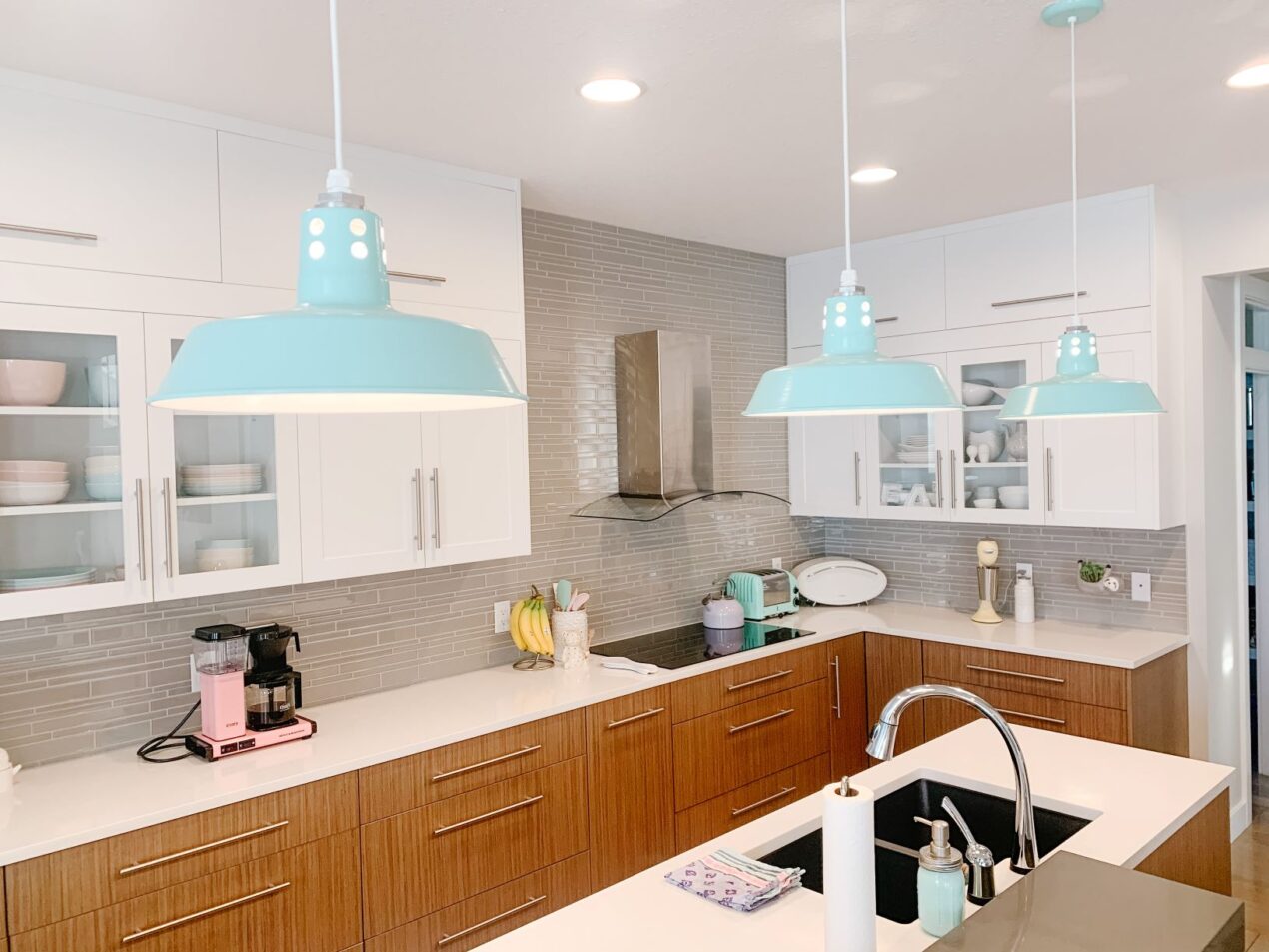 Retro Style, Pastel Finishes Attract Homeowner to Barn Pendant Collection
Having lived in her new home for more than eight years, Dawn was ready to tackle a refresh of her kitchen. Her home is in the lake community of Summerside in Edmonton, Alberta, Canada, and features a mid-century-modern-inspired kitchen.
"In the initial build process, I worked with a local designer, Bernadette Pshyk of Bump Interiors," Dawn says. "I wanted a mid-century modern look with a mix of white, walnut cabinetry, and retro-inspired colors as a nod to a Ma-and-Pa soda shop."
The kitchen island was highlighted by glass globe pendants, but Dawn never liked them and they were hard to clean. When she started planning to update, Dawn looked for options to replace them. On an outing to a Calgary restaurant, she spied some pendant lights that captured her attention.
"I was dining out with friends and could not get the vibe out of my head," she notes. "I kept going back to it for my kitchen but could not find the colors I wanted until I found Barn Light Electric. It is very difficult to decorate in pastels!"
Dawn chose the Original™ Vented Pendant Light for her kitchen island and customized these handcrafted fixtures with 14″ shades, a Mint finish, circle vents, and white cloth cords.
"My eye was drawn to them, and they seemed the best match for the soda pop vibe I was hoping to create," she explains. "The Mint finish was in a close race with the Lavender option, but Mint ultimately won out because it ties in with my entertainment center the best. I am also a big fan of circles so the circular vents appealed to my personal preference."
The Original™ serves as the inspiration for Barn Light's motto — Where Vintage and Modern Collide. Available in multiple mountings and 32 finish colors, the shade is easy to customize to complement both traditional and modern spaces from kitchens and restaurants to bedrooms and boutiques.
"These fit with the retro look I was hoping to achieve, and I like that they are easy to clean!" Dawn says. "I live my life in color, and I love that they are impactful without being overwhelming. Honestly, they just make me happy!"
Photos courtesy of the homeowner