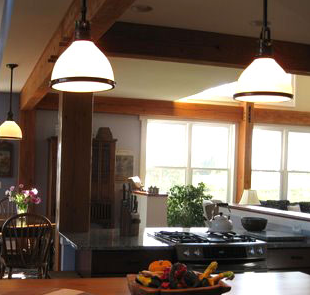 The Quintessential Country Home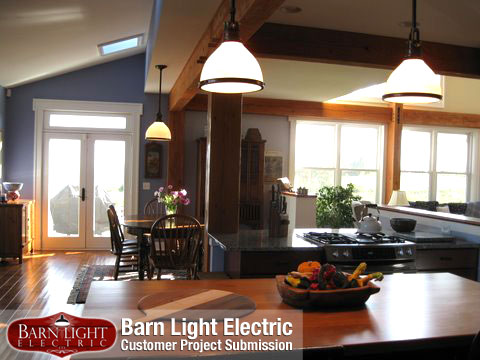 Bordering the banks of the Ohio River, just a ferry ride away from the shore of the state of Ohio rests the small town of Augusta, Kentucky. Sprouting from the lush foliage of this quiet Kentucky town is the subject of our latest customer project submission. The gorgeous landscape that surrounds this customer's home is equally matched by the impressive display of lighting that adorns the ceilings and walls. From top to bottom this residence is decorated with some of our signature lighting, creating a perfect example of the art of rustic interior design.

With the use of richly stained wood running throughout the house and warm inviting interior colors, each light needed to flow with its settings. Featured in the kitchen, the Byron Pendant provides a complimentary styling element to create a smooth transition between the contemporary design of the stainless appliances and natural look of the wood cabinets. This look permeates throughout the house to the living room, being highlighted by sunlight coming through the large windows that are stacked all the way to the ceiling. The main concern when lighting this area was to provide abundant pendant lighting in this spacious room without interfering with the function and appearance of these high reaching windows. The answer to this dilemma was the addition of a pair of Cradle Pendants that feature a ribbed acrylic shade to allow light to pass through these shades and make for a less obtrusive appearance.
The same subtle lighting theme was carried through the house to compliment each room's specific lighting needs. Whether it was the use of the galvanized Montana and Gunsmoke Sconces above the bathroom vanities, or the powder coated Reno Sconce providing light above the doorways of this home, the rustic integrity was maintained. Even the choice to add a ceiling fan was carefully considered, choosing to go with the Edgewood to match the homespun characteristics of this charming country home. Although this home's unique layout may have created some rather interesting lighting challenges, the creative thinking of this customer brought out the best in this beautiful home thanks in part to their inspiring lighting solutions.